NTP extends May 21st Ottawa-area EF2 downburst
After much additional analysis, NTP has extended to the east-northeast the EF2 damage path associated with the Ottawa-area downburst embedded within the May 21st derecho. Communities within the extension that experienced intermittent EF2 damage include Navan and Sarsfield. The entire EF2 downburst damage zone is now approximately 36 km in length and just under 5 km in width.
Areas just outside of this EF2 zone experienced intermittent EF1 damage, including the communities of Hammond, Glenburn and Plantagenet, with a narrowing path reaching the Quebec border. As can be seen in the map below, several areas in Quebec also experienced intermittent EF1 damage with the derecho, including the communities of Rockhurst, Côte-Saint-Pierre, Silver Creek and Saint-Angélique. The damage in these areas was assessed primarily using high-resolution satellite imagery.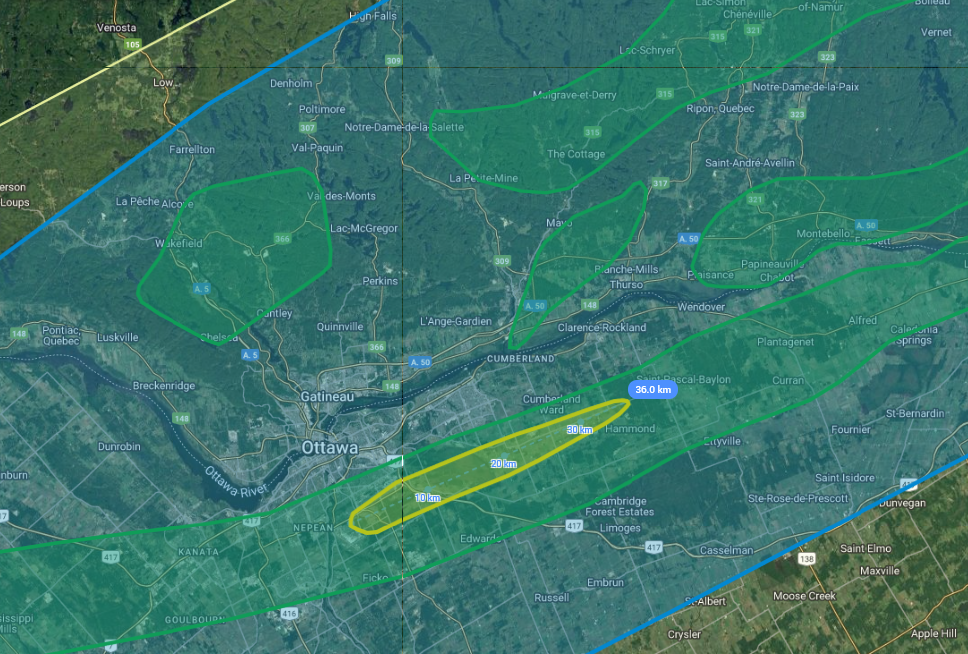 Preliminary map of damage contours in the Ottawa area. Yellow indicates intermittent EF2 damage, green intermittent EF1 damage and blue intermittent EF0 damage. The light yellow outline at top left indicates the northern extent of the derecho as derived from radar. The southern extent of the derecho is outside of the coverage area of this map.
Some examples of EF2 damage identified within the extended EF2 downburst zone include:
- farm outbuildings and barns demolished
- paths with most trees snapped or uprooted
- grains bins and silos destroyed
- broken wood power poles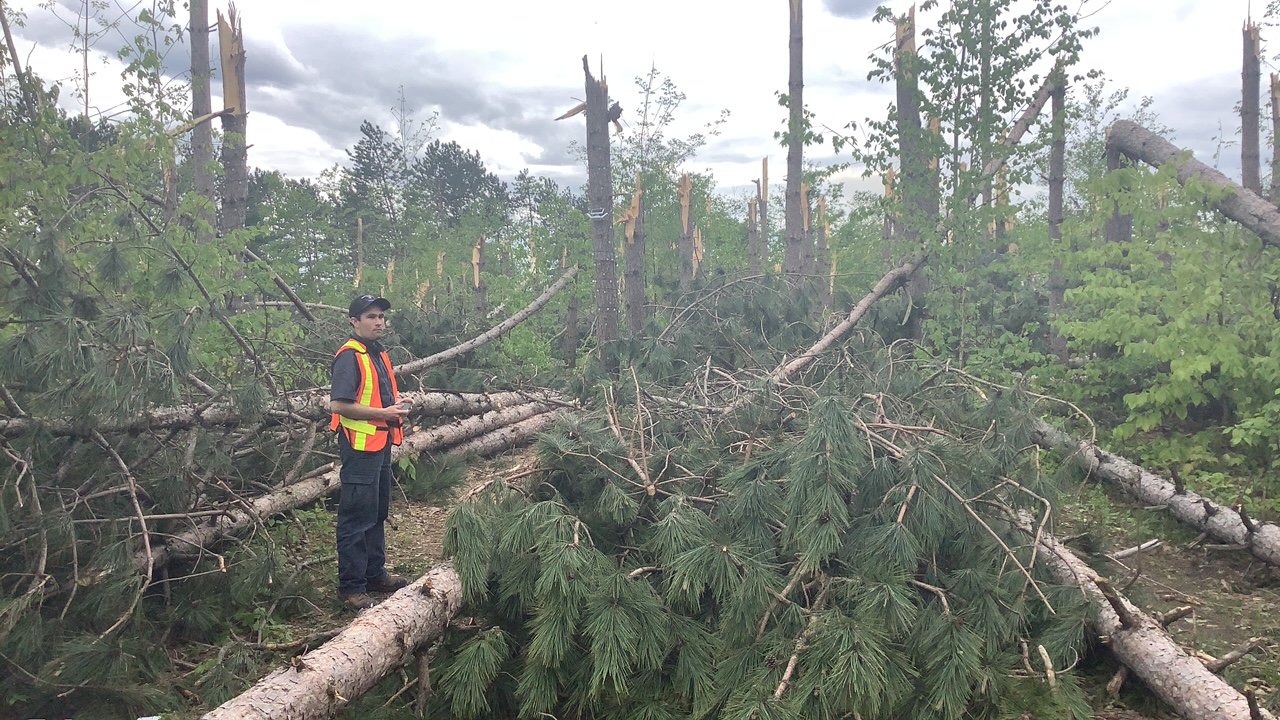 Photo of the NTP team assessing EF2 downburst damage to trees near Hammond.


NTP continues to analyze data in a few areas (outside of the regions shown in the map) to determine if a tornado was embedded along the leading edge of the derecho, and is working to do similar EF-scale contouring for the entire path of the derecho.

We still welcome reports of significant damage from this storm. Please email us at NTP@uwo.ca or go to our reporting page here: https://uwo.ca/ntp/report.html

Stay safe!