Aisha Raja - Director, Human Rights
Western is pleased to announce that Aisha Raja has been named Director, Human Rights effective January 1, 2023.
Aisha joined the University as a Legal Advisor in 2021. Prior to that she served as a lawyer for the Niagara Community Legal Clinic where she represented clients in a variety of practice areas including human rights, housing, income security, employment, and immigration law.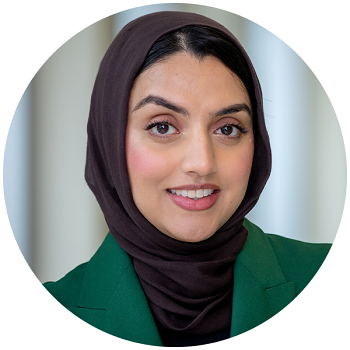 As an experienced lawyer, Aisha has a strong background in human rights, equity and diversity, and anti-racism – all areas that will help her counsel students and employees who access the confidential services that the Human Rights Office will provide.
Aisha completed her Honours Bachelor of Arts from the University of Toronto in 2013, with a major in Ethics, Society, and Law. Her passion for law took her to London, England where she earned her law degree, winning the Highest Class Performance Prize for European Human Rights/European Union Law at the University of London. She was called to the Bar of Ontario in 2019 and is a member of the Law Society of Ontario.
With a passion for lifelong learning, she is currently completing her Masters of Law in Labour Relations and Employment Law at Osgoode Hall Law School. 
Among other things, the advisory committee was impressed with Aisha's strategic approach to conflict resolution and her genuine passion to make a difference for the students and employees she'll serve.
The Human Rights Office at Western plays a key role in ensuring the university provides a respectful and inclusive working and learning environment. Aisha and her team will give advice and guidance on Western's Non-Discrimination and Harassment Policy – important work that is underscored in Western's new strategic plan, Towards Western at 150.
Western thanks those that provided guidance throughout this process, including Christy Bressette, Sydney Kruth, Margaret McGlynn, Robert Monti, Opiyo Oloya, Steve Pepper, Melissa White, and Kathleen Webster.