Sonia Halpern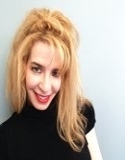 Sonia Halpern, MA

Lecturer
Women's Studies and Feminist Research, Art History, and Writing
Office: Lawson Hall 3234
Phone: 519-661-2111 ext. 86941
shalpern@uwo.ca
Research
I apply a feminist approach to the history of art by examining and comparing the various social, economic, and gender-political factors that have contributed to men and women's distinct biographies, artistic production, and images of women.
Selected Publications
"A Yiddishe Cop: Jewish Identity, Police, and Prisoners in Contemporary Law Enforcement." pp. 135-70. In The Criminal Humanities: An Introduction. Eds. Michael Arntfield and Marcel Danesi. New York: Peter Lang, 2016.
The Life and Times of Transition Girl. Revised and Expanded. London: Bettger Books, 2014.
Introduction." (co-authored with Monda Halpern). In Behind Our Doors: A Memoir by Esther Warmerdam, as told to William Butt. London: Althouse Press, The University of Western Ontario, 2011.
"'Art Should Always Ennoble' : Emma Griesbach and Art Appreciation in the Women's Page of The Farmers' Sun, 1917-1922." (co-authored with Monda Halpern). Ontario History, CCII, 1 (Spring 2011): 42-59.
Klezmer Kitty: Klezmer-Style Tunes for C and B-Flat Instruments. Cedarhurst (NY): Tara Publications, 2010.
"That's So Adina!" pp. 70-73. In Living Legacies: A Collection of Writing by Contemporary Canadian Jewish Women, Volume Edited by Liz Pearl. Toronto: PK Press, 2010.
"JAP - Jewish And Passed-over: The Invisibility of Single Jewish Women in Issues of Intermarriage and Conversion" (co-authored with Monda Halpern).pp. 1-9. Women in Judaism: A Multidisciplinary Journal (Spring 2008) [online journal].
The Life and Times of Transition Girl. St. Thomas: South Western Ontario Poetry, 2005.
"The Unmarried Woman Artist: Emily Carr." pp. 45-7. In Framing Our Past: Canadian Women's History in the Twentieth Century. Edited by Sharon Anne Cook, et al. Montreal and Kingston: McGill-Queen's University Press, 2001.
"Frederick Challener, Proscenium Arch Muralist." p. 259. In Let's Go to the Grand: 100 Years of Entertainment at London's Grand Theatre. Sheila M.F. Johnston. Toronto: Natural Heritage Books, 2001.
Teaching Awards and Honours
USC (UNIVERSITY STUDENTS' COUNCIL) TEACHING HONOUR ROLL AWARD OF EXCELLENCE (DEPARTMENT OF WOMEN'S STUDIES AND FEMINIST RESEARCH): 2015-2016, 2012-2013, 2011-2012, 2010-2011, 2009-2010, 2008-2009, 2007-2008, 2006-2007, 2005-2006:(Nominee for the USC Student's Council Award of Excellence), 2004-2005, 2003-2004, 2002-2003, 2000-2001, 1999-2000, 1998-99: Winner of the USC Student's Council Award of Excellence - see below), 1997-98: Nominee for the USC Student's Council Award of Excellence)
ARTS AND HUMANITIES AWARD OF EXCELLENCE IN TEACHING, 2012
MACLEAN'S GUIDE TO CANADIAN UNIVERSITIES NAMED A "POPULAR PROF" (DEPARTMENT OF WOMEN'S STUDIES AND FEMINIST RESEARCH): 2004, 2003, 2002, 2001, 2000
THE UNIVERSITY STUDENTS' COUNCIL (USC) AWARD FOR EXCELLENCE IN UNDERGRADUATE TEACHING (DEPARTMENT OF WOMEN'S STUDIES AND FEMINIST RESEARCH) , 1998-99
THE UNIVERSITY OF WESTERN ONTARIO AWARD FOR EXCELLENCE IN TEACHING BY PART-TIME FACULTY (DEPARTMENT OF MODERN LANGUAGES AND LITERATURES) , 1994-95