Crystal Gaudet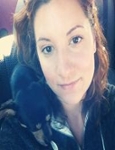 MA (Western University, Women's Studies)
BA (York University, Women's Studies and History) 
Areas of Interest 
Gender and work, transnational care migration, feminist political economy, anti-racist feminism, and intersectionality

Awards
SSHRC Doctoral Fellowship
SSHRC Joseph-Armand-Bombardier Canada Graduate Scholarship 2010
Presentations and Publications
Neo-liberalism and Care Work: A Critical Review of the Scholarship on Migrant Live-in Caregivers in Canada." Paper Presented at the Care Work Network Mini Conference: Understanding Care Work in the 21st Century. Eastern Sociological Society Annual Conference, Millennium Broadway Hotel, New York City, New York, 26 February 2015.
"Transnational Relations of Social Reproductive Dependence: The Case of Migrant Domestic Workers in Canada." Paper Presented at Gender and the Global Economy International Conference. Department of Women's Studies and Feminist Research, University of Western Ontario, 23 April 2014.
"Gendered Violence: Social Constructions of Masculinity and Femininity." Paper Presented at From Private Troubles to Public Issues: A Workshop on Community and Society. Central Public Library, London, Ontario, 22 March 2014.
"The Creation of Temporary Migrant Labour Categories in Canada: A Comparative Analysis of the LCP and SAWP." Paper Presented at the Canadian Historical Society Annual Meeting, University of Victoria, British Columbia, 5 June 2013.
Lawson, Erica and Crystal Gaudet. "Sex Work, Street Vending and Implications for Mothers and Daughters in the Global Economy: A Feminist Analysis of Political Economy." Journal of the Motherhood Initiative 4, 2 (Fall/Winter 2013): 9-22. 
Teaching Assignments
WS 1020E Intro to Women's Studies