Western Directory Coordinators Application
Western Directory Coordinators Application
Prerequisite: Download and Install Java
The remote applications listed on this page are invoked via the Java Network Launching Protocol and require the Sun WebStart client distributed in the Java Runtime Edition (JRE). The latest production release of the JRE are available at:
https://java.com/en/download/
Once the JRE is installed it will be possible to launch remote web applications from this page.
Available Applications
Click application to launch. If required it will be downloaded to local cache. Note the first time launched you will be asked to trust the Thawte certificate. This is required as the application needs rights to connect to the required remote servers.
Western Directory

Uses Java 1.6+.
Requires local screen size setting to be at least 1024 by 768.
Updating the data
This assumes that you have already downloaded and installed the browser plug-in as above
Run the Update program to update the data for a person, unit or department.
NOTE: This may take a while (up to a few minutes on some systems) - please be patient...
When the Update program has finished loading, a

 

Sign-On Screen

 

will display. Enter your UWO Personal Computer Account User Name/Password and select Enter. This screen should look like: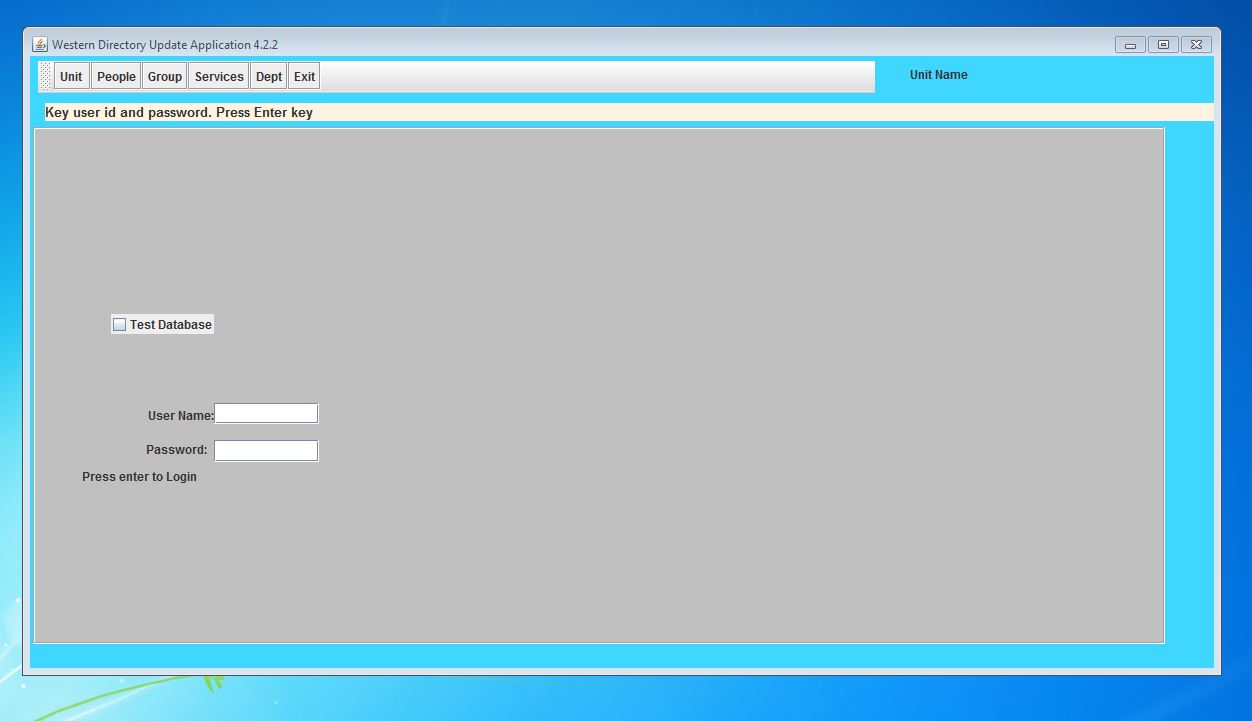 NOTE: If you have not closed or restarted your browser, any subsequent loading of the Update program will be fast. However if you restart the browser, the first time you run the Update program in that session, it will take a while to load again.
While in the Update program, do not use the

 

Back

 

and

 

Forward

 

funtions or buttons in your browser. For navigation, only use the buttons in the Update web pages.
When finished updating, make sure you click on the

 

Exit

 

button in order to correctly terminate the Update program. If you clicked on Exit by mistake and would like to do more updates, you will have to login again.
Application Resync
Clear Local Application Cache
click on the JavaWebStart icon or

 

Start java webstart application manager
click Preferences in the Java web start file menu
click the Advanced tab
click the ClearFolder button
click yes to confirm action
close the Java web start application
Check For hung Java web start Applications
hung Java web start tasks can cause problems, does not happen often but can be confusing
use the task manager or operating system function kill any javaw.exe tasks
or reboot
---
Published on  and maintained in Cascade CMS.