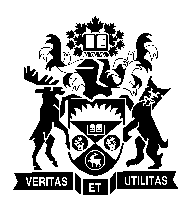 The University of Western Ontario
| | |
| --- | --- |
| TO: | Members of Senate and Board of Governors |
| | Deans/Associate and Assistant Deans |
| | Chairs/Centre Directors |
| | Senior Directors and Directors |
| | Leaders of Constituency Groups |
| | |
| FROM: | Greg Moran, Provost |
| | |
| DATE: | November 17, 1998 |
| | |
| SUBJECT: | University Community Consultation: Academic Space Realignment |
---
I would like to invite you and all interested members of your constituencies to an information meeting to discuss the attached plans for reconfiguration of space to accommodate instructional facilities in the central campus. This proposal builds on bot h the University's Strategic Plan, Leadership in Learning, and the Campus Master Plan in creating significant new classroom space in Somerville House, at the centre of our academic activities. This new teaching space will provide classrooms of an a ppropriate size and configuration for the new and expanding programs in the Faculties of Health Sciences and Information and Media Studies and expansions in information technology related areas which respond to recent government initiatives, as well as in the HBA program at the Ivey School of Business. These plans also address a critical shortage of medium to large classroom space throughout the University.
Those units immediately affected by the reconfigurations proposed to Somerville House, as well as those affected through the "domino effect" of consequent relocation, have been consulted as to these plans over several weeks and are in agreement with th e designation of the Somerville facilities as essential academic space. This information meeting is addressed to the larger University community, as well as those directly affected, as the proposals are brought before the appropriate committees of the Sen ate and Board for approval and implementation. Please ensure that the attached material is distributed within your constituency, either through duplication or through review under "space" at Western's website (http://www.uwo.ca/western). The information m eeting will be at:
The Great Hall, Somerville House
Thursday, November 26
9:30-11:00 a.m.
---

Back to Proposal for Academic Space Realignment Page

Back to U.W.O. Documents and Data Page

Back to U.W.O. Homepage
---
jchien@julian.uwo.ca

Last updated: 1998/11/19