Welcome to Western's Caucus on Women's Issues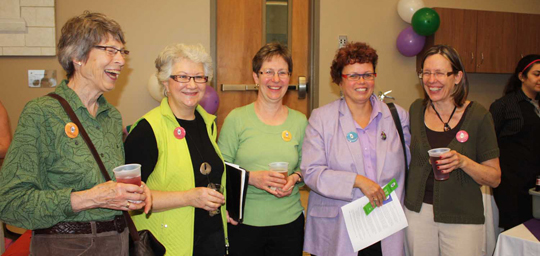 A Message from the President
"Women's Caucus," as it is habitually called, is an unusual – perhaps unique – group on campus, in that its membership is open to all women at Western. It aims to work collectively to serve as an agent of change where change is warranted, to support the aspirations of the diverse population of women in the Western community. Where issues such as discrimination and violence arise the Women's Caucus works on the assumption that it is important to connect with all members of the Western community who are victims of this as well, and to work together to make this a safe and respectful environment.
Cristine de Clercy, WCWI President
Caucus Objectives
The University of Western Ontario Caucus on Women's Issues was formed in 1980 to promote and safeguard the interests of women at The University of Western Ontario and its affiliates. Our objectives are as follows:
to cultivate a sense of community among women at the university
to encourage the integration of the findings from feminist research into curricula at UWO and its affiliates
to promote a work environment which facilitates the full professional development of all women employed at UWO and its affiliates
Watchdog
The Caucus Executive keeps tabs on the climate at Western. We make sure that committees addressing women's concerns meet, that campus publications represent women's voices and women's interests, and that women working and studying at Western fee safe, valued and respected.
Representation of women's interests to the university community
Increasingly, the Caucus is called upon to comment on issues and policy or to name representatives to sit on committees. Currently, members of the Caucus Executive sit on:
The President's Standing Committee on Employment Equity
The President's Standing Committee on the Safety of Women on Campus
The UWOFA Status of Women & Equity Committee
Achievements/Highlights of Caucus Initiatives:
supporting the formation of The Centre for Women's Studies and Feminist Research (now a department) at UWO
developing "The Backhouse Report" on experiences of women faculty at Western
establishing the Pay Equity Review for female employees at Western
drawing attention to how Western's poor showing on equity has threatened public funding of the university
producing 3 videos on the experiences of women (and minority groups) on campus: The Chilly Climate (1991),Backlash (1996) and Voices of Diversity (2008)
developing mentorship workshops
organizing with the CWSFR, an annual Showcase of Women's Research at Western
organizing a Symposium on Women in the Sciences and Engineering at UWO.