Thea Yabut: Lines of Necessity / Giles Whitaker: Listening Space at the McIntosh Gallery
Thea Yabut: Lines of Necessity / Giles Whitaker: Listening Space
When: August 16 to September 14, 2013
Closing reception: Thursday, September 12, 2013 at 8 P.M.
Where: at the McIntosh Gallery
Meet the exhibiting artists and other Department of Visual Arts graduate students at the closing reception, Thursday, September 12th at 8:00 P.M. For more information, contact James Patten at jpatten2@uwo.ca or call 519 661-2111 ext. 84602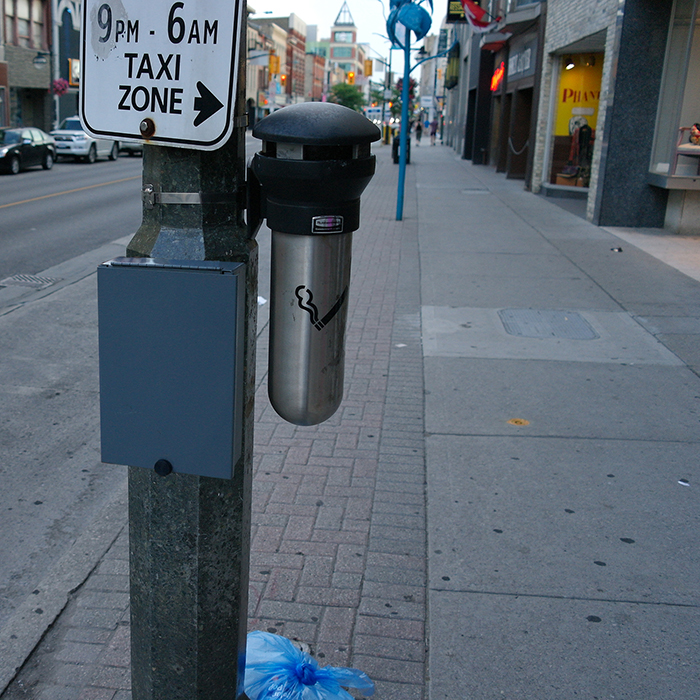 Giles Whitaker: Listening Space uses sound recordings, video and software to examine the politics of public and institutional space. Whitaker's computer-controlled, sound-generating devices confound and engage unsuspecting audiences, whether installed in the gallery or on the street. Due to the unprepossessing, easily overlooked physical presence of the work, sound is the key element of these site-specific installations. Sound's anarchic nature: its ability to define, yet infiltrate and overflow a given space, is critical to the artist's practice.
 
With his piece Structural Breakdown 2013, installed on a major commercial street in downtown London (pictured), Whitaker becomes the fourth annual McIntosh Artist in the Community.  Previous installations by artists Lea Bucknell, Kyla Brown and Jeremy Jeresky have engaged audiences in various London neighbourhoods with thought provoking, participatory projects. We thank the City of London Culture Office for facilitating Whitaker's public installation.
 
Whitaker trained and worked as a scientist before completing a fine arts degree in 2007 at Massey University in Wellington, New Zealand. He has exhibited in New Zealand and Canada, and his videos are held in the New Zealand Film Archive. He is currently a Master of Fine Arts candidate within the Department of Visual Arts at Western University.
---
Thea Yabut: Lines of Necessity
explores the complexity of identity through drawing. Delicate webs of intersecting lines, fluid passages of pale colours and swathes of graphite marks push abstract drawing in unexpected directions. Yabut expands drawing's vocabulary by making her own tools and devising new methods of application. She drags, scratches folds, cuts, erases, pins and scores her drawings to reveal the physical act of their construction while maintaining a cohesive compositional integrity.
These large, exquisitely-rendered works evoke the varied ways in which the artist relates to the contingency of fluctuating social realities. Historically an ephemeral practice most often associated with preparatory sketches for other media, Yabut exploits drawing's tradition of marginality and its limitless dimensions and modalities to embody the complex, intersectionality of her experience as a Chinese Filipino Canadian woman.
Yabut holds a BFA from the Alberta College of Art and Design. She has exhibited at ArtLab in London, Ontario and The Marion Nicoll Gallery in Calgary. She has participated in group exhibitions at the Art Gallery of Calgary and TRUCK Contemporary Art, Calgary, and at Embassy Gallery in Edinburgh, Scotland. She is currently a Master of Fine Arts candidate within the Department of Visual Arts at Western University.
Artist website: theayabut.artistrunwebsite.com