Featured Research
The Theory Centre is home to some of the most vital and innovative research in the Arts and Humanities, Social Science, and Information and Media studies. Its core faculty, associate faculty, and graduate students conduct research across a wide range of disciplines and topic matters, from eighteenth and nineteenth-century history of thought to post-human studies. Here we provide snap-shot views of some of the most recent projects associated with Theory and Criticism.
Dr. Regna Darnell
Restoring the Stature of Franz Boas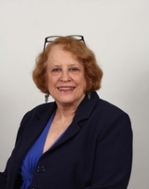 Over time, some of the greatest theorists gain new relevance through being interpreted in an updated context that reflects both the theorists' past contributions and their relevance to current thought. This can be especially true of the discipline of anthropology as cultural assumptions and biases have become subject to critique and re-evaluation. "The fact that past theorists and ethnographers participated in the assumptions of their time does not mean that they have lost relevance for our times," says Dr. Regna Darnell, a professor in Western's Department of Anthropology and at the Theory Centre. One major theorist whose importance cannot be ignored is the German-born American anthropologist Franz Boas. Dr. Darnell recently received a multi-million dollar grant over seven years from SSHRC to create a paper and digital edition of Boas' professional papers, producing a series of thematic volumes. The project involves a collaborative partnership between Western University, the American Philosophical Association, University of Nebraska Publishing, the University of Victoria, and tribal councils in British Columbia. 
After he came to North America in the late nineteenth century, Boas took up residence in New York and did most of his fieldwork in Canada. He worked with the Kwakwaka'wakw people (known more popularly as the Kwakiutl). "A major intent of this new Boas publishing project is to consult with the Kwakwaka'wakw regarding sensitive material that should not be shared with the general public and the repatriation of materials that were collected from the communities," explains Dr. Darnell.
Boas, who died in 1942, has been critiqued in the light of both positivism and post-modernism. "He was a mentalist—he saw culture as being in people's heads. He was accused of not being theoretical enough. However, his position regarding the relationship between the biological and the cultural has been misunderstood, and much of his actual activism with native peoples has not been recognized. Much of this information can be found in letters he wrote that have rarely been read," observes Dr. Darnell. "His work has been used to shed light on current land claims and has formed the baseline of collaborative anthropology."
Dr. Darnell is the author of And Along Came Boas: Continuity and Revolution in Americanist Anthropology, published in 1998, and Invisible Genealogies, published in 2001, as well as numerous articles in academic journals.  Instead of writing a biography of Boas, she felt it would be much better to bring together a group who "know the pieces," as there is much complexity in Boas' life and career. "It is mind-blowing—he had a Mexican connection in terms of studying indigenous communities there, he sat on committees with Albert Einstein, he helped European scholars get out of Europe in the looming shadow of World War II, he had a correspondence with Alexander Graham Bell."
The first volume of the massive Boas documentary project, Franz Boas as Public Intellectual: Theorist, Ethnographer, Activist, will appear in 2015. Dr. Darnell has several papers in progress on related topics, and in the fall of 2014 will be offering a course on Franz Boas for both anthropology and Theory Centre students.
---
Katie Grant
Politics, Philosophy, and Punk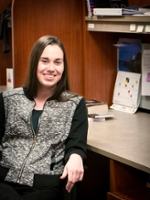 Katie Grant likes making intriguing connections between seemingly vastly different societal themes. Always drawn to music in general, she eventually developed a taste for punk. She began to think about Marxist thought within punk discourse, and about how she might contribute to this already lively discourse.  A native of Bedford, Nova Scotia, Katie graduated with an Honours BA in Political Science from Saint Mary's University, and then came to Western's Theory and Criticism program to pursue her master's degree. 
 
The lyrics and tonal assault of punk music offer an aesthetic alternative to most of today's romantically-tinged pop music. Katie's interest in punk music began in junior high school. Attention to lyrics helped facilitate the beginnings of her exploration of politics, encouraged by one of her high school teachers, aptly named Mr. Plato. "I think I've always had music as part of my lens, if you will. That extended when I began to study political science and philosophy," Katie says. Katie plans to bring Marx's thought into dialogue with punk. She also will draw upon the thought of Theodor Adorno in her MA research. "Punk reads as a critique of society, as does Marx. Punk often takes a negative approach to this, challenging what love is, what art is. It's decidedly cynical, maybe even more so than Marx, but there are many similarities in the critique. I'm very struck by the contradictions inherent to the love song as a commodity." Katie's working theme for her MA thesis is, "What does it mean for socialist thought if love is deemed untenable?"
 
Much of socialist thought seeks to create community; it wants to improve conditions in the world; it seeks solutions. Punk, in contrast, is characterized by isolation, alienation, and a pessimistic view of both love and community. "Punk bands and people within the punk milieu did have a sense of community, but it was almost like a club—alienated from the mainstream and quite exclusive. When artists communicate not just a disgust with politicians, for example, but also about everyone, everything—including themselves—it makes leftist posturing complicated. That's why I find this genre interesting and significant not just as a moment for music, but for socialist thought as well." Among the bands studied in Katie's thesis are The Clash, The Damned, Alternative TV, and Siouxsie and the Banshees. Her thesis will be guided by Dr. Christopher Keep of the Department of English and Acting Chair of the Theory Centre.
 
Katie chose the Theory Centre for her MA program because of the freedom it offers to students who want to pursue unusual topics. "Other types of programs, such as political science or literature programs, tend to have more proscribed boundaries about what is possible in academic humanities research," Katie suggests. "The Theory Centre is open to having students work across disciplines and allowing them to draw on resources that might be seen as untraditional. I've been incredibly pleased to have my research interests so welcomed here."
---
Kamran Ahmed
Uncertainty is Islam's 'sixth pillar'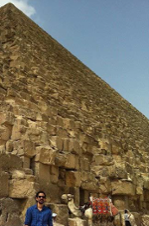 "There is something about slowness I really like," says Kamran Ahmed. "By that I mean that philosophy and the study of great thought systems in many disciplines are an opportunity to expand one's attention and really deeply ponder the significance of great insights throughout history." Kamran, a second-year PhD student at the Theory Centre, did his undergraduate work at the University of Toronto in Psychology and Philosophy. He came to Western to do his MA at the Theory Centre and decided to stay on to pursue a PhD. He was also successful in being awarded a SSHRC grant for the duration of his PhD program.
 
"I see philosophy as a meditative process. It was reading Descartes that taught me this. Descartes emphasized slowness, and when you slow down and ponder, then doubt arises, and for me, doubt is an extremely important aspect of life," Kamran says. Kamran's Master's thesis involved Rene Descartes' Meditations on First Philosophy and the pedagogical use of doubt.
 
His doctoral research involves reading Qu'ranic philosophy outside of idealism in order to re-introduce uncertainty into Islamic philosophy. "The problem of dogmatism can be traced to idealism when applied to the text. Yet the real emphasis of Qu'ranic philosophy is to search and to strive and to always assume that there is more to learn. I see uncertainty as an invisible 'sixth pillar' within Islam." (Islam has five recognized pillars: declaring God as one God and his Prophet as Mohammed; ritual prayer; fasting; tithing, and pilgrimage.)
 
"The kind of doubt I am talking about is the doubt that opens you up, that makes you question. It's about humility as well. The problem with idealism is that it elevates abstraction over materiality and thus it promotes universality which in turn can lead to dogmatism."
 
Kamran sees the Theory Centre as the only environment where a project like his is possible in terms of the freedom to cross academic disciplines. "It is at the borders of the disciplines that creative things start to happen. The Theory Centre allows students and faculty to speak about the disciplines outside of their traditional terms," he says. His dissertation committee includes Professors Antonio Calcagno and Ginger Hegedus at King's and Professor Ingrid Mattson at Huron. Kamran has recently been selected by the Theory Centre to attend the 2014 six-week summer session at the School of Theory and Criticism at Cornell University in Ithaca, New York, where he will work with scholars and students from around the world.
 
An avid painter and sculptor and one who loves encountering others in great conversations, Kamran also teaches two courses at King's—a third year course in existentialism, a second year course in modern and post-modern philosophy, and he is also the teaching assistant for Philosophy from Antiquity to the 20th Century.
 
Having recently passed his comprehensive exams, Kamran is looking forward to the dissertation phase of his doctoral studies. In thinking about his future, he adopts a stance of hope-filled uncertainty—"Where to after the PhD? I can't even think about that right now but it's OK not to know and to live in the hope that it will be something fulfilling and that I'll end up somewhere that I can contribute."
---
Dr. Joel Faflak
The Search For Happiness

What does "being happy" mean? This question preoccupies Joel Faflak in his current research. Dr. Faflak, a Professor in the Department of English, is currently writing a book-in-progress on the rise of psychiatry in the Romantic period. He describes psychiatry as emerging out of the Scottish Enlightenment "long before Freud." Psychiatry's Romantic origins represented a turn toward exploring ways to restore happiness and well-being in the melancholy and the mad. This focus on happiness remains unabated in our time, but has now become a type of ideology. "If the Enlightenment gave us the desire for happiness as a worthy goal, we are now trained to desire this desire, rather than happiness itself," Dr. Faflak says.
Another research project involves tracing human dysfunction and the search for happiness through analyzing musical theatre. "All great musicals are centred in some kind of trauma and guide the audience to the feeling that it is possible to 'get happy' again," Dr. Faflak observes. "For example, South Pacific is based in the experience of racism; My Fair Lady deals with class discrimination; Rent depicts the AIDS crisis."
The use of theorists, such as Žižek, is crucial to Dr. Faflak's research. "I think theory is as much an act as a discipline or methodology. It unsettles and reorganizes categories of thought in order to confront us with the unthought. Theory is a profound empowerment to be speculative, an act of radical imagination that cuts through and across things that may not at first seem obvious to us."
This year (2013) Dr. Faflak co-edited (with Jason Haslam) The Public Intellectual and the Culture of Hope, released by University of Toronto Press in November 2013.  Another forthcoming book, Romanticism and the Emotions (co-edited with Richard Sha) will be published by Cambridge University Press in February 2014.
---
Dr. Jan Plug
Creative Uncertainty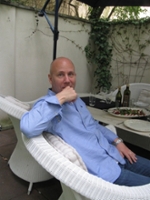 Dr. Jan Plug, Associate Professor in the Department of English and part of Western's Theory and Criticism faculty, smiles quixotically when asked about his current research. "Derrida said, 'If I knew where I was going, I wouldn't be able to take a single step.' I have much the same feeling—whenever I start new research, I never fully know where I'm going with it. I like the sense of creative uncertainty."
Dr. Plug has a strong interest in anxiety. "I think that's why I like to teach a course on anxiety at the Centre—from Kierkegaard to the present. Who hasn't felt anxiety? Most people see it as negative, but my approach to it is that whenever something unusual or troubling happens, it has the potential to open up new areas and new opportunities. If we knew where we were headed, would there be much point in going there?"
Dr. Plug finds that his work is continually enlivened by theory. "I don't think I could do the things I do and teach the things I teach if I were not part of the Theory Centre. Whatever text I am reading, perhaps every work raises theoretical questions in some sense, and for me the most provocative ones remain those that are evoked by the deconstructive tradition."
Dr. Plug also plans to teach a course in the Department of English in 2014 on Theory and Romanticism. "I began as a Romanticist, and I'm looking forward to returning to Romanticism and the theory that has emerged from it." He is currently working on a book-length study entitled They Have All Been Healed: Walser, Benjamin, Agamben, Sebald, and the Brothers Quay. A previous book, Borders of a Lip: Romanticism, History, Politics, Language was published by SUNY Press.
---
Dr. Mary Bunch
Alternate Emancipatory Approaches in Sexual Diversity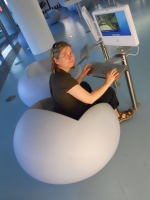 On completion of her PhD at the Centre for Theory and Criticism, Mary Bunch recently received a SSHRC post-doctoral fellowship at the University of Toronto's Centre for Sexual Diversity Studies. Her current research involves an unusual look at human rights and suggests possible innovative frameworks that can challenge entrenched views. "Gayatri Spivak wrote that, 'we cannot not want' the gains of liberal humanism, such as human rights. The syntax of 'cannot not' suggests a hidden trap that limits the desire for justice to a model that focuses on individuals within capitalism," says Dr. Bunch. "I explore the activism of queer, sex worker, and sex/ability communities, drawing upon critical theorists such as Wendy Brown, Chantal Mouffe, and Roberto Esposito to explore the question of emancipatory frameworks that might be an alternative to an overly tight framework of human rights."
Dr. Bunch proposes that approaching sexual diversity justice solely from a standpoint of rights violations is too narrow. Rights can reinforce a stance of victimization, and reflect western hegemony.   She is looking at possible approaches through the lens of community rather than individual rights, and social transformation rather than social inclusion. "What kinds of emancipatory goals and strategies are coming out of sexual minority communities? For example, in San Francisco there is an organization called "HAVOC" (the Horizontal Alliance of Vaguely Organized Queers), that applies queer theory's deconstruction of identity to national borders. They are concerned with sexuality in relation to labour and migration flows. We 'cannot not want' human rights, but we've construed human rights as a whole solution, instead of just being a part of something that's a whole lot bigger."
During 2013, Dr. Bunch has published two articles: "Posthuman Ethics and the Becoming-Animal of Emmanuel Levinas" in the journal Culture, Theory and Critique; and "The (Un)becoming Subject of Sex: Performativity, Interpellation, and the Politics of Queer Theory" in the journal Feminist Theory. She also has a new article in progress, "Communicating for the Purposes of Human Rights: Sex Work and Discursive Justice in Canada," for the Canadian Journal of Human Rights. 
---