Counsellor of the Week- Ali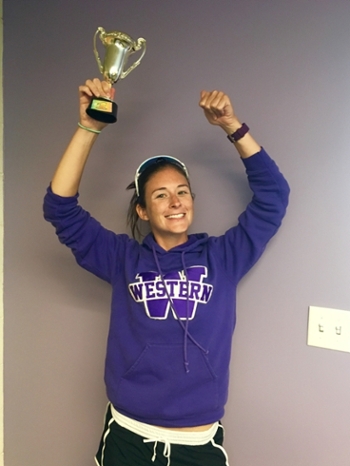 Nominated by her fellow counsellors, our Counsellor of the Week is…Ali!
This is Ali's first year working at Sport Western, and she is already a pro! During Week 2 Ali put her dodgeball skills to the test in Jr. Multi-Sport, and channeled her inner mad scientist in Jr. Science.
Ali loves working at Sport Western because she gets to play all day! She loves working with all of the campers, and all of the counsellors that are still young at heart! Ali has one more year left of Teachers' College, and she is excited to bring all of the experience she has gained at Sport Western into her classroom.
Ali is a member of Western's Women's Rowing Team and she also just completed a full marathon, way to go Ali!
Fun fact: Ali's favourite camp snack is chocolate pudding- she has at least two of them a week!
Thank you for being such an outstanding counsellor, Ali! You are an inspiration to all of your fellow counsellors here at Sport Western, and we are very thankful to have such a fun, hardworking, and dedicated staff member on our team!