Student Snapshots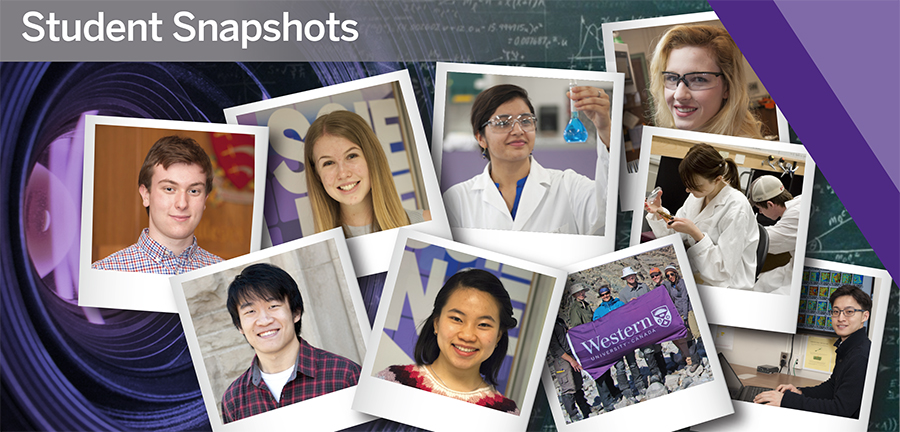 The Western Experience begins with our students. Bright, focused and driven, they represent a rich mosaic of cultures, interests, aspirations, and achievements. Meet a few members of our outstanding student body. Next year, one of these snapshots could be yours.
Year 1 - Integrated Science and Scholar's Electives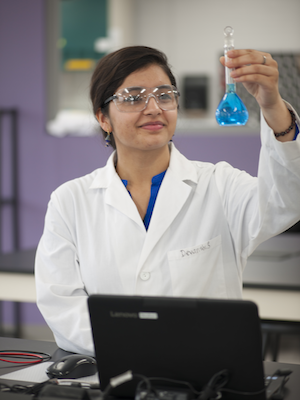 Favorite subject in high school: Biotechnology
"I loved the applied approach to learning science. Hands-on exploration was exciting and it taught me to focus on process rather than just results."
The award of which I am most proud: The Weizmann Summer Institute Scholarship
"The scholarship allowed me to work in a lab in Israel with students from Europe and the U.S. and experience the challenges and opportunities of science research in a multi-cultural and multi-disciplinary environment."
Most Interesting Experience at Western: Leading a research team during a virtual internship with the Rare Genomic Institute
Clubs: Hindu Students' Association – Director and organizer of cultural events including the Indian Trivia Olympics
Gujarati Students' Association – General member and participant in Garba (dance) in celebration of Divali.
Year 2- Scholar's Electives, pursuing a dual degree in Science (Honors Specialization in Computer Science) and Business (Ivey Business School)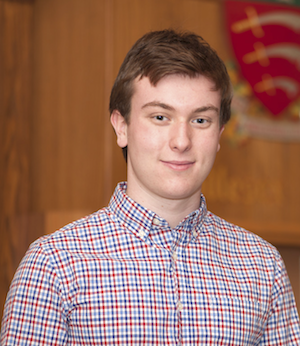 Favorite subject in high school: History
The award of which I am most proud: 3rd place at Hack Western 2015
"I enjoy competition, especially when it means being able to create practical tools and viable solutions that could one day be commercialized."
Leadership: President Elect for the Western Founder's Network, a business/technology entrepreneurship club for which he provided operations support for a tech consulting case competition and Initiated an "ideathon".
Second-Year Scholar's Project: Machine Learning and Natural Language Processing
"Disambiguating words with multiple meanings could eventually improve search engine accuracy."
Year 3 – Scholar's Electives, pursuing a degree in Applied Mathematics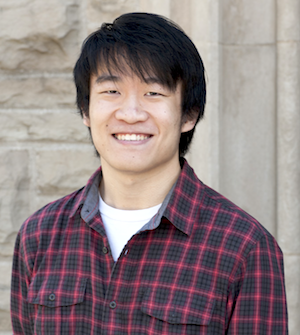 Favorite subject in high school: Math
"All great ideas stem from mathematics!"
The award of which I am most proud: Governor General's Bronze Medallion
"My family emigrated from China and they sacrificed a lot so that I would have a promising future. I had never taken my studies seriously before high school. So this was my chance to show them that I understood the value of effort and was being recognized for it."
Motivation: "I want to help people by making a lasting positive impact on their lives."
One day, a close friend of mine told me his grandfather experienced a stroke while he was sleeping. When this happens, it is difficult for physicians to estimate the time of onset of the stroke, which has terrible implications for prognosis. We spent months conceiving a research project that investigates the possibility of determining the onset of wake-up stroke by detecting irregularities in heart rate variability. A neurologist at University Hospital accepted and further guided the focus of the project to predict the onset of atrial fibrillation, a leading risk factor for stroke. If our data-driven approach proves to be promising, we hope to integrate this system into wearable technology in order to detect the early onset of atrial fibrillation in patients.
Third Year Scholar's Project: Using Machine Learning to Predict Response to Chemotherapy
"I used the application of quantitative techniques to predict whether a cancer patient is resistant to a particular chemotherapy drug by looking at the genomic properties of the tumour. Having the opportunity to contribute my mathematical insight to such a worthy endeavour gives me great satisfaction."
What's Next?
In the upcoming school year, I plan on meeting with doctors in London hospitals to advocate the use of deep learning in medical diagnostics and to encourage the mass-collection of imaging data for deep learning research.
Clubs: Western Intramural Badminton Club
"Badminton is the only sport I know how to play and it is my favourite way to de-stress. I like the delicate nature of the game. To play well requires a great deal of finesse and consistency rather than brute force."
Western Chess Club – Canadian University Chess Championship
"I am not the best player but I am definitely developing patience and strategic thinking, while meeting some incredible people."
Year 3- Scholar's Electives - pursuing a dual degree in Interdisciplinary Medical Sciences and Business (Ivey Business School)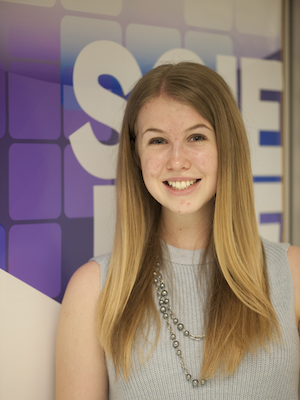 Motivation: "I want the opportunity to explore a variety of learning paths in order to find what interests me most and best applies my areas of strength. This was the one school that would allow me to shape my degree."
The award of which I am most proud: Biochemistry Undergraduate Summer Research Program (Scholarship)
"I never thought that I would spend time working in a lab, but I really enjoyed developing bonds with my lab mates and applying the techniques I had learned in class on a meaningful problem – the co-localization of proteins involved in the characterization of Alzheimer's."
Second Year Scholar's Project: CTLH Complex
"I like to understand the root cause for things that happen. The purpose of this project was to understand whether the overexpression of particular proteins cause apoptosis, the initiation of cell death, which could offer meaningful insight into efforts to cause death among cancerous cells."
Leadership: VP, External Relations for the Regional HIV/AIDS Connection
Co-ordinates training members to guide affected communities in the use of Harm Reduction Kits in order to reduce the spread of HIV.
Clubs and Other Interests: Western Volleyball and Dodgeball Intramurals; baking chocolate chip cookies and reading historical fiction, like All the Light We Cannot See by Anthony Doerr.
Year 4 – Scholar's Electives, Medical Science and Global Health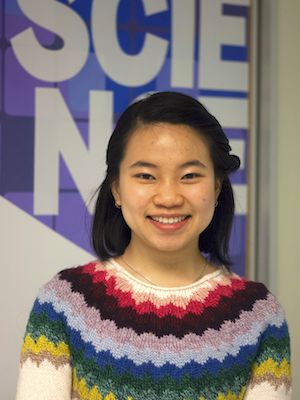 Favorite subject in high school: Biology
"This was the first time I was exposed to real and relatable science. I loved exploring the physiological, anatomical and even molecular components of life."
The award of which I am most proud: The Killam Fellowship
This award funded an opportunity for me to attend Vanderbuilt University in Tennessee, where I was able to study the social determinants of public health while I was also completing independent research at Western on Indigenous diabetes care in Canada. The learning was extraordinary and helped me become more discerning in my own research.
Leadership: Co-ordinator for the Scholar Mentorship Connection Program
Selects and trains upper year Scholar's Electives students to assist first-year students with their transition into university life.
Certified Interpreter for the Vietnamese community
Provides facilitation services for new arrivals to secure accommodations, in medical settings and during parent-teacher interviews.
Clubs: Western Organization of Philippinos (WOOF)
"I am not from the Philippines but I love to dance HIP HOP and so do the members of this club, so they adopted me! We perform on campus, at an annual fashion show and have even competed with other troops at a provincial competition."
What's Next?
"First, I am going to return to Vietnam to get in touch with my roots, after which I intend to begin Medical School so that one day I can be a physician who practices in remote areas and supports the delivery of healthcare to Indigenous peoples."