Managing Wildfires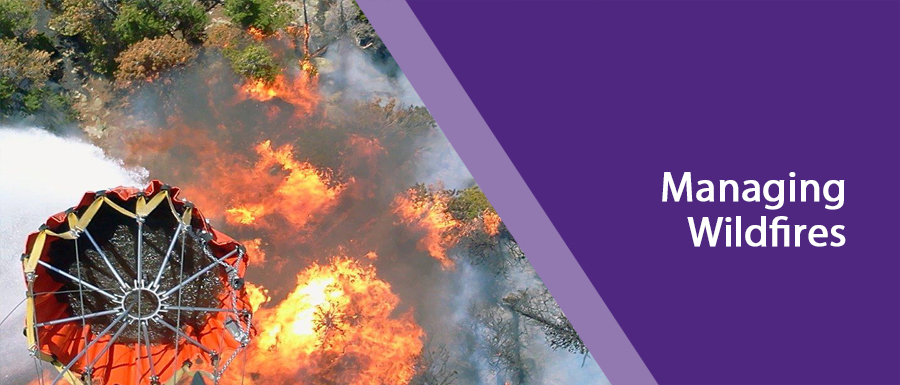 Forests cover almost 50% of Canada's land area and contribute $20 billion dollars to the economy each year. The risk and hazard of wild forest fires in Canada pose a threat to the Canadian economy as well as the lives and the livelihood of many Canadians. Western Science researcher, Doug Woolford has developed an algorithm, the product of which has been wildfire risk maps, delivered to and used widely by the Ministry of Resources (Forestry) for the province of Ontario, the Canadian Forest Service, and Alberta's Agriculture and Forestry Service.  These decision-support models aid government officials in city planning, managing the occurrence of people started fires and planning controlled forest burns for regrowth and restoration of these essential ecosystems.
Home to leading experts in environmetrics, Western Science now has the computing power to create data analytics that translate to models that allow for analysis of forest fires over long and short timescales to address local and province-wide blazes. Woolford's research group is taking datasets spanning weather networks and fire archives as well as historical documents to gain a spatial and temporal understanding of how the fires developed and were combatted.
Woolford has recently joined a collaborative team to analyze the char produced by the catastrophic fire that ravaged Fort McMurray earlier this year. Working alongside Elizabeth Webb in Earth Science, researchers from the Faculty of Engineering, and the Canadian Forest Services, Doug's team is in the process of sampling char to conduct an isotopic analysis and combine that information with his previous statistical analysis to understand the nature of the forest fire at different sites and try to quantify the effect different trees species, burn intensity, and other environmental conditions had at each site. 
By combining this data with information gleaned from other forest fires across the globe, the team hopes to create a global calibration curve, which will help understand the characteristic of forest fires without witnessing them first-hand. This also has archaeological implications, as it would be applied to char deposit and indicate how the fire affected local populations without the need for historical description. 
Meet Chelsea Uggenti, a master's student, who worked closely with Woolford for a NSERC-USRA. 
Meet Nathan Phelps, Western Science's first graduate in data science and a member of the Woolford lab for the summer of 2018.