Where Research Takes Flight
Where Research Takes Flight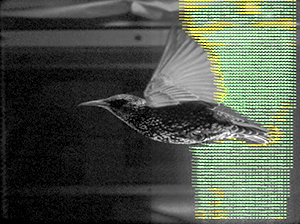 From the moment you enter the room, the wind tunnel makes quite an impression. The world's first hypobaric climatic tunnel for avian studies, it is among a rare few that simulates extremely low airflow for bird flight.
The tunnel is capable of replicating conditions of up to 7 km in altitude with high quality and low-turbulence airflow at speeds of up to 65 km/hour. The solid steel plenum allows researchers to adjust air pressure, temperature, and humidity within the chamber to reproduce a bird's natural environment with precision. 
Birds can fly individually or in groups and the area in the working chamber of the tunnel is even large enough to allow researchers to monitor fowl in flight from a strategically located cavity. Wind tunnel cameras run around the clock. State-of-the-art lasers capture and facilitate the mapping of behavioural patterns while documenting changes with accuracy. Designed to mimic a bird's natural environment, subjects can fly uninterrupted for 6, 8 or even 24 hours depending on the framework of the study, providing an exclusive experience for observational research.