Technology at your Fingertips
Technology at your Fingertips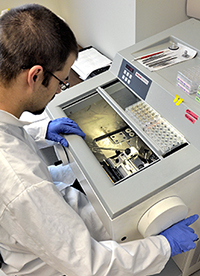 The AFAR lab is equipped with two Quantitative Magnetic Resonance (QMR) machines that are available for use by researchers on site. These units scan the body mass, fat and water levels of birds and other species, to map physiological changes before and after flight. 
If you require a more mobile version of the QMR, inquire about the availability of AFAR's portable lab, a mini-research facility, incorporating a portable QMR that has traveled across North America, tracking changes and migration behaviours in birds across the continent.
Our in-house QMR experts support researchers on-site and in-the-field, providing training and sharing proven protocols to achieve the most accurate results.