Variable Pressure: SEM S-3400N
Variable Pressure SEM: Hitachi S-3400N Microscope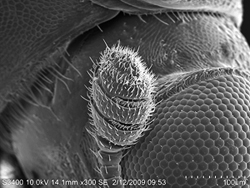 Our Hitachi SEM 3400-N is equipped with a turbo-molecular pump for quick pump down times and reliable high vacuum performance. It is especially suitable for imaging biological and geological specimens.  This well equipped system offers users enhanced performance and capabilities including:
High Vacuum mode with both backscattered and secondary electron detectors; X-ray analysis; Peltier cooled stage and high resolution digital images. Capable of up to 300,000x magnification with better than 5nm resolution at 30 kV this versatile SEM is extremely user friendly. The 3400-N can handle specimens up to 200mm in diameter and offers fast (90 second) chamber pump down times for quick specimen exchange.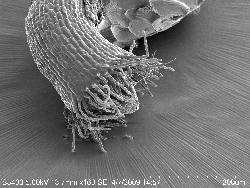 Variable Pressure Mode (to 280 Pa) adds a special Environmental Secondary electron detector to its list of features. In Variable Pressure mode we can image 'wet' or 'oily' samples without standard SEM processing protocols such as critical point drying or metal coating. Both X-ray analysis and high resolution digital image capture are available in the VP mode. 
An optical freezing stage can be installed to work with extremely wet or temperature-sensitive samples, in conditions that prevent charging, distortion or artifact.  The cryostage is also useful for freeze fracture techniques that reveal detail in lipid-containing materials.


 Hitachi S-3400N Variable Pressure SEM Technical Specifications

Magnification

300,000x (Theoretical)

Variable Pressure vacuum system

Turbomolecular pump for reliable, efficient, (90 sec) pump down time.
Environmental secondary electron detection in variable pressure mode  (to 280 Pa) allows imaging of wet or oily or uncoated samples without standard SEM processing.

Accelerating voltage

0.1 to 30 KV

Resolution

Better than 5nm resolution at 30 kV

Stage

Handles specimens up to 200 mm in diameter on fully eucentric, 5 axis, digitally controlled motorized stage

Image Capture

High resolution digital image capture.
Secondary Electron Detection
Backscatter detection
X-Ray Analysis
Topographic, 3D and Composition modes of imaging

Other

Cryostage for  frozen samples
INCA EDAX system for X-Ray analysis and materials characterization
Click here to Book a Consultation