Electron: Philips 420 Transmission Microscope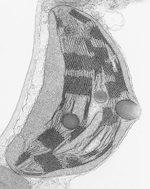 The Philips 420 is equipped with a LaB6 filament and has an accelerating voltages up to 120Kv for enhanced resolution, making it especially suitable for users working with nanomaterials.   A new AMT 4000 camera has recently been added to the system to provide high resolution digital imaging.  The instrument is also equipped with an EDAX Genesis X-ray microanalysis system for materials elemental characterization. This instrument is ideal for both biological and materials research.
Technical Specifications of the Philips 420 TEM.


Magnification

Range of 46x to 820,000x magnification

Accelerating voltage

Variable acceleration from 20KV to 120KV

Resolution

0.34 nm point to point resolution

Stage

-45 to +45o Specimen Tilt

Image Capture

AMT 4000 digital imaging system with high resolution 2048 x 2048 pixel format.

Other

LaB6 Filament for greater beam stability
EDAX Genesis system for materials characterization
Cold finger attachment
Click here to Book a Consultation