For the Love of Science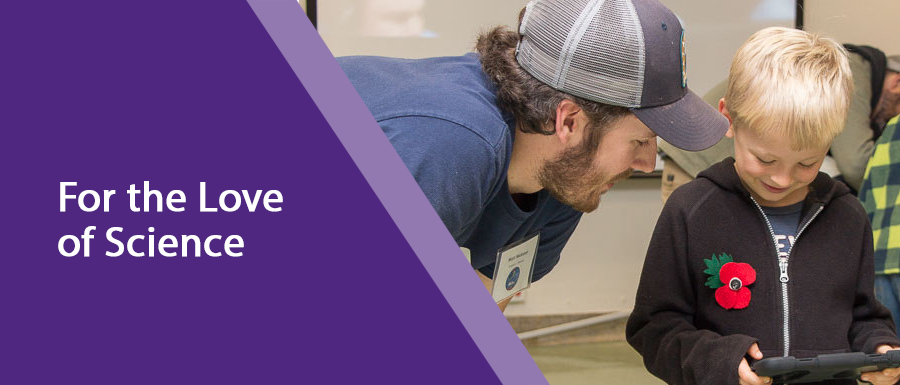 Western Science regularly reaches out into the community to bring the wonder of science to youth, students, families and friends of Western University. From classroom and community centre workshops, student competitions and summer camps, to speaker presentations, campus tours and nights at the Cronyn Observatory, Western Science faculty and students host or support hundreds of events and activities each year. Check out some great opportunities to experience the joy of exploration and discovery, and follow us on Twitter @westernuScience to hear about new activities over the course of the year.
Friends of Western University
Western Science Speaks is a bi-weekly podcast designed to introduce you to some of our interesting faculty and graduate students and the research they perform. From termites to telescopes to polymers that bring life-saving medications providing targetted treatment, let us share with you our passion, creativity, and contribution to the global community. 
Western Worlds offers podcast programming that features an interview with space-relevant researchers, engineers, scientists, or advocates representing the local, national and global planetary science and exploration communities.
Youth Outreach
Western Science is proud of our long partnership with the Boys and Girls Club of London. As part of their education program, groups from the Boys and Girls Club of London visit Western Unversity to learn about a wide range of scientific topics. We invite you to explore their programs to get more information.
The purpose of the Kanagaroo Math competition is to introduce youngsters from grade 1 to grade 12 to math challenges in a fun and enjoyable way, thus inspiring their further interest and advancement in mathematics.
Western Science is home to one of competition locations in Onatrio. If your children is interested in participating we invite you to contact:
Hristo S. Sendov
E-mail: hssendov@stats.uwo.ca
Students interested in mathematics are taught interesting concepts and methods. Practice contests are also reviewed. (Great prep for Euclid, Fermat or Gauss contests as well as the Mathematics Olympiad. See
the the link
below for schedule and contact information for contests.

Mathematics Outreach: http://www.math.uwo.ca/homepage-external-links/math-challenge/ 
A day of problem solving events that are fun to do and require students to apply their knowledge of science in creative ways. Students work in teams of rather than individually.
Patrick Whippey

E-mail: pwhippey@uwo.ca
Classes can visit Western's beautiful campus and engage with experts on a variety of topics from all of the departments within the Faculty of Science, including the Medical Sciences. Schedule permitting we are also happy to speak or deliver a workshop at your school.
Virtual school visits are available through the Virtual Researcher On Call (VROC) a project of Partners In Research.
Family Fun