Highlights
By tackling the challenges that our society faces, researchers at Western Science often publish papers highlighting new discoveries, receive awards for outstanding and novel science, and produce patents that transform discovery to application. Featured below are the most recent announcements from different research groups at Western Science regarding publications, awards, and patents. Explore the accomplishments of Western Science and be sure to come back to see the new and exciting projects that being are undertaken at Western Science.
Featured Highlight
Thanks to the efforts of Dr Audrey Bouvier and students in Planetary Science, more extraterrestrial samples have a home at Western.
Analysis of meteorite specimens through curatorial, outreach, and teaching activities have added at least an additional 80 meteorites to the existing corpus of the Western Meteorite Collection. Over the past four years, the nomenclature committee of the Meteoritical Society has confirmed that the submitted samples are indeed meteorites, boosting Western's meteorite collection by 30 percent.
Over twenty graduate students, including MSc candidate Zhiguo Guo, have been an important part of the classification process. Guo identified Western's first lunar meteorite in 2017 (named Northwest Africa 10964). During Bouvier's Cosmochemistry course in 2018, he also found some atypical characteristics in the specimen; one of these features was the presence of olivine along with pyroxene and plagioclase.
In collaboration with Drs. Liz Webb and Fred Longstaffe at the Laboratory for Stable Isotope Science, they measured the lunar meteorite's oxygen isotopic composition, which turned out to be anomalous. The combination of these clues indicated this was a new type of meteorite, dubbed "ungrouped achondrite", now named Northwest Africa 12338. According to Dr Bouvier, the meteorite resided in the asteroid belt, between Mars and Jupiter, for billions of years, "but we don't know where its parent body formed initially within the Solar System, nor which asteroid it comes from."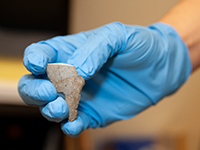 MSc student Laura Jenkins also classified an achondrite from a group known as HED meteorites (from the howardite–eucrite–diogenite suite). This group of meteorites are thought to originate from the 4-Vesta asteroid, the second-largest body in the asteroid belt. Eucrites are basaltic type rocks from the crust of the parent asteroid and diogenites are fragments of igneous rocks formed deep within the crust of 4-Vesta. What Jenkins found was a complex conglomerate called breccia also known as howardite. "It's a mixture of fragments from the same types of rocks as eucrites and diogenites," she says. Before arriving at Western, these meteorites were found by nomads living in Northwest Africa, an area encompassing Morocco, Western Sahara, Algeria, Mali, and Mauritania. The nomenclature committee of the Meteoritical Society names meteorites found in this area according to their order of submission and this sample was fortuitously assigned the name "Northwest Africa 12345"! Other meteorites recently classified came from Oman, Libya or Uzbekistan, all through generous donations to the collection.
To see some of these space rocks, drop by the Department of Earth Sciences, where they are on display.
Past Highlights
Date: January 3 - 6, 2019
Location: London Convention Centre, London, Ontario
Details: Please see the conference page for information on proposal submission, accommodation, and up-to-date program information.
Summary: In partnership with the Society of Canadian Limnologists, the Canadian Conference For Fisheries Research is a national conference bringing together diverse research on a variety of topics and projects within Fisheries including the science, management, and issues facing our waters and resources today. This year marks the 72nd Meeting.
Contact: ccffr2019@gmail.com
The United Way fundraising campaign is hosting several exciting events throughout the month of November. Please see the summary information of the events below with more information available on Western's United Way Site.
Title: Kickoff Campaign
Date: November 5, 2018
Further Details: Wear something red in support of the United Way
Title: StairClimb
Date: November 8, 2018
Further Details: Collect pledges in support of climbing 472 stairs at One London Place. The minimum pledge to participate is only $40. If you would like to participate but have accessibility concerns, please consider taking the alternative route around One London Place. Should you like to join the Faculty of Science team, contact team Captain, Lauren Starr (lstarr2@uwo.ca).
Title: Kickoff Campaign
Date: November 5, 2018
Further Details: Wear something red in support of the United Way
Title: Faculty of Science Pizza Day
Date: November 16, 2018
Further Details: Pre-order two-slices of pizza for only $5. Pre-ordering is required using this qualtrics form. Cash only, upon delivery. Faculty members can have the pizza delivered to their office, or to North Campus Building Room 270.
Title: Bake Sale
Date: November 23, 2018, 12:00 - 3:00 pm
Further Details: Enjoy some sweet treats at one of our booths in the Physics and Astronomy Building Atrium or North Campus Building on the Second Floor.
Title: Trivia Afternoon
Date: November 28, 2018, 4:00 - 6:00 pm
Further Details: Join us in NCB 270 for a fun-filled afternoon of friendly competition and snacks. $10 Entry fee and refreshments available. Prizes will be awarded to the best team and the best individual player. Please RSVP if possible to Allison McInnis if you can attend: amcinn6@uwo.ca. 
Should you have any questions regarding any of these events, please contact Allison McInnis, 2018 Campaign Representative (amcinn6@uwo.ca).
A special thanks to our 2018 United Way Campaign Committee: Allison McInnis, Lauren Starr, Craig Ingram, Holly Sanderson, Zach Armstrong, and Tarrah Fairweather.
Date: Thursday, November 22 at 5:30 pm
Location: NCB 114
Further Details:
Hear from a panel of Western Science graduates who are all using their Science degrees in unique ways. Learn how they secured their jobs and hear their advice for job searching. Ask questions and mingle over snacks after the panel. Panelists are:
Olivia Bachmann, Education Coordinator, Department of Obstetrics & Gynaecology at Western University
Naresh Singh, Chief Information Officer, St. Thomas Elgin Hospital
Dr. Cameron Graham, Research Scientist, BioLiNE
Dara Amin, 

SEO, Digital Analytics & Frontend Developer, 

Zomoran
Arezoo Tahmabesi, Risk Analyst/Financial Modeller, TD Bank
Jean Michel Morrison, Actuarial Analyst, London Life
Register
Here
Facebook Event Here
Fall Preview Day is Sunday, November 18, 2018. Please register here to receive more information and to confirm your attendance. 
During Fall Preview Day, Western Science hosts a number of specific information sessions related to our departments, programs, courses, and experiences. This day is an opportunity to engage with our extraordinary complement of faculty members and ask current students questions about their experiences. We look forward to hosting all prospective and future students once again this fall. 
To learn more, click here.
Date: Wednesday, November 14, 2018
Time: 11:30 am - 12:30 pm
Location: Physics and Astronomy, 106
Description:
David Wessinger, BSc'94 (Computer Science), and COO of PointClickCare, will join Burns Cheadle for an Open Lecture to discuss his journey as an entrepreneur. Recently name as one of Deloitte's fastest growing technology companies - as well as one of Canada's best managed - PointClickCare's is striving to improve senior care through the aid of innovative cloud-based technology.
Register and view the Events Calendar here.
Biography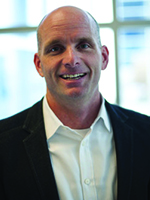 Dave Wessinger is the co-founder and chief operating officer for PointClickCare Technologies Inc. In his role, he is responsible for leading the company's Sales, Marketing, Operations, Account Management, Strategic Initiatives and Customer Experience teams. For more than 20 years, Dave has worked in the senior care information technology industry and is actively involved in many industry associations and advocacy efforts on behalf of senior care providers, including CPAC, NASL, AHCA IT, CAST and ONC.
Prior to co-founding PointClickCare, Dave was a manager of IT for a multi-site provider and focused on software implementation and adoption. His unique blend of senior care provider knowledge and technical expertise proved invaluable in the creation of the PointClickCare solution, and the design decision to leverage SaaS as the delivery platform in 1999. Under his leadership, more than 15,000 PointClickCare customers leverage the PointClickCare technology to care for millions of residents each day. Dave continues his passion for the industry and is committed to helping providers improve outcomes through the use of Health Information Technology.
Dave currently sits on the board of directors for Careworks Inc. and PointClickCare Technologies Inc.
Date: Monday, November 12
Time: 1:30 pm
Location: Kresge Building, 106
Seminar Title: Plastic Here and Everywhere: International Effort in Fighting Plastics Pollution
Presenters: Anika Ballent and Patricia Corcoran
Abstract: Plastic is a relatively new material on planet Earth. In the short time it has been around, it has completely changed our world, for better or for worse. It is redefining many aspects of our lives, and affecting different cultures and regions in various ways. It is an issue that is tangible, urgent, and challenging, but we believe it is one that is possible to solve. Algalita works around the world engaging youth and communities in the plastic pollution problem. We've created a global network of environmental stewards working to address this issue in ways that work specifically for them. I hope to share our rounded perspective of the issue and to highlight the inspiring progress made by the people we've worked with from around the world.
Presenter Biographies
Anika Ballent, Education Director, Algalita Marine Research and Education (or just Algalita) Anika dove into the underwater world of plastic in 2010 when she was confronted by the images of plastic debris floating in the North Pacific gyre. She took the issue into her own hands and studied the underwater transport properties of plastics during her Bachelors of Science in Oceanography at Jacobs University in Bremen, Germany. She continued with a Master's degree in Geology at the University of Western Ontario in Canada where she investigated microplastics in the sediments of the Great Lakes. As Education Director at Algalita, she guides youth through their own discoveries of plastic pollution and making real change in their communities. For Anika each day is an opportunity to make a positive impact in this world.
Patricia Corcoran is a sedimentary petrologist who studies how natural and anthropogenic processes affect Earth's systems. She was the first scientific researcher to investigate plastics pollution in the Great Lakes, and her work concerning a new stone called plastiglomerate has been featured in various science and media outlets in North America, Europe, and Asia. She is currently the Chair of the Department of Earth Sciences at Western and when not in London, can be found in rivers and lakes and on beaches sampling for microplastics.
"Spying on Animals" which debuts Sunday 4 November at 8:00 PM ET on CBC TV
The episode focuses on new uses of wildlife cameras and features footage of Dr. Zanette filmed last year working in South Africa.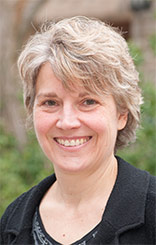 As part of Dr. Zanette's project in South Africa, remote cameras are being used to photograph, and potentially manage an entire ecosystem with the cooperation of thousands of Citizen Scientists who help catalogue the pictures online. For more information on Dr. Zanette's lab, click here.
Spying on Animals shows us how innovations in remote, unmanned cameras let us bear witness to animal behaviour 24/7, almost anywhere on Earth. This is a revolution for scientists, a new and powerful connection between ourselves and wildlife, and an inspirational force for conservation.
Click here for episode details.
Thank you to so many of our Science Alumni from Applied Math, Statistics and Actuarial Science, Mathematics, Medical Sciences, Chemistry, Biology and Earth Sciences for joining us at HOCO 2018. A great time was had by all! We look forward to hosting you again next year! See the HOCO in SCIENCE 2018 album here.
Time: 5:00 - 6:00 pm
Location: Arts & Humanities Building, Room: 1R40
Abstract
With developments in computing and in CCD technology, astronomers can now take short exposure observations. These are revealing an amazing wealth of short-duration, transient phenomena which will be described in this talk
Biography
Dame Professor Jocelyn Bell Burnell inadvertently discovered pulsars as a graduate student in radio astronomy in Cambridge, opening up a new branch of astrophysics—work recognized by the award of a Nobel Prize to her supervisor.
She has subsequently worked in many roles in many branches of astronomy, working part-time while raising a family. She is now a Visiting Professor in Oxford, and Chancellor of the University of Dundee, and was (the first female) President of the Royal Society of Edinburgh—Scotland's National Academy.
Much in demand as a speaker and broadcaster, in her spare time she gardens, listens to choral music and is active in the Quakers. She has co-edited an anthology of poetry with an astronomical theme—"Dark Matter; Poems of Space."
More Information here.
Thank you to all those alumni and friends of Western Sicence whose generous contributions have helped our students, faculty, and staff to Be Extraordinary. Explore our Faculty of Science Stories of Imapct on the Campaign Website.
For more information on Alumni and Giving click here.
Kate Young, MP London West and Parliamentary Secretary for Science and Sport and Peter Fragiskatos, MP London North Centre joined John Capone, Western's Vice-president of Research this morning at the Atrium in the Physics and Astronomy Building to announce this year's NSERC Grants, Scholarships and Fellowships.
The Faculty of Science congratulates our 40 Discovery Grant recipients including:
Janusz A Adamus
Margaret Campbell-Brown
Sangeeta Dhaubhadel
Miodrag Grbic
Abdelali Hannoufa
Yining Huang
Susanna Kohalmi
Reginald Kuplperger
Nazim H. Madhavji
James Noel
Tamie Poepping
Thomas Sigut
Paul Wiegert
Kaizhong Zhang
Pauline Barmby
Styliani Constas
Zhifeng Ding
Vojislava Grbic
Wenqing He
David Jeffrey
Lars Konermann
Daniel Lizotte
Frederic Marsolais
Gordon Osinski
Richard Secco
Mahi Singh
Jungsook Wren
Brian Branfireun
Sashko Damjanovski
Joseph Gilroy
Christopher Hall
Wayne K. Hocking
Krzysztof Kapulkin
Konstantinos Kontogiannis
Leonard Luyt
Marc Moreno Maza
Guy Plint
Robert Sica
Krzysztof Szczyglowski
Mair Zamir
Liana Zanette


Examples of Funded Research Projects:
Understanding how galaxies work is part of knowing the origins of life on Earth. From the calcium in our bones to the North Star, the contents of our Milky Way galaxy are the product of earlier generations of stars. The processes that produced galaxies are so slow in human terms that the only way to see them operate is to run computer simulations. Prof. Pauline Barmby's research will determine how well simulations reproduce real galaxies, using the world's most advanced telescopes to make observations of nearby galaxies.
Physics professor Wayne Hawking's project focuses the role of the middle atmosphere in space travel and the accurate predication of sever weather events at the surface. Space craft must be launched through the middle troposphere, stratosphere and mesosphere in order to reach space, and the winds, temperatures, turbulence strengths, buoyancy wave composition and general atmospheric structure in this region must be well understood in order to make safe launches. Recent interest in commercial spaceflight (e.g. SpaceX), including plans to fly between continents through lower space, have made real-time prediction of middle atmosphere conditions vital.
Millimeter-sized pieces of dust from comets and asteroids have changed very little since they condensed out of the solar nebula before the planets formed, and their structure and composition tell us about the origin of our own planet. Meteoroids in this size range also pose a threat to spacecraft, including crewed missions. The slowest meteoroids travel much faster than bullets and have incapacitated spacecraft in the past.
Campbell-Brown's research will determine where most meteoroids come from and how dangerous they are to spacecraft. She will also look at meteor shower activity to better predict when spectacular (and potentially dangerous) outbursts may occur. Meteors which don't belong to showers may be tens or hundreds of thousands of years old and give us a window into the past activity of comets and asteroids in our neighbourhood. These small objects are also much more numerous than shower meteors, and so pose the most risk to spacecraft. Her research will report on how the activity of these meteors changes with time. Finally, Campbell- Brown will build models of what happens to a meteoroid in the fraction of a second before it is vaporized in the atmosphere to help us understand what the parent asteroids and comets are made of, and how they formed.
The lack of knowledge about the controls on the delivery of Mercury (Hg) to aquatic food webs is particularly problematic when attempting to forecast the impacts of climate change on the Hg cycle. Branfireuns's research will quantify the gaseous Hg uptake by plants, as well as the highly toxic Methylmercury (MeHg) inputs to boreal sub-arctic soils. This project will also clarify the role of drainage basins as a source of MeHg to boreal sub-arctic freshwater lakes and identify how the quality of northern dissolved organic matter mediates the assimilation of Hg and MeHg by phytoplankton.
Agricultural super pest, the spider mite, feeds on over 1100 plant species including more than 150 crops worldwide. With increased reproductive potential under conditions of global warming, combined with an outstanding ability to adapt to new crops and develop resistance to pesticides, the spider mite threatens global crop security. Vojislava Grbic's research will determine how Arabidopsis plants establish defenses in anticipation of spider mite feeding. In parallel, it will identify spider mite counter-adaptations to Arabidopsis defenses. This research will establish an unprecedented level of understanding of plant-herbivore interaction. The knowledge of plant defense mechanisms will lead to the development of new control strategies against this important agricultural pest, while mechanisms of mite counter adaptations will help maintain the efficacy of these control strategies in agricultural practices.
Humans are both "super predator" and prey – inducing fear in other animals and fearing them in turn. Our role as predator is revealing the central importance of predator-induced fear in ecology; recognizing our role as prey is enhancing our understanding of post-traumatic stress (PTSD); and measuring the fear we inspire may provide a tool to gauge our impacts on the environment, and so aid conservation. Frightening prey to death, e.g. by impairing parental care, has been argued to be part of the critical 'ecosystem service' large carnivores provide, in keeping their large herbivore prey in check; a service being lost with the loss of large carnivores caused by their persecution by the human "super predator".
Biology professor Liana Zanette's project will first test how the fear of large carnivores impacts the demography and behaviour of their large herbivore prey in two parallel experiments, on deer on B.C.'s Gulf Islands, and ungulates (e.g. wildebeest) in South African game reserves. Predator induced fear is now one of the most common stressors used in 'animal model' (lab rat) studies of PTSD, because it produces effects on the brain matching those seen in PTSD sufferers. Zanette will also test for comparable lasting impacts of fear on the brain in wild animals. Large carnivores have come to so fear the human "super predator" this can affect their keeping large herbivores in check, and result ecosystem-level impacts. Humans are definitely a predator, poaching being a principal cause of biodiversity loss. Quantifying poaching presently relies upon questionnaires, which are intrinsically unreliable because respondents must to confess to crimes. Animals know their enemies. Therefore, Zanette will test whether 'interrogating' wildlife about their fear of humans, and using innovative new technology, can be used as a tool to reliably gauge the impacts of poaching, and ecotourism.
Among all alternative energy sources, solar energy is clean and the most powerful. The sun-light on earth has a huge capacity to match our total world oil reserve of ~3 trillion barrels with 1.5 days of irradiation. However, the solar approach currently supplies only 0.015% of our electricity globally. Ding's research aims to enhance the efficiency of low-cost, light-weight thin film Cu2ZnSnS4 (CZTS) solar cells. More than 10% efficiency is anticipated.
As the technological demands of our country continue to evolve, so does the need for innovative and readily accessible functional materials. Joe Gilroy's project will focus on the production of luminescent and semiconducting molecular, polymeric, and self-assembled materials for use in a variety of organic electronics (e.g., sensors, memory devices, light-emitting diodes, field-effect transistors, and solar cells).
Making good decisions in the present often requires knowledge of potential decisions to be made in the future. Consider choosing a medical treatment for a patient with a chronic disorder: in practice, treatment decisions are made based on knowledge about the state of the patient, knowledge about the treatment options currently available, and knowledge about how future decisions will be influenced by the patient's progress over time. The development of electronic data sources that record how thousands or even millions of patients respond to different sequences of treatments over time, have the potential to inform evidence-based medical decision making more effectively than ever before. However, rigorous analysis techniques for extracting evidence from this data and effectively presenting it to physicians -- for example through personalized treatment recommendations -- are still in their infancy. Dan Lizotte's research aims to adapt and improve reinforcement learning and machine learning techniques so they can be applied to these new sources of sequential medical data and can in turn provide doctors with the best available evidence to aid them in choosing the best treatments for their patients.
Western's School of Mathematical and Statistical Sciences (SMSS), in collaboration with the Fields Institute for Research, hosted 50 participants during its first annual Fields Summer School on Topological Data Analysis for Banking and Finance. Students and Postdoctoral Fellows from across the nation and several international destinations including the UK, Korea and the US participated in three inter-related short courses as well as authentic problem-solving challenges over a two-week period.
Participants learned the fundamentals of topological data analysis, developed a greater awareness of data available for banking and financial analysis and explored the use of programming tools for bank and finance analytics.
"Student growth was impressive as they adapted new analytical techniques to data sets, eventually leading to actionable business insights," commented SMSS founding director and dean of the Faculty of Science, Matt Davison.
The success of the summer school was due in part to the active participation of Scotia Bank, which provided synthetic anti-money laundering data, and through the on-site engagement of Rene Stock, Andi Moshirvaziri, Yousef Akhavan and Inshu Bhatnagar, delivered presentations, offered insightful feedback and shared their front-line expertise. Other individual collaborators, including Data Engineer Charlie Frantowski, also played an important role, imparting their significant understanding of the corporate challenges of data storage, security and application.
Dr. Stephanie Barbon awarded the Paul De Mayo award for her outstanding research pertaining to chemical bonding and control sequencing in polymers.
There's an undeniable celebratory energy inside the venue. This is a victory lap of sorts for one of Western's most promising recent graduates.
Earlier, I had the opportunity to sit down with Stephanie and find out a bit more about this outstanding representative of the science community.
"I grew up in London, so it always made sense for me to study here."
Stephanie lived the London dream, choosing to go to Western for her undergraduate and eventual doctoral studies. After seven years at Western and with only a year and a half remaining in her doctoral studies, a captivating guest lecture, from superstar chemist Craig Hawker, prompted her to send him an email, asking if he had a spot for her in his lab at the University of California, Santa Barbara. Hawker took a look at Stephanie's academic record – there was no question that he could find her a spot.
"Craig has a really big reputation in our field of research and is an extremely impressive guy. I jumped at the opportunity to work with him. It's always tough to be away from your family, but it's been a fantastic place to live and a thrilling place to do research. I'm learning lots."
Stephanie enrolled at Western as a chemistry major in 2011, but it wasn't until a second-year research project in Newfoundland where she found her true passion: polymers.
"We were generating polymers with catalysts. I realised that I was much more interested in the polymers that were being created, rather than what was creating them. Ever since then, I've been engrossed in the study of polymers."
Stephanie's research focuses on creating the synthetic replication of molecules that control our cellular processes and initiate the reactions that occur in living cells.
"Historically, polymers have just been a single molecule repeated along a lengthy chain. What we're working on, is being able to control the order of the molecular structure. If you think of a protein, you can control which amino acids are next to each other. Our goal is to be able to replicate that process in synthetic polymers too. We want to be able to control the properties very finely, based on the order that they're in."
Stephanie wants to unlock new functions for materials that have never gone through the chain-like chemical bonding process known as polymerisation.
"I'm working with polymerising new materials. Specifically, materials that could be useful for a variety of applications that we haven't been able to access yet. I'm also looking at anti-bacterial polymers. Hospitals need anti-bacterial coating for everything to reduce the spread of bacteria. A lot of the coatings that have been developed in the past are peptide- (small proteins) based. Peptides are expensive and difficult to make, so we think that if we can replicate this process with polymers, then it's going be a lot easier to scale up, make big batches and coat the whole hospital both effectively and in a less expensive fashion."
If it sounds ambitious, that's because it is. The complex functions that polymers such as protein and our own DNA provide, make up the very fabric of who we are.
"Proteins have very specific functions based on the way they orientate, and so if we can control the way that polymers combine, we may produce some naturally occurring functions in synthetic polymers."
This research led Stephanie to be selected for the Governor General's Gold Medal for Academic Excellence and the aforementioned 'Paul De Mayo Award'. Notably, the 'Paul De Mayo Award' aims to recognize a graduate student who not only excels in their own research, but helps breed a culture of critical thought and scientific excellence within the Department of Chemistry. It comes by no surprise that Stephanie won this award considering her engagement in public outreach.
Employee of the year in 2015, Stephanie beams when recalling her time visiting elementary schools, setting up booths at community events and brainstorming science activities. She embodies the "pay it forward" concept with the way in which she approaches teaching and sharing science knowledge.
"I had a lot of awesome teachers in elementary and high school, who fuelled my interest in science. If I can do the same thing for one person, then it's worth all the effort."
What's next for Stephanie in her scientific endeavours? First, she will be completing the second year of her two year fellowship at Santa Barbara. After that, it's time to come home.
"I aspire to end up back in Canada. That's my goal. California's nice but it's not home. I will be back."
---
Fun with Main Group Chemistry
The Ragogna Research Group
The main group elements, a sub-group of the iconic Periodic Table of the Elements, have long been the vanguard for establishing parameters for principles of chemical structure (molecular shape) and bonding (forces holding atoms together). A main group chemist often tries to push the boundaries of established rules for structure and bonding, which makes the research area both interesting and frustrating.
Chemists working with compounds derived from this part of the Periodic Table have not only made ground-breaking, fundamental discoveries (e.g. Noble Gas compounds), but have also generated new materials that are of immense practical benefit to humanity (e.g. Silicone polymers).  Since 2005 our group has spent considerable effort investigating the fundamental chemistry the main group elements, and although we cannot lay claim to such impactful discoveries such as silicones, we do indeed look to discover applications for our new knowledge.  In this context, key fundamental discoveries that have emerged from our lab and the spin-off, industrially-relevant research will be highlighted.  Most importantly, the lecture will be a tribute to the clear dedication, skill, and tenacity of the many undergraduate and graduate students and postdoctoral researchers that have passed through the Ragogna Group laboratories.  As we all know, without such a team, none of the discoveries would have come to fruition.
Thank you to everyone who joined us for Science Rendezvous @WesternU this past Saturday! It was amazing to see so many families running around TD Stadium exploring the exciting complement of science booths and activities. Despite the rain, over 1500 people joined us for a day filled with scientific exploration.
Science Rendezvous @WesternU is part of a national celebration of science held across Canada. For Western Science, it is an opportunity to open our doors to the community and welcome you to campus to see the exciting science taking place here. Whether it was making your own slime, driving a mini-space rover, or simply holding a stick insect for the first time, we hope that you now love science as much as we do.
If you missed us on Saturday, click here for photos and be sure to catch us next year! 
We would especially like to thank our sponsor. This day was only possible because of your generous support.
The Florence Bucke Science Award recognizes excellence in research conducted by a young and upcoming faculty member. The award was made available through an endowment from the late Florence Bucke who received a BA from Western University in 1926 and went on to teach in Fort Erie until 1971.
The prize consists of a certificate, a $2000 award, and public lecture which will take place on Wednesday, April 25th at 3:30 pm in the Physics and Astronomy Building, Room 100. A reception will follow.
This year's recipient is Dr. Paul Ragogna from the Department of Chemistry. Paul's research focuses on the synthesis of new molecules containing the main group or transition metal elements and their application in practical chemical processes. An abstract for Paul's lecture can be found below.
---
Fun with Main Group Chemistry
The Ragogna Research Group
The main group elements, a sub-group of the iconic Periodic Table of the Elements, have long been the vanguard for establishing parameters for principles of chemical structure (molecular shape) and bonding (forces holding atoms together). A main group chemist often tries to push the boundaries of established rules for structure and bonding, which makes the research area both interesting and frustrating.
Chemists working with compounds derived from this part of the Periodic Table have not only made ground-breaking, fundamental discoveries (e.g. Noble Gas compounds), but have also generated new materials that are of immense practical benefit to humanity (e.g. Silicone polymers).  Since 2005 our group has spent considerable effort investigating the fundamental chemistry the main group elements, and although we cannot lay claim to such impactful discoveries such as silicones, we do indeed look to discover applications for our new knowledge.  In this context, key fundamental discoveries that have emerged from our lab and the spin-off, industrially-relevant research will be highlighted.  Most importantly, the lecture will be a tribute to the clear dedication, skill, and tenacity of the many undergraduate and graduate students and postdoctoral researchers that have passed through the Ragogna Group laboratories.  As we all know, without such a team, none of the discoveries would have come to fruition.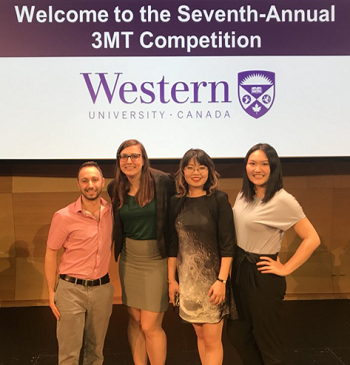 Tianqi Xie, Western University's 2018 winner of the campus-wide Three Minute Thesis Competition, is on a journey to unlock the secrets of the Moon. Through her research, she dives into the explosive history that shaped our closest neighbor, trying to understand how it's surface evolved over billions of years.
We've all seen a full Moon on a clear night, some of us might have even been fortunate enough to catch the "Super Moon" this past year, but if you've ever looked at a snapshot of the Moon you will see thousands of circular, bowl-shaped features covering the surface. They can range from a few meters to hundreds of kilometers wide. Called impact craters, these geologic landmarks are formed by the collision of material whipping around in space at kilometer per second speeds, often ten times the speed of most bullets.
When rocks collide at these speeds, a catastrophic explosion results. The impactor is vaporized in seconds and the bodies that have been hit are fundamentally changed. When these collisions unfold on the Moon, solid rock is instantly turned into liquid, molten material. Even more material is displaced, ejected, and thrown across the surface. The energy of the impact unleashes a shockwave several times greater than those experienced during the nuclear testing of the Cold War. It is how this shockwave travels through solid material that Tianqi is most interested.
The analytical system Tianqi uses to do her research is called Raman spectroscopy. This non-destructive technique is commonly used to identify organic and inorganic material in geologic samples. In NASA's upcoming Mars 2020 mission, a Raman spectrometer will be used to try and find evidence for life on the Martian surface.
Tianqi is one of the few people in Canada who gets to hold pieces of the Moon and explore its crystalline structure by shooting lasers at them. By looking characteristic pattern returned from this shocked lunar material, Tianqi examines how the structure of the material has changed, what pressures the material experienced, and how proximal was the material from ground zero of the impact. In doing so, she hopes that we can better understand this geologic process, which has shaped every planetary body in our Solar System.
After finishing her BSc and MSc in Beijing, she became part of the Western Science community in the fall of 2014 as she started her PhD. Whether it's catching a new play or her Flamenco lesson, she has found time to take in the rich culture around her. Tianqi has loved her time in Canada. She hopes to pursue an academic career here in Canada, but she is certainly open to exploring and discovering new destinations as her career takes off.
---
The Three Minute Thesis Competition
The 3MT (Three Minute Thesis) competition asks graduate students to present the breadth and significance of their thesis in 1 slide and 3 minutes to do just that to a non-specialist audience. This fun and challenging academic competition gives Western Science graduate students the opportunity to improve their communication skills while potentially winning a first place prize of $1000. 
The 3MT Competition was originally developed by The University of Queensland, Australia, but since then, it has become a truly international phenomenon with global competitions held each year. The exercise develops the ability to effectively communicate complex research using open language, allowing you to explain the significance of your research to your peers and the wider community.
Join us for a celebration of outstanding interdisciplinary research. The 2018 Fallona Family Research Showcase is your opportunity to re-engage with the research community at Western University. By highlighting recent research achievements, this event allows you to explore potential new collaborations with research colleagues across Science and Engineering and beyond the campus gates with industry, government and alumni guests.
The showcase will be held on Thursday, April 12th, 2018 from 10:30 am to 4:00 pm in the atrium of the Physics and Astronomy Building. A detailed agenda can be found here.
This year, Dr. Raquel Urtasun, Head of Uber ATG Toronto, Associate Professor and Canada Research Chair in Machine Learning and Computer Vision at the University of Toronto will be our keynote speaker and recipient of the Fallona Family Research Award. A full biography is available below.
Poster presentations on the cutting-edge interdisciplinary research being conducted by the Faculties of Science and Engineering will be presented throughout the day.
The poster presentation registration deadline is April 5, 2018. Prizes will be presented to the top three posters.
A select group of students will also be invited to deliver a five-minute oral presentation during the main speaking portion of the event. If you would like to be considered for this opportunity, please be sure to complete and submit the registration form no later than March 30. You will be contacted during the first week of April if you are chosen to deliver an oral presentation.
REGISTRATION FORM FOR POSTER AND ORAL PRESENTATION
---
Dr. Raquel Urtasun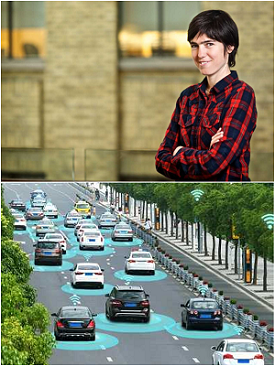 Raquel Urtasun is the Head of Uber ATG Toronto. She is also an Associate Professor in the Department of Computer Science at the University of Toronto, a Canada Research Chair in Machine Learning and Computer Vision and a co-founder of the Vector Institute for AI. Prior to this, she was an Assistant Professor at the Toyota Technological Institute at Chicago (TTIC), an academic computer science institute affiliated with the University of Chicago. She was also a visiting professor at ETH Zurich during the spring semester of 2010. She received her Bachelors degree from Universidad Publica de Navarra in 2000, her Ph.D. degree from the Computer Science department at Ecole Polytechnique Federal de Lausanne (EPFL) in 2006 and did her postdoc at MIT and UC Berkeley. She is a world leading expert in machine perception for self-driving cars. Her research interests include machine learning, computer vision, robotics and remote sensing. Her lab was selected as an NVIDIA NVAIL lab. She is a recipient of an NSERC EWR Steacie Award, an NVIDIA Pioneers of AI Award, a Ministry of Education and Innovation Early Researcher Award, three Google Faculty Research Awards, an Amazon Faculty Research Award, a Connaught New Researcher Award and two Best Paper Runner up Prize awarded at the Conference on Computer Vision and Pattern Recognition (CVPR) in 2013 and 2017 respectively. She is also an Editor of the International Journal in Computer Vision (IJCV) and has served as Area Chair of multiple machine learning and vision conferences (i.e., NIPS, UAI, ICML, ICLR, CVPR, ECCV).
Join us for the 2018 C. Gordon Winder Memorial SCUGOG Public Lecture given by Dr. Natalya Gomez.
Dr. Gomez is the Canada Research Chair in ice sheet - sea-level interactions at McGill University and will be giving a talk on Ice, Sea Level, and the Solid Earth. An abstract and Dr. Gomez's biography can be found below.
The talk will be Thursday, February 1st, 2018 at 7:00 pm in Middlesex College, room 110. A reception will follow.
Ice, Sea Level, and the Solid Earth
Sea-level rise is projected to displace communities around the world in the coming centuries, and the melting of the polar ice sheets is expected to make a significant contribution to the rising water levels. In particular, recent research suggests that unstable, runaway retreat may already be underway in certain sectors of the Antarctic Ice Sheet. A critical task of climate change research is to understand the response of present-day ice reservoirs to climate warming and estimate their contribution to future sea-level rise. In this talk, I will discuss the stability and evolution of the polar ice sheets, the physics of the associated sea-level changes, and the role that the solid Earth plays in these changes.
Natalya Gomez's Biography
Natalya Gomez is an assistant professor in the Earth and Planetary Sciences Department at McGill University and a Canada Research Chair in the Geodynamics of Ice Sheet - Sea Level interactions. She works at the intersection between two rapidly progressing areas of research: Solid earth geophysics and climate science. Her research centers around modeling the interactions between ice sheets, sea level and the solid Earth and understanding how these earth systems evolve in response to past, present and future climate changes in regions such as Antarctica, Greenland, North America and the Arctic. A highlight of her work has been to identify and quantify a previously neglected feedback between sea level changes and ice sheet dynamics. Her approach to modeling this sea level feedback has been adopted by groups around the world to study a wide range of problems in paleo, modern and future climate change. She has recently applied the approach to demonstrate the potential importance of local sea level changes and variations in Earth structure on ice-sheet evolution and the interpretation of geologic and geodetic records in Antarctica. She is also interested in the implications of climate change for coastal communities and environments in the Canadian Arctic.