Highlights
By tackling the challenges that our society faces, researchers at Western Science often publish papers highlighting new discoveries, receive awards for outstanding and novel science, and produce patents that transform discovery to application. Featured below are the most recent announcements from different research groups at Western Science regarding publications, awards, and patents. Explore the accomplishments of Western Science and be sure to come back to see the new and exciting projects that being are undertaken at Western Science.
Featured Highlights
The Vector Institute for Artificial Intelligence recently announced the recipients of The Vector Scholarships in Artificial Intelligence (VSAI). 115 scholarships were awarded to students across Ontario who held a first-class standing in the last two years of their undergraduate studies and have been accepted into AI-related master's programs for 2019-20 that are recognized by the institute; 4 Master of Data Analytics (MDA) students were acknowledged among this group.
"We are pleased and appreciative that Vector's VSAI scholarship program has recognized the quality of our forthcoming AI cohort and their potential as MDA-trained technical data analytics professionals by virtue of this financial award," commented Professor Doug Woolford, MDA Director and TD Chair in Data Analytics at Western University.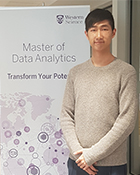 Yizhe Wen a Western Applied Mathematics student, completing an Honor Specialization in Mathematical Science, is one of the scholarship recipients. Wen aspires to employ his advanced training in AI analytics with Western's MDA program in the health management field, where he hopes to perfect natural language processing and computer vision to determine the real cost of disease to the healthcare ecosystem.
"I am excited and humbled to have received this award from such a respected institute," Wen remarked, "and I look forward to taking full advantage of my analytics training with the MDA so that I qualify for a challenging technical position upon graduation".
The Vector Institute supports AI education programs through scholarships in Artificial Intelligence to increase the number of graduates from AI-related master's programs in Ontario universities and create a diverse pool of professionals with the knowledge, skills, and competencies sought by industry.
The Faculty of Science Professional Master's in Data Analytics (MDA) at Western University is a 12-month program which includes a work-integrated learning component, designed to produce professionals ready to start a technical analytics-focused career.
Somewhere between 20,000 and 30,000 years ago, a mammoth body streaking across the great expanse of space began to deteriorate. What once was the comet, became a stream of heavy, fiery meteoroids, stretched the distance between Jupiter and the sun. This long chain-link of cometary material, that takes three years to orbit the sun just once, became known as the Taurid Meteoroid Stream, and a dense core within it the Taurid Swarm. As civilian reports of "Halloween fireballs" searing across the sky compounded with four annual meteor showers, the Taurid Swarm quickly became an A-list fireball producer of the Solar System. Previous geological catastrophes such as the Tunguska event, where 2000 square kilometres of Siberian land was flattened, seemingly randomly, were attributed to the swarm, only enhancing its notoriety.

Here's the thing: we've never directly observed the Taurid Swarm. Increased fireball and lunar impact suggest that it is there, but this summer, Western Science is spearheading the cause to prove the Taurid's existence.
David Clark, a Ph.D. student from Western University's Earth Sciences department, and his colleagues, jumped on the opportunity that nobody seemed to be focused on: confirming the existence of the Taurid's.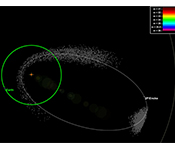 "The idea came out of a conversation with Peter Brown and Paul Wiegert. We thought that researchers' were over-emphasizing the potentially catastrophic consequences of this swarm, and the stream itself was becoming an afterthought. We realized an opportunity was coming where this storm would intersect with Earth's orbit again."
Clark alludes to the menacing perception of the swarm. Science puts immense time and money into studying, and then cataloging, potential material threats from both close to Earth and the outer solar system. An un-documented recurring swarm of meteoroids in our own backyard eerily illustrated the concept of 'hiding-in-plain-sight' for many.
"Historically we've been concerned with two sources of hazardous objects; near-Earth objects that orbit fairly nearby, and comets that orbit only once every thousand years. The Taurid swarm is a third animal where we see a cluster of large objects that periodically cross the Earth's orbit but with less random patterns."
Next, Clark, Brown, and Wiegert needed to figure out the optimal date to view the meteoroids. The lab began to model realistic orbits of the stream, viewed from the perspective of Earth.
"We were simulating size and brightness in a way that made us comfortable with the margins. We didn't need to see the whole stream, we just need to see a very small part of it, so our filters were set for very large, bright pieces of rock that we felt confident would overcome problems of rapid in-sky motion and objects hiding in the Milky Way."
After this summer, the Taurid Swarm will not enter Earth's orbit for approximately 15 years. significantly upping the stakes for Clark and his teammates. When probed on the short-term vulnerability of the swarm, Clark doesn't seem unnerved by the moment.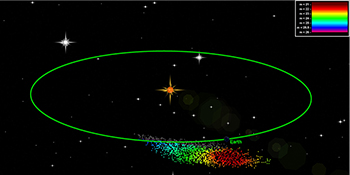 "If we get nice shots, all we'll be seeing is very dim, little dots. The scientific benefit is that we only need to get one. After we get one meteoroid captured, everything else is house money. If we see, say 100, that doesn't mean there's 100 in the swarm, it means there's 100 in our little perspective of it, which will give us an idea of how large the stream is in totality."
The accompanying paper has garnered significant interest in the astronomy community at large, with a variety of regions committing telescopes to capture the Taurid's from their unique vantage point. Western plans to observe the stream in August using the Canada-France-Hawaii telescope.
The Taurid Meteor Stream, like most things in our corner of the cosmos, represents change and transformation. The Western researchers seeking to pull it out of existential crisis and confirm its place in our skies, are embarking on a pivotal first step in unlocking more answers to the universe.
See additional coverage by Western News and CBC.
The Ontario Science Centre, with Western Science as its Knowledge Partner, has launched The Summer of Space Exhibition. The exhibition will offer students, families and space interested guests the opportunity to learn about Canada's current and retired astronauts, and their role in the global space program while also becoming aware of (and maybe even meeting and learning from) Canadian women who have and continue to contribute to space research and exploration. There will be an on-going series of events at the OSC throughout the summer from media launch day on May 16th right to Labour day, to celebrate humanity's major steps in off-planet research and exploration.
Western's Centre for Planetary Science and Exploration, a sponsorship collaborator along with Western Science and Communications and Public Affairs, will bring their brand of family-friendly outreach and hands-on activities to the exhibition at a variety of points throughout the summer and there will also be opportunities to meet, workshop with and learn from members of Canada's retired and current astronaut corps.
For more information check out: The Summer of Space Exhibition at the Ontario Science Centre as of the evening of May 17th.
We would love to hear about your experience. Feel free to share your comments and photos at science@uwo.ca, or tag us in your Facebook, Twitter or Instagram posts - @westernuscience; @westernu; @westernucpsx; #summerofspace. Have a great Summer of Space!
Past Highlights