Archive of Past Highlights
Feel free to explore the numerous achievements that our students, staff, and faculty have earned throughout the year.
The Vector Institute for Artificial Intelligence recently announced the recipients of The Vector Scholarships in Artificial Intelligence (VSAI). 115 scholarships were awarded to students across Ontario who held a first-class standing in the last two years of their undergraduate studies and have been accepted into AI-related master's programs for 2019-20 that are recognized by the institute; 4   Master of Data Analytics (MDA) students were acknowledged among this group.
"We are pleased and appreciative that Vector's VSAI scholarship program has recognized the quality of our forthcoming AI cohort and their potential as MDA-trained technical data analytics professionals by virtue of this financial award," commented Professor Doug Woolford, MDA Director and TD Chair in Data Analytics at Western University.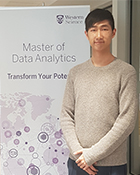 Yizhe Wen a Western Applied Mathematics student, completing an Honor Specialization in Mathematical Science, is one of the scholarship recipients. Wen aspires to employ his advanced training in AI analytics with Western's MDA program in the health management field, where he hopes to perfect natural language processing and computer vision to determine the real cost of disease to the healthcare ecosystem.
"I am excited and humbled to have received this award from such a respected institute," Wen remarked, "and I look forward to taking full advantage of my analytics training with the MDA so that I qualify for a challenging technical position upon graduation".
The Vector Institute supports AI education programs through scholarships in Artificial Intelligence to increase the number of graduates from AI-related master's programs in Ontario universities and create a diverse pool of professionals with the knowledge, skills, and competencies sought by industry.
The Faculty of Science Professional Master's in Data Analytics (MDA) at Western University is a 12-month program which includes a work-integrated learning component, designed to produce professionals ready to start a technical analytics-focused career.
On May 27, 2019, a group of highly qualified and deserving Teaching Assistants gathered in Middlesex College to received Awards, presented by Jisuo Jin (Associate Dean, Graduate and Postdoctoral Studies), for their contributions to higher education within the departments of Western Science.
See our Flickr Album to see this year's winners!
Applied Mathematics: Winner – Yang Wang | Presenter – Xingfu Zou
Biology: Winner – Yanira Jimenez Padilla | Presenter – Greg Thorn or Nina Zitani
Chemistry: Winner – Vanessa Beland | Presenter – Paul Ragogna
Computer Science: Winner – Reco King | Presenter – Laura Reid
Earth Sciences: Winner – Joanna Holmgren | Presenter – Robert Shcherbakov
Environmental Science: Winner – Carlos Barreto (Lab mates Caitlyn Lyons and Madelaine Anderson will receive the award)
Mathematics: Winner – Marco Vergura | Presenter – Chris Hall
Physics and Astronomy: Winner – Ryan Hopkins | Presenter – Eugene Wong
Statistical and Actuarial Sciences: Winner - Wenjun Jiang | Presenter - Marcos Escobar-Anel
Somewhere between 20,000 and 30,000 years ago, a mammoth body streaking across the great expanse of space began to deteriorate. What once was the comet, became a stream of heavy, fiery meteoroids, stretched the distance between Jupiter and the sun. This long chain-link of cometary material, that takes three years to orbit the sun just once, became known as the Taurid Meteoroid Stream, and a dense core within it the Taurid Swarm. As civilian reports of "Halloween fireballs" searing across the sky compounded with four annual meteor showers, the Taurid Swarm quickly became an A-list fireball producer of the Solar System. Previous geological catastrophes such as the Tunguska event, where 2000 square kilometres of Siberian land was flattened, seemingly randomly, were attributed to the swarm, only enhancing its notoriety.

Here's the thing: we've never directly observed the Taurid Swarm. Increased fireball and lunar impact suggest that it is there, but this summer, Western Science is spearheading the cause to prove the Taurid's existence.
David Clark, a Ph.D. student from Western University's Earth Sciences department, and his colleagues jumped on the opportunity that nobody seemed to be focused on: confirming the existence of the Taurid's.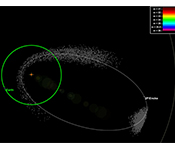 "The idea came out of a conversation with Peter Brown and Paul Wiegert. We thought that researchers' were over-emphasizing the potentially catastrophic consequences of this swarm, and the stream itself was becoming an afterthought. We realized an opportunity was coming where this storm would intersect with Earth's orbit again."
Clark alludes to the menacing perception of the swarm. Science puts immense time and money into studying, and then cataloging, potential material threats from both close to Earth and the outer solar system. An un-documented recurring swarm of meteoroids in our own backyard eerily illustrated the concept of 'hiding-in-plain-sight' for many.
"Historically we've been concerned with two sources of hazardous objects; near-Earth objects that orbit fairly nearby, and comets that orbit only once every thousand years. The Taurid Swarm is a third animal where we see a cluster of large objects that periodically cross the Earth's orbit but with less random patterns."
Next, Clark, Brown, and Wiegert needed to figure out the optimal date to view the meteoroids. The lab began to model realistic orbits of the stream, viewed from the perspective of Earth.
"We were simulating size and brightness in a way that made us comfortable with the margins. We didn't need to see the whole stream, we just need to see a very small part of it, so our filters were set for very large, bright pieces of rock that we felt confident would overcome problems of rapid in-sky motion and objects hiding in the Milky Way."
After this summer, the Taurid Swarm will not enter Earth's orbit for approximately 15 years. significantly upping the stakes for Clark and his teammates. When probed on the short-term vulnerability of the swarm, Clark doesn't seem unnerved by the moment.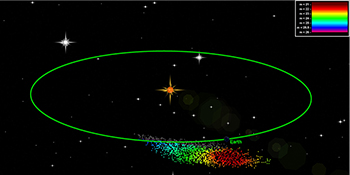 "If we get nice shots, all we'll be seeing is very dim, little dots. The scientific benefit is that we only need to get one. After we get one meteoroid captured, everything else is house money. If we see, say 100, that doesn't mean there's 100 in the swarm, it means there's 100 in our little perspective of it, which will give us an idea of how large the stream is in totality."
The accompanying paper has garnered significant interest in the astronomy community at large, with a variety of regions committing telescopes to capture the Taurid's from their unique vantage point. Western plans to observe the stream in August using the Canada-France-Hawaii telescope.
The Taurid Meteor Stream, like most things in our corner of the cosmos, represents change and transformation. The Western researchers seeking to pull it out of existential crisis and confirm its place in our skies, are embarking on a pivotal first step in unlocking more answers to the universe.
See additional coverage by Western News and CBC.
The Ontario Science Centre, with Western Science as its Knowledge Partner, has launched The Summer of Space Exhibition. The exhibition will offer students, families, and space interested guests the opportunity to learn about Canada's current and retired astronauts, and their role in the global space program while also becoming aware of (and maybe even meeting and learning from) Canadian women who have and continue to contribute to space research and exploration. There will be an on-going series of events at the OSC throughout the summer from media launch day on May 16th right to Labour day, to celebrate humanity's major steps in off-planet research and exploration.
Western's Centre for Planetary Science and Exploration, a sponsorship collaborator along with Western Science and Communications and Public Affairs, will bring their brand of family-friendly outreach and hands-on activities to the exhibition at a variety of points throughout the summer and there will also be opportunities to meet, workshop with and learn from members of Canada's retired and current astronaut corps.
For more information check out: The Summer of Space Exhibition at the Ontario Science Centre  as of the evening of May 17th.
We would love to hear about your experience. Feel free to share your comments and photos at science@uwo.ca, or tag us in your Facebook, Twitter or Instagram posts - @westernuscience; @westernu; @westernucpsx; #summerofspace. Have a great Summer of Space!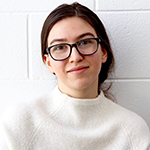 Congratulations to Madalena Kozachuk whose article Recovery of Degraded-Beyond-Recognition 19th Century Daguerreotypes with Rapid High Dynamic Range Elemental X-ray Fluorescence Imaging of Mercury L Emission received 6,993 article views in 2018, placing it as one of the top 100 read papers for Scientific Reports in 2018.
In addition to receiving a Top 100 in 2018 accolade, Kozachuk's paper also ranked in the 99th percentile of 270,000 papers of its age. Hats off to Madalena on this momentous achievement! 
The research featured within the Top 100 paper has been privy to press attention for its extraordinary approach to recovery lost 19th-Century images. Read out the Western News feature today to learn more.
On May 3, NSERC announced the following Western Science projects and collaborations funded under the Strategic Partnership Grant:
François Lagugné-Labarthet (Chemistry):  Development of a super-resolution stochastical optical reconstruction Raman microscope for online nanoscale electronic and photonics devices quality control,
Mark Bernards (Biology):

 

Changes in ginsenosides and soil biodiversity related to management of ginseng replant disease,
Abdallah Shami (Electrical and Computer Engineering):

 

Smart Virtualized Platform for Cloud Management Systems,
Danielle Way (Biology):

 

Integrating acclimation capacity of tree species into assessments of climate change impacts on Canada's boreal forest productivity,
As described by NSERC, the goal of the Strategic Partnership Grants is to increase research and training in targeted areas that could strongly enhance Canada's economy, society and/or environment within the next 10 years. Research and training under these grants must be conducted through a partnership between academic researchers and industry or government organizations. Our Western Science awardees will generate new knowledge or technology and increase qualified industry personnel through transferring the knowledge or technology to those Canadian-based companies best suited to lead and strengthen economic development, government organizations, and public policy items.
Read more about NSERC's Strategic Partnership Grants.
Click here to read the Western News feature.
The Research Unit of the School of Mathematical and Statistical Sciences (SMSS) in the Faculty of Science will be hosting a workshop on Topological Data Analysis in the Western Science Centre from May 2 - 5. Featuring talks, informal discussion, and a collaborative environment to discuss applications of current and emerging topological data analysis methodologies.
The conference will start on Thursday, May 2 with a coffee hour in the Western Science Centre, Room 187 at 9:00 am, followed by the first lecture in WSC 240 at 10:00. There will be three lectures per day for the four days of the meeting.
This meeting has is supported by the School of Mathematical and Statistical Sciences (SMSS) and a grant from the Tutte Institute.
For more information, including a schedule and abstracts, please see the TDA Meeting Page.
Stay tuned for highlight images from this event.
Date: April 12, 2019
Time: 9:45 am - 7:30 pm
Location: Physics and Astronomy Building, Atrium and Room 100
A full schedule for this event can be found at Space Day Schedule.
Featured Activities
10.00-11.00: Panel Discussion - Space Resources: The Next Frontier in Exploration
Neil Banerjee, Industrial Research Chair in Advanced Mineral Exploration, Western University
Tim Haltigin, Senior Mission Scientist - Planetary Exploration, Canadian Space Agency
Holly Johnson, President's Business Manager, MDA
Charles Nyabeze, Vice-President Business Development, Centre for Excellence in Mining Innovation
Mike Villeneuve, Director of Central Canada Division, Geological Survey of Canada
Michael Winter, Lawyer
14.00-15.00: Panel Discussion - The Return to the Moon and Canada's Role
Martin Bergeron, Manager for Planetary and Astronomy Missions, Canadian Space Agency
Alain Berinstain, Moon Express
Ben Feist, Researcher, NASA Johnson Space Center / Jacobs
Mike Greenley, Group President, MDA
Marianne Mader, Canadian Association of Science Centres
17.00-18.00: Keynote Public Talk - Defying Limits | Dave Williams, Astronaut, Canadian Space Agency (retired)
There have been many remarkable achievements in the first fifty years of human exploration in which many things that were felt in the past to be science fiction have now become science fact. As we celebrate the fiftieth anniversary of the Apollo lunar missions, we look to future missions beyond Earth orbit, of sending humans farther into space and developing technologies that will enable them to stay longer. For the past nineteen years humans have had a permanent presence in space on the International Space Station. The next fifty years of human space exploration will result in a permanent human presence on the Moon, Mars and potentially other planets. For some that may appear to be science fiction, for others willing to accept the challenge, there is an opportunity to help make this a science fact.
18:00-19.30: Reception and Cash Bar
Please feel free to drop by at your convenience. All are welcome.
In October 2017, the Natural Sciences and Engineering Research Council of Canada (NSERC) and Acfas announced the names of the winners of the second edition of the science image contest, Science Exposed. This annual competition invites Canadian researchers to submit compelling images of their research to showcase the beauty of science.
NSERC organized a traveling exhibition featuring the winning and finalist images, which include those from select members of the Western Science community; Dylan Baloun, Christopher G. Guglielmo, Brock Fenton, Sherri Fenton, Liam P. McGuire and Stuart McKenzie.
Due to unforeseen circumstances, the exhibition will be available for viewing as of April 10.
April 10 - 11: Foyer of the North Campus Building
April 12: Physics & Astronomy Building Atrium (during Space Day festivities)
Date: March 13, 2019
Time: 8:30 -9:30 am
Location: Western Interdisciplinary Research Building (WIRB), Room 3000
The Honourable Kristy Duncan, Minister of Science and Sport; The Honourable Mary Ng, Minister of Small Business and Export Promotion; and Roseann O'Reilly Runte, President and CEO of the Canada Foundation for Innovation (CFI), released significant national announcements related to the CFI, including results of recent John R. Evans Leaders Fund competitions.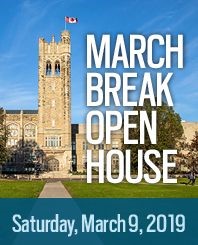 Date: Saturday, March 9, 2019
Time: 9:00 am - 3:00 pm
Than you to all prospective students and families who came out to March Break Open house. The day was filled with many highlights that showcased the diversity and talent of our faculty. 
Check out some highlights here!
Date: March 4, 2019
Time: 5:00 pm - 6:30 pm
Location: North Campus Building, Room 114
You are invited to our Pharmaceutical and Clinical Trials Career Panel where industry representatives and former interns will speak about the variety of jobs that exist in the Pharma and the Clinical Trials Industries

By focusing on these industries, this should help Science students to realize that what they are learning here at Western has the potential to unlock many different career paths.
Panelists include:
Jeff Schwartzenhauer, Group Leader Analytical Research and Development from Catalent Pharma Solutions
Samantha Parsons, Clinical Research Manager, Department of Nephrology from London Health Sciences Centre
A representative from Robarts Clinical Trials Inc.
Returning Intern from Sanofi Pasteur
Check out our Facebook event and invite your friends!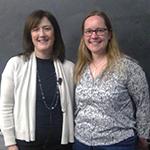 Thanks to Dr. Barbara Sherwood Lollar from the University of Toronto for delivering the 2019 C. Gordon Winder Memorial Public Lecture, Exploration for Deep Subsurface Life - What Neemo got Right and Wrong.
Picture: L-Barbara Sherwood Lollar, R-Sheri Molnar) More available here.
Date: Wednesday, February 13, 2019
Time: 11:00 am - 1:00 pm
Location: Physics and Astronomy, Room 100
Stay tuned for more information about some 2019 Science competitors!
More Information on Competing:
Last Day to Register: Wednesday, February 6, 2019, see here.
Faculty Heat Coordinator:  Stephanie Attardi
Associate Dean Science: Jisuo Jin
Thanks to the efforts of Dr. Audrey Bouvier and students in Planetary Science, more extraterrestrial samples have a home at Western.
Analysis of meteorite specimens through curatorial, outreach and teaching activities has added at least an additional 80 meteorites to the existing corpus of the Western Meteorite Collection. Over the past four years, the nomenclature committee of the Meteoritical Society has confirmed that the submitted samples are indeed meteorites, boosting Western's meteorite collection by 30%.
Over twenty graduate students, including MSc candidate Zhiguo Guo, have been an important part of the classification process. Guo identified Western's first lunar meteorite in 2017 (named Northwest Africa 10964). During Bouvier's Cosmochemistry course in 2018, he also found some atypical characteristics in the specimen; one of these features was the presence of olivine along with pyroxene and plagioclase.
In collaboration with Drs. Liz Webb and Fred Longstaffe at the Laboratory for Stable Isotope Science, they measured the lunar meteorite's oxygen isotopic composition, which turned out to be anomalous. The combination of these clues indicated this was a new type of meteorite, dubbed "ungrouped achondrite", now named Northwest Africa 12338. According to Dr Bouvier, the meteorite resided in the asteroid belt, between Mars and Jupiter, for billions of years, "but we don't know where its parent body formed initially within the Solar System, nor which asteroid it comes from."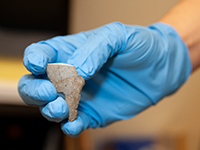 MSc student Laura Jenkins also classified an achondrite from a group known as HED meteorites (from the howardite–eucrite–diogenite suite). This group of meteorites are thought to originate from the 4-Vesta asteroid, the second-largest body in the asteroid belt. Eucrites are basaltic type rocks from the crust of the parent asteroid and diogenites are fragments of igneous rocks formed deep within the crust of 4-Vesta. What Jenkins found was a complex conglomerate called breccia also known as howardite. "It's a mixture of fragments from the same types of rocks as eucrites and diogenites," she says. Before arriving at Western, these meteorites were found by nomads living in Northwest Africa, an area encompassing Morocco, Western Sahara, Algeria, Mali, and Mauritania. The nomenclature committee of the Meteoritical Society names meteorites found in this area according to their order of submission and this sample was fortuitously assigned the name "Northwest Africa 12345"! Other meteorites recently classified came from Oman, Libya or Uzbekistan, all through generous donations to the collection.
To see some of these space rocks, drop by the Department of Earth Sciences, where they are on display.
Date: January 3 - 6, 2019
Location: London Convention Centre, London, Ontario
Details: Please see the conference page for information on proposal submission, accommodation, and up-to-date program information.
Summary: In partnership with the Society of Canadian Limnologists, the Canadian Conference For Fisheries Research is a national conference bringing together diverse research on a variety of topics and projects within Fisheries including the science, management, and issues facing our waters and resources today. This year marks the 72nd Meeting.
Contact: ccffr2019@gmail.com