Applying
Applications for Fall 2020 admission open on October 7th and are
due January 7th at 12:00am EST. 
We will be unable to accept any applications for January 2020 admission. 
The Department of Philosophy considers graduate applications in coordination with Western's School of Graduate and Postdoctoral Studies (SGPS). Please consult the SGPS Admission Requirements and guidelines for applying to graduate studies at Western. In addition, please carefully review our own Department of Philosophy PhD Program Admission Requirements.
Decisions will begin to be released in February for Fall Term admissions. Admissions results are released to applicants via email. If admitted, please visit the New Student Orientation page and check your Western email regularly for communications from us.


Begin your online application here: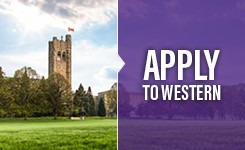 Online Application Information
The application process begins with the receipt of the application along with all supporting documents. In order to be considered for admission to our graduate program, the following information must be submitted and on file for consideration in the department by the stated application deadline. These documents become part of Western's files and will not be returned to or copied for the applicant. All application requirements, aside from the application, must be submitted directly to our program.
To apply for admission, a completed application must be submitted, providing Western with the following:
Biographical & Contact Information
Two academic references: Referees must be prepared to provide a report on your academic ability and qualifications. Upon entering referee information into the online application, our electronic reference system will automatically send an email directly to your referees requesting their evaluation. No paper reference letters are required.
Proof of English Language Proficiency, if applicable: Your testing service to send score electronically to Western. More information is available via SGPS here.
Writing sample: A writing sample (e.g., a recent essay or thesis chapter, approx. 15-20 pages). An electronic copy of the writing sample will be uploaded through the online application. Please note that this writing sample should ideally be in the area of your proposed PhD research. Please be sure your first and last names are part of the file name and are included on the first page of the Writing Sample.
Statement of Interest: A statement of academic interest of approximately 300-500 words in length will be uploaded as part of the online application. Please be sure your first and last names are part of the file name and are included on the first page of the Statement. This statement is not binding on your subsequent research, but please speak to what you wish to research during your PhD with us (areas of philosophy, specific questions to address, etc.) and any faculty members you might wish to work with if applicable.
Post-secondary Transcripts: To support your application, you must upload an electronic copy of one unofficial academic transcript from each post-secondary institution attended. If the transcript and degree certificate are not in English, a certified translation must also be included. Non-English transcripts from institutions within Canada do not require a translation. If you are offered a spot in our program, you will be required to submit to our School of Graduate and Postdoctoral Studies hard copy official transcripts from each postsecondary institution attended.
Application Fee Payment - $120 (effective January 3, 2019): Accepted methods of payment are: Visa, MasterCard, non-personal cheque or money order/bank draft from a Canadian banking institution.