Olympika 24 (2015)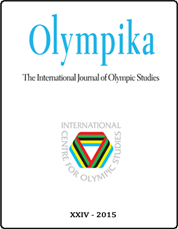 Volume 24 (2015) of Olympika. International Journal for Olympic Studies is in press, and will be mailed to subscribers in late December 2015. Subscription information can be found here.
Articles
Beamish, Rob & Ian Ritchie. "Ben Johnson, Charles Dubin, and 'The Spirit of Sport': Canada's Role in International Anti-Doping Policies." (abstract - pdf)
Congelio, Bradley. " 'The Only Dream Out There': Anchorage, Alaska and the Bidding for the 1992 Olympic Winter Games." (abstract - pdf)
Lake, Robert & Matthew Llewellyn. "The Demise of Olympic Lawn Tennis in the 1920s: A Case Study of Shifting Relations between the IOC and International Sports Federations." (abstract - pdf)
Wenn, Stephen. "A Long and Winding Road: IOC/USOC Relations, Money, and the Amateur Sports Act." (abstract - pdf)
Book Reviews
Paul Christesen and Donald G. Kyle (eds.), A Companion to Sport and Spectacle in Greek and Roman Antiquity (Malden, MA: Wiley-Blackwell, 2014) — Reviewed by Peter J. Miller.
Richard Menkis and Harold Troper, More Than Just Games: Canada and the 1936 Olympics (Toronto: University of Toronto Pres, 2015) — Reviewed by MacIntosh Ross.
Journal Article Reviews
Contributions by: Cat Ariail, Matthew Holmes, Robin Kietlinksi, Taylor McKee, Adam Talbot.