Community Engaged Learning: Cuba
Community Engaged Learning: Cuba
SPANISH 2200-Intermediate Spanish & SPANISH 3300 –Advanced Spanish Language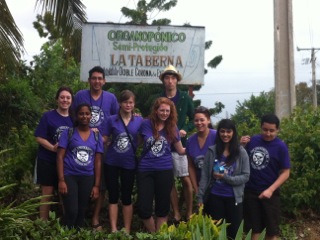 Interested in an International Community Service Learning experience? This CSL experience is offered to students enrolled in Spanish 2200 or Spanish 3300. 
Faculty Member: Fiona Hurley (International Coordinator)
Term Offered: Fall and Winter (1.0 credit), travel during Reading Week
Course Description: Combining grammar and communication this course prepares students to discuss, read and write about a variety of topics and to explore ideas about Hispanic culture in relation to their own. Includes a Community Service Learning trip to Holguín, Cuba over Reading Week. 
Takes place in the city of Holguín
Students stay in small groups in rental homes
Students work with community partners in places such as: a farm, a retirement home and a home for blind children.
Students also get the opportunity to get to know students at the University of Holguín
DEADLINE FOR APPLICATIONS: TBD
Quotes from previous participants:
"A lo largo de mi estancia en Cuba hablé con los cubanos todos los días, que me ayudó a tener más fluidez en hablar español. Cada día, se nos pidió escribir dos nuevas palabras en español, lo que amplió mi vocabulario. Una de mis experiencias favoritas en Cuba fue que tuvimos la oportunidad de visitar la Universidad de Holguín." (Jasmine, CSL en Cuba, 2013)
"Trabajando al lado de mis nuevos amigos cubanos como este programa manda aprendimos mucho acerca de la vida y cultura de ellos – aprendimos mucho acerca de lo que es ser cubano – pero tal vez, lo más importante es que yo, al igual que mis compañeros canadienses, aprendimos mucho acerca de nosotros mismos – sobre nuestras vidas y el tipo de personas que somos y algún día quisiéramos llegar a ser en relación a nuestra responsabilidad como habitantes de un solo mundo." (Marcelo, CSL en Cuba, 2013)
Would you like to see photos from previous trips? FLICKR archives here!