Upcoming Events
La Noche Herética 2023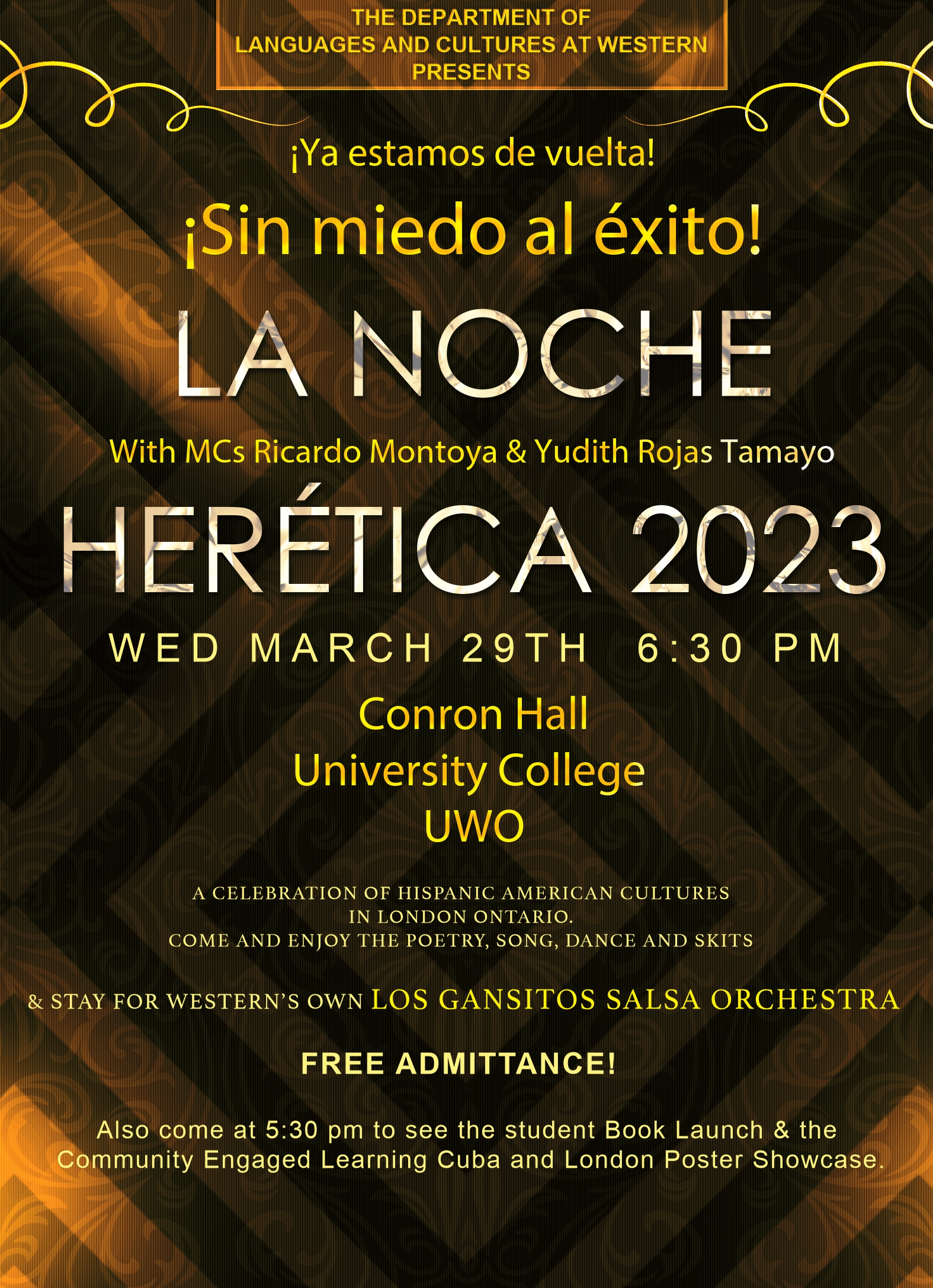 The Noche Herética is an annual event traditionally organized by the Spanish and Hispanic Studies programs' undergraduate and graduate students, as well as with the collaboration of the professors at Western. 
The night features art, theater, dance and song, as a way to bring together our student community with the local Hispanic and Latinx community as well as with the broader multicultural Canadian community in London, Ontario.
The idea for the event first arose in 2002. A group of energized undergrad students of this generation, envisioned something that would excite their colleagues and so they met one fateful night, in the now non-existent Bubblegum Cafe, on Oxford and Talbot, to discuss strategy and to come up with a name that would capture the essence of what they were dreaming up together.
It was then, that one of the members of the group, Tom, who had been inspired by a discussion in Professor Rafael Montano's class on Carmen Boullosa's Teatro Herético, suggested that the cultural event they were conjuring up, be called La Noche Herética. 
5th Edition of the Canadian Spanish Teaching Assistants Dialogues (CASTAD)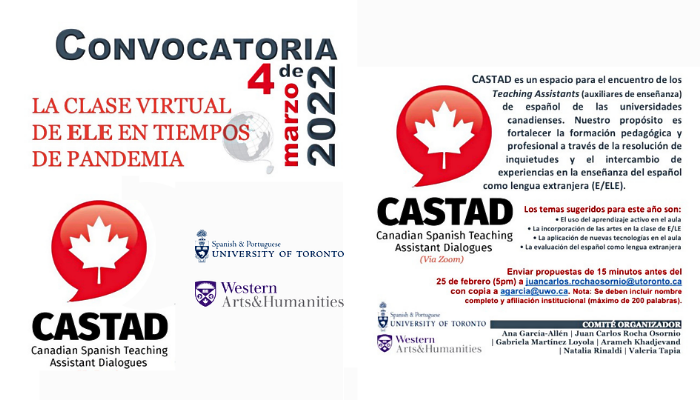 Since its first edition in 2017, the Canadian Spanish Teaching Assistants Dialogues (CASTAD) has been co-organized by the Department of Spanish & Portuguese at the University of Toronto and the Department of Languages and Cultures at the University of Western Ontario. More than a conference on language teaching, CASTAD has created a collegial space for graduate students working as teaching assistants in Spanish courses in Canadian universities to share their experience and learnings in the classroom. For more infomation please view the CASTAD 2022 program here, and the poster for the keynote lecture here.
Please register in advance for Keynote speaker 1 and all presentations at: https://utoronto.zoom.us/meeting/register/tZAld-yhpz8vGdRjURG3VOJ6g-yRJqFrWunk
Please register in advance for Keynote speaker 2 at: https://uoft.me/spa-castad-2022-keynote
NALCAP Canadian Language and Culture Assistants Program Accepting Applicants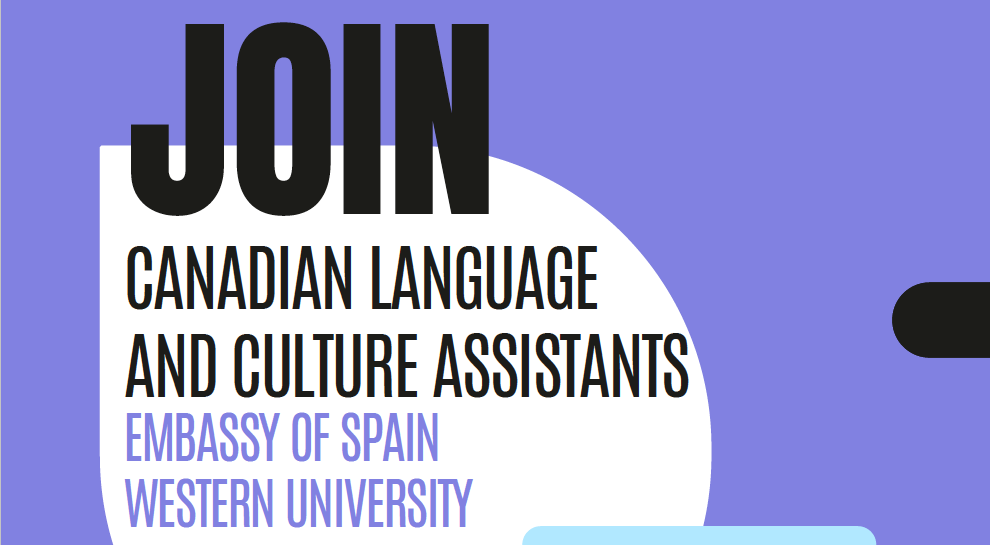 Come live the experience of a lifetime in Spain as a language assistant!
The Education Office of the Embassy of Spain promotes diverse educational outreach programs in Canada. Located in Ottawa within the Embassy of Spain, the primary goal of the Education Office of Spain is to foster collaborative educational programs between these countries and Spain, building long lasting ties among their citizens.
Please visit this website for more informtion, and view our full poster here.
Italian Conversation Group with Teresa Aconito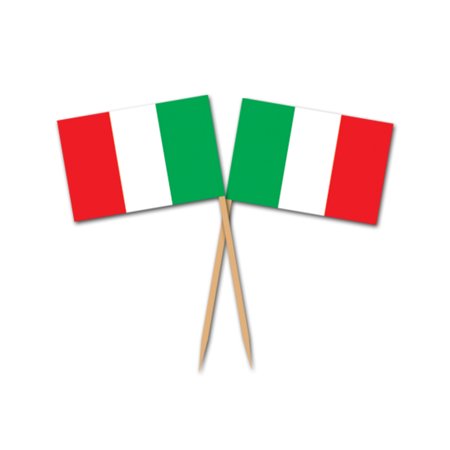 Reocurring every Wednesday from January 12th, 2022 to April 6th, 2022 at 2:30 pm. Please see below for the Zoom invitation for this virtual series, and contact Teresa at teresa.aconito@gmail.com for more information.
Join Zoom Meeting
https://westernuniversity.zoom.us/j/97016833986

Meeting ID: 970 1683 3986
Passcode: 074837  
For a downloadable iCalendar (.ics) file please click here.