Job Specific Recommendations

Caretaking
Many caretakers suffer from lower back pain and chronic shoulder pain caused by repetitive moping, sweeping and/or vacuuming.
Test the load first. If it is too heavy, get help.
Lift heavy equipment in slow, controlled motions, avoid jerky movements
Avoid lifting and twisting at the same time
Avoid lifting heavy items from the floor
Bring objects as close to your body as possible
Use carts, trolleys and dollies whenever possible
Avoid carrying heavy items up or down stairs
Avoid reliance on back belts
Store heavy items between knuckle and chest height
Mopping/sweeping/vacuuming:
Use a hose to fill bucket to avoid lifting
Do not overfill bucket, half full is enough
Use thicker diameter handles
Use floor drains to empty buckets whenever possible
If no floor drains, use a smaller pail to bail out some water before lifting
Use lightweight mop wringers that allow the use of body weight to operate
Keep your back straight, use handle extensions if required
Use a figure eight pattern of movement as you "walk" the mop across the surface
Alternate hands for large areas
Use a foam sleeve to increase diameter of broom/mop handle
Keep elbows close to the body
Move the legs, not the back
Empty vacuum bags frequently
Use lightweight vacuums with swivel wheels
Use proper attachments for the task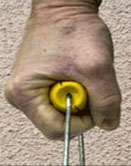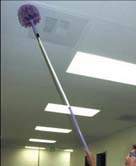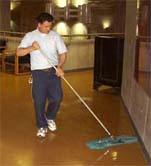 Dusting:
Use dusters with long handles
Use lightweight tools with bendable handles
Shoveling:
Warm up for 10 minutes before shoveling
Push the material instead of lifting whenever possible
Space hands on shovel to increase leverage
Keep shovel close to the body
Shovel in layers off the top
If lifting is necessary, squat with your legs apart and knees bent
Scoop small amounts of material and walk to where you need to dump it
Do not throw material over your shoulder
Do not shovel deep material all at once
Do not hold shovel with arms outstretched
Garbage removal:
Reduce size and capacity of container and garbage bags
Empty small trash cans frequently to avoid accumulating heavy loads
To reduce the suction effect, drill small holes in the garbage can or use false bottoms
Pull container on its side and remove bag to avoid lifting shoulders
Use carts to transfer garbage bags to dumpsters
Use a step ladder or platform to drop bag into dumpster, avoid tossing bags overhead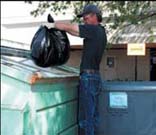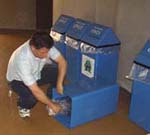 Food Services
Food service workers often suffer from chronic hip and knee pain due to prolonged standing and heavy lifting.
Utilize rubber floor mats when standing for prolonged periods of time
Wear shoes with good support
Store heavy items on shelves between knuckle and chest height
Alternate between standing and sitting tasks whenever possible
Make more trips with lighter loads
Keep wrists straight while gripping
Grip with the whole hand, not just the fingertips
Use handles whenever possible
Alternate repetitive tasks between the left and right hands
If a job requires you to lean forward, bring the work closer to the body
If a job requires you to lean forward for prolonged periods, raise one foot on a ledge to reduce stress on the back
Dishwasher loading: fill the closest rows first, rotate the rack to fill the other half
Adjust work surface height to intensity of task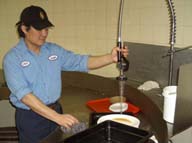 Trades
Use a three-point lift when lifting heavy objects alone
Use teamwork and mechanical aids whenever possible
Wear protective equipment that fits properly
Maintain a tidy work environment to avoid slips and falls
Change bodily positions/postures frequently
Avoid continuous overhead work, alternate tasks to allow your neck and back to rest
Use lightweight tools whenever possible
Balance tool belts
Maintain equipment regularly to reduce unnecessary vibration
Lift in a smooth controlled motion
Avoid bending and twisting at the same time