Manual Materials Handling Guide
Manual Materials Handling Guide

LIFTING/LOWERING:
Use mechanized lifts whenever possible
Minimize the distance loads need to be lifted/lowered
Avoid storing materials directly on the floor. (use table or shelving so loads can be placed no lower than knuckle height)
Tag/label unstable/heavy loads
Reduce the weight of the load by limiting capacity (i.e. smaller containers)
Clear spaces/paths to improve access to materials being handled
Stretch before and after lifting heavy loads
Keep loads as close to the body as possible
Lift with the legs, not the back
Keep the back straight, by sticking out the butt and keep your head up looking forward
Balance lifts on both sides of the body
Get a secure grip
Avoid twisting, pivot with the feet instead
Use both hands if possible
Use a ladder for overhead loads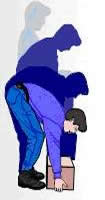 Bad Lift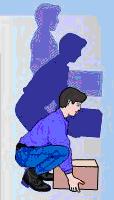 Good Lift
CARRYING:
Slide, drag, push or pull loads instead of carrying whenever possible
Clear a path
Tag/label heavy/unstable loads
Reduce capacity of container
Keep loads close to the body
Keep loads between knuckle and chest height
Minimize carrying distance by using wheeled dollies or carts
When carrying load with one hand, alternate hands throughout the carry
Use both hands when possible
Increase size of handles when possible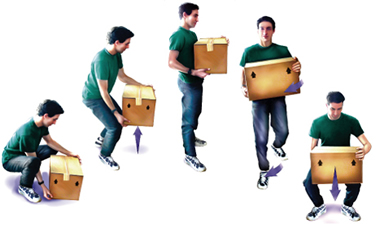 PUSHING/PULLING:
When possible, push instead of pull
Clear a path
Reduce capacity of container to reduce weight of load
Use wheeled carts/containers whenever possible
Stagger your legs to generate pushing/pulling force, avoid using your back
Use entire body to push/pull loads, avoid using the shoulders and arms
Push and pull with both hands whenever possible
Use equipment with four swivel wheels or castors to improve control
Proper maintenance of wheeled carts (lubricate, clean, replace wheels frequently)

Bad Push
Good Push
WORKSTATION DESIGN:
Height of table should encourage the elbow to relax at 90 degrees
Workbench height should be adjustable to accommodate the variance in individual height
Workbench height should be adjusted for the type of work:
Light work: at elbow height
Hard work: below elbow height
Precision work: above elbow height
Location of workbench should be minimal distance from other necessary tools
To minimize awkward postures, select tools based on the height of work and surface setup/design: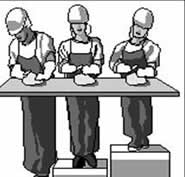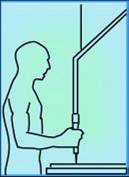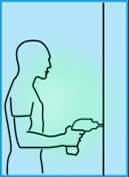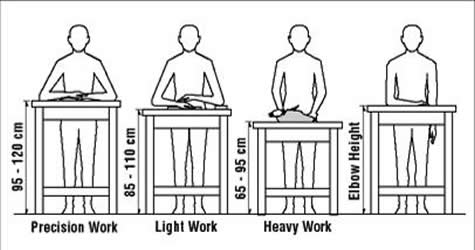 GENERAL WORKPLACE SUGGESTIONS:
Utilize job rotation (rotate employees through different jobs)
Utilize job enlargement (increase variety by involving more tasks or employees in the process)
Ensure adequate rest periods
Modify work practices/environment to maintain neutral postures
---
Published on  and maintained in Cascade CMS.