Safe Cities London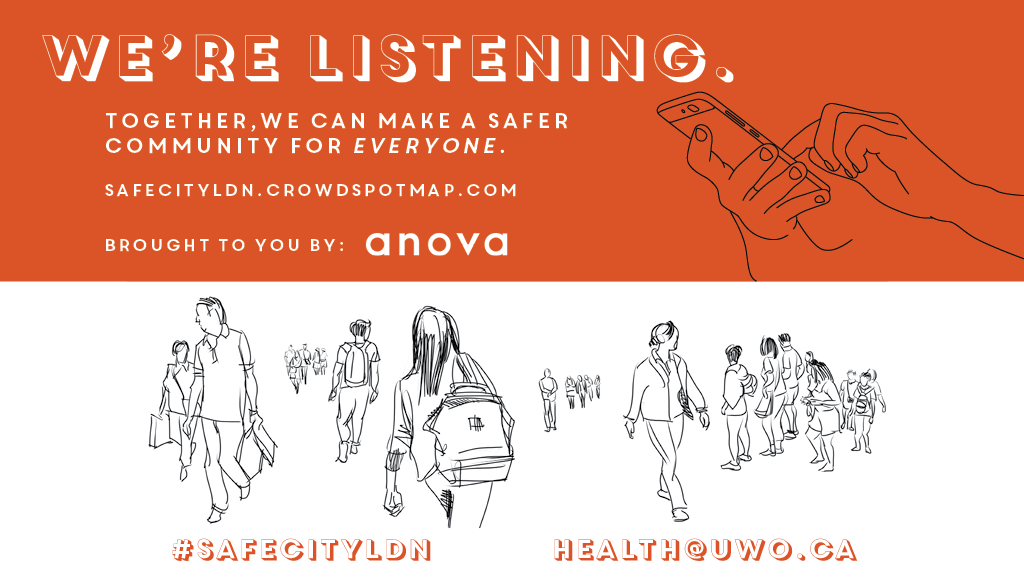 Anova and partners team up for City-backed initiative to enhance safety.
Women and girls who have experienced harassment or sexual violence in London will now have an opportunity to help map where these incidents took place, thanks to an initiative called Safe City London.
Starting with a scoping study, the goal of this program is draw attention to the sexual violence that women and girls experience in public spaces – whether in workplaces, schools, parks and other public spaces, using public transportation or recreation, or in a restaurant or bar. Led by Anova and supported by the City of London, this worldwide United Nations Women program has the support of a number of local community agencies, all focused on encouraging women and girls to identify places within the city where they have felt threatened, unsafe, or have experienced sexual violence in any form.
The first step of this 5-year initiative is to identify the scope of local experiences of violence and harassment experienced in the city. The scoping study involves a website for mapping experiences of violence and harassment and 4-5 focus groups.
Crowdspot, the confidential mapping tool, will allow female-identified individuals in London to share their experiences by pinning locations on the city map. From there, a few follow up questions are asked to gather additional details about the context of the experience.
With the information gathered, Anova and the Safe Cities Advisory Committee will identify patterns and trends that will help shape further recommendations to Council. Early data from the study will be shared with Council in January 2019. London is the third Canadian city to become a United Nations Safe City, following after Winnipeg and Edmonton.
While common understandings of sexual violence, namely sexual assault including rape, take place most often behind closed doors, many aspects are normalized and happen right in public. Groping, cat calls, leering, whistles are all forms of sexual harassment and can prevent women and girls from feeling safe to move about the city. It can negatively impact their health and well-being, access to essential services and enjoyment of cultural and recreational opportunities.
Those who have experienced sexual violence, harassment or feeling unsafe because of being a woman are encouraged to pin their experiences here.
If you need support, here's who to reach out to:
Sexual Violence Prevention Education Coordinator 
(519) 661-3568 
svpec@uwo.ca
Anova (formerly Sexual Assault Centre of London) 
24 hour crisis & support line:  
(519) 642-3000 
http://www.anovafuture.org/
CMHA Crisis Centre & Reach Out 
24/7 Crisis and Support Services 
In person: 648 Huron St, London (directions) 
Phone: (519) 433-2023 
Webchat 

Equity & Human Rights Services   
(519) 661-3334 (non-emergencies only)