Let's Clear the Air Here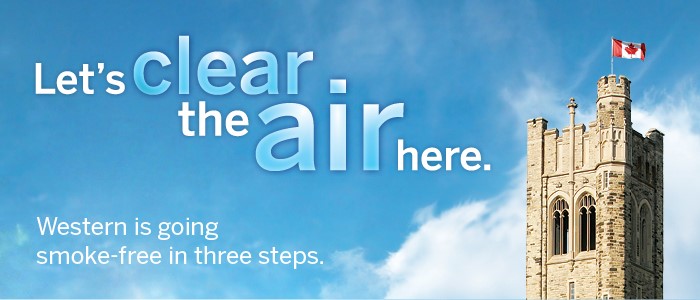 Western on the road to smoke-free
Are you passionate about making Western a healthier place for those who work, study and live on campus?

Western is hiring individuals to be part of an implementation team that will assist in our transition to a completely smoke-free campus by July 1, 2019. The Smoke-Free Campus Ambassadors will communicate with a wide range of students, staff, faculty and visitors through face-to-face interaction.
- Read a job description
- Apply at Working at Western
Western is taking firm steps to create a healthier, cleaner environment for those who study, live, work and visit our university.  Western has established a three-phase plan to go smoke and tobacco-free by the summer of 2019.

Effective now – Smokers at Western are asked to stay a minimum of 10 metres from any campus building.  Smoking in any Clear Air Corridor is also prohibited.

July 1, 2018 – Western becomes a smoke-free campus – with the exception of a limited number of designated smoking areas on campus.
July 1, 2019 – Designated smoking areas will be removed and Western will become smoke-free.

A new smoking policy, effective July 1, 2018, is in development and it will recognize and provide exemptions for traditional cultural or spiritual practices by Indigenous members of the Western community. Aside from these and other identified exemptions, the policy will include all forms of smoking, vaping and tobacco use.
Where is smoking allowed?
Today, smokers are asked to be at least 10 meters from any Western building.  Because many buildings at Western are close together, this will help keep the air in those areas clear of smoke. This is a change from the past when smoking was prohibited only around doorways of buildings.
Western also has a number of Clear Air Corridors (smoke-free zones) including a large zone that encompasses the entire property border with London Health Sciences Centre and most of the north end of main campus.
Today, if you are not in a Clear Air Corridor, and you are more than 10 metres from any Western building, you may smoke. This will change July 1, 2018.
As of July 1, 2018, smoking will only be allowed in designated smoking areas, situated at various locations around campus.
Enforcement
Fresh air and a cleaner campus are good for all of us.  We hope that all members of our community will help us achieve these goals by following smoking restrictions, and by respectfully approaching and informing those who may not be aware of restrictions. Western is developing enforcement protocols for our move to a smoke-free environment, but our hope is that by educating our community, and providing supports for those who wish to quit smoking, we will see a cultural shift that will enable all to enjoy the clear air.
If you are a smoker, please respect those around you by not smoking:
If you are a smoker who wishes to quit – please read more about supports available to those who wish to quit.  We want to help!
If you are bothered by second hand smoke, and spot someone who may not know they in a non-smoking area, please respectfully approach and speak with the individual, and let them know that the smoke is bothering you. Suggest that they visit www.uwo.ca/cleartheair to learn more about where they may smoke.
Have you got questions or comments about smoking on campus at Western?  Please email cleartheair@uwo.ca.