Pulak Parikh, DPT, PhD, FCAMPT
Pulak Parikh, DPT, PhD, FCAMPT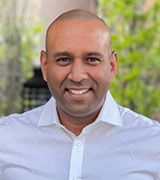 Assistant Professor
Room 2307, EC
519 661-2111 x88946
pparik24@uwo.ca
CANSpine Research Group
Education
PhD Rehabilitation Sciences (McMaster)
DPT (Temple University)
MPT (Oakland University)
BKin (McMaster University)
Research In Profile
Coming soon.
Articles in Peer-Reviewed Journals
Parikh, P. Santaguida, P, Macdermid, J., Gross, A, Eshtiaghi, A. (2019) Comparison of CPG's for the diagnosis, prognosis and management of non-specific neck pain: a systematic review; BMC musculoskletelal disorders, 20, article number: 81, https://doi.org/10.1186/s12891-019-2441-3
Parikh, P. Macdermid, J., Tuli, V. Manely, M. (2020) Distal biceps rupture: Is surgery the best course of treatment? Two case reports. Journal of Hand Therapy, Jun 18;S0894-1130(20)30044-2, https://doi:10.1016/j.jht.2020.03.013
Parikh, P (2020). Functional outcomes and management for distal biceps rupture. Macsphere, McMaster University. http://hdl.handle.net/11375/25355


Visit Google Scholar for a list of publications.
Additional Information
Member of the Orthopaedic Division, Canadian Physiotherapy Association, American Physical Therapy Association, Canadian Academy of Manipulative Therapy, American Academy of Orthopaedic Manual Therapy, American Board of Physical Therapy Specialists