Wound Healing
The Advanced Health Care Practice (Wound Healing) program is delivered using a combination of online courses and three on-site residency periods during which clinical skills, lectures and labs are provided. There are three intensive residency periods when in-class sessions when students are required to be on campus at Western. Those periods take place in September, January/February and July.
The program is designed to provide an educational experience at the graduate level that will focus on the development of specialized clinical skills combined with the research methods needed to assess and treat people with acute and chronic wounds. This is an interprofesional field of study that is open to a variety of health care professionals with relevant clinical experience (e.g., PT, OT, Chiropodists, MD, Nursing).
Students enrolled in the Wound Healing field are full-time graduate students and therefore must be able to devote 20 to 30 hours per week to program-related activities. While continued clinical practice throughout the program is encouraged, full-time work is not recommended. Students accepted into the program are encouraged to complete summer preparaory activities that are available via an online course site during July and August before beginning the September residency period.
Program Model
The objectives of the Wound Healing field will be achieved through a 12-month (3 terms) period comprised of seven courses – two research courses, three clinical specialty courses and two full-year experiences (listed below):
A minimum of 100 hours of clinical experience will be completed under the supervision of one or more approved mentors in a health care setting that is affiliated with this program and Western University. All prerequisite requirements must be fulfilled before commencing any mentorship hours at the health care organization of the mentor. Whenever possible, mentorship experiences will be based on student preferences, however, this could require additional travel expenses if an appropriate mentor cannot be arranged at a site located near the student's home. This is a full-year course that is conducted across all three terms of the program (September to June).
Students will be involved in research related to wound healing and appreciate the work required to plan, gather, and analyze original research data. Students will work in a group with an approved program supervisor to prepare an abstract, deliver a poster and podium presentation, and write a scientific paper appropriate for publication in a wound care journal. This is a full-year course that begins in September and culminates in the presentation of the group's research work during Research Day in July.
Program Timeline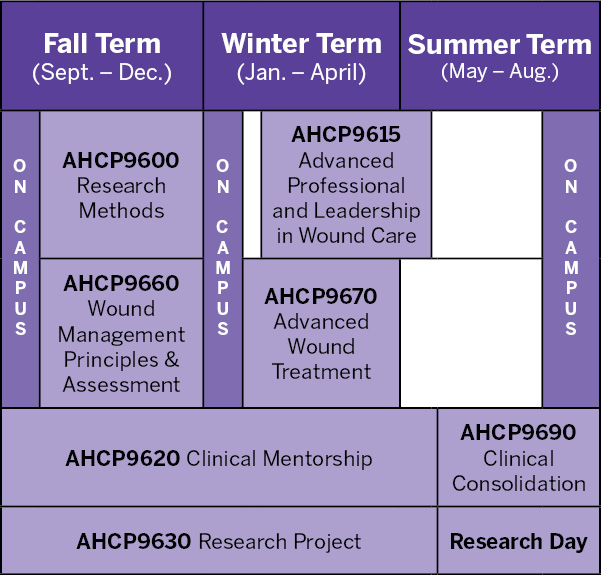 PT9600: Research Methods & Knowledge
This course is designed to provide participants with an introduction to quantitative research methods, including:
Basic study design and critical appraisal of studies evaluating the effectiveness of an intervention (randomized trials and observational studies)
Validity of a diagnostic test
Identification of risk factors for disease development
Identification of prognostic factors for disease outcomes
The quality of a systematic review
PT9660: Wound Management Principles and Assessment
This course provides the foundational knowledge and skills needed to optimize the wound environment and address individual needs of people living with acute and chronic wounds. The course uses an in depth understanding of pathophysiological processes involved in tissue repair to guide the assessment of the wound and the patient. It involves applying current best practices to patients with complex wounds to manage wound environment, identify and treat infection and other underlying causes of delayed healing.
PT9620: Clinical Mentorship
See course description above.
PT9630: Research Experience
See course description above.
On-Campus Residency Period: 2.5 weeks in September
PT9615: Professionalism and Leadership in Wound Care (January - May)
A course focusing on skills and attributes that promote professionalism and leadership needed for wound care including: advanced clinical reasoning and critical thinking, interprofessional and collaborative practice, business planning, client- centered practice, consultation skills, and the application of knowledge translation principles.
PT9670: Advanced Wound Treatment
This course will develop advanced clinical decision making and critical thinking skills needed to assess and manage common types of acute and chronic wounds including pressure ulcers/injuries, venous/arterial leg ulcers, and diabetic foot ulcers. Students will also experience advanced therapies used to enhance wound healing outcomes and practice using sound clinical reasoning to select an appropriate intervention for complex clinical scenarios.
PT9620: Clinical Mentorship
See course description above.
PT9630: Research Experience
See course description above.
On-Campus Residency Period: 2 weeks in January
PT9620: Clinical Mentorship
Completion of all requirements of the course by June 30.
See course description above.
PT9630: Research Experience
This supervised research experience culminates in the preparation of a research paper suitable for publication in an academic journal and the presentation of results during Research day (schedule in July).

PT9690: Clinical Consolidation (Wound Healing)
This course is designed bring together knowledge, skills, and attributes acquired throughout the year.  Clinical competency will be evaluated in an objective standardized clinical exam (OSCE) and in a written test where students will demonstrate how and why they would manage complex clinical cases. 
Pre-requisites: Successful completion of Wound Healing course (PT 9660, PT9670, PT9615) and PT9620 (clinical mentorship experience).
On-Campus Residency Period: 1 week in July
Progression Requirements
In order for students to progress in the program, the following requirements must be met on an ongoing basis:
Students must attain an overall average of no less than 70% on all required courses in the program and no less than 60% in any one course

In the clinical specialty courses which include both written and practical evaluations, students may be required to obtain an overall minimum average of 65% in BOTH the practical and theoretical components of the course in order to pass the course

Completion of the requirements of the clinical mentorship course including required mentorship hours
Passing grade on consolidation examinations administered during the summer residency period (July)
Completion of the supervised research project (minimum 70% of PT9630 course requirements)
Attendance at mandatory residency periods including Research Day in July
Please note:
Residency period dates will be provided for each academic year once they have been determined.
Withdrawal from the program is mandatory for students who have failed any of the progression requirements (see above). Students may appeal to the School Director for relief from the requirement to withdraw.