Manipulative Therapy
The Advanced Health Care Practice (Manipulative Therapy) program is delivered using a combination of online courses and three on-site residency periods during which clinical skills, lectures and labs are provided. There are three intensive residency periods when in-class sessions when students are required to be on campus at Western. Those periods take place in September, January/February and July.
MT MClSc Stream
This program option prepares physiotherapists to be advanced clinicians in the assessment and treatment of neuromuscular dysfunction and provide effective management of complex clinical conditions. Through clinical reasoning, evidence-based practice, and experienced orthopaedic practice, the physiotherapist will be able to apply the biopsychosocial framework to manage clients, and when indicated, use the skill of manipulation safely, effectively and appropriately in their own clinical practice. Students in the program acquire competencies in pharmacology, diagnostic imaging and motivational interviewing for clinical practice. Successful graduates are eligible to apply as a fellow in the Canadian Academy of Manipulative Physiotherapy (CAMPT). Graduates obtain the research and professionalism competencies necessary for CPA specialization.
FCAMPT Stream
This program option is designed for registered fellows of the Canadian Academy of Manipulative Physiotherapy (CAMPT) possessing an Advanced Diploma in Manual and Manipulative Therapy and wanting to expand their professional and research interests. Students participate in two required residency periods at Western (September - 3 days, July - 2 days). Students in the FCAMPT stream take fewer courses than those in the full program, however the tuition fees are the same.
Program Objectives
The objectives of the Manipulative Therapy field will be achieved through a 12-month (3 terms) period comprised of seven courses – two academic courses, three clinical specialty courses and two full-year courses(listed below):
One hundred and fifty hours of clinical mentorship will be completed in a designated clinical placement setting(s). If there is an eligible appropriate FCAMPT mentor close to the student's permanent residence, the mentorship can be organized in the student's locale. If an appropriate mentor is not available near the student's home, the mentorship will be organized with a FCAMPT mentor in the London region for a one-week block (or timeline arranged by the student and the course manager) after each 3-week on-site block.
Various research experience projects will be offered by researchers affiliated with Western University. The course will provide students with the opportunities to be part of a group project that may involve systematic reviews, knowledge translation, or data collection for a new or ongoing project related to orthopedics or manual therapy. This course will culminate in a presentation at Research Day in July.
Program Timeline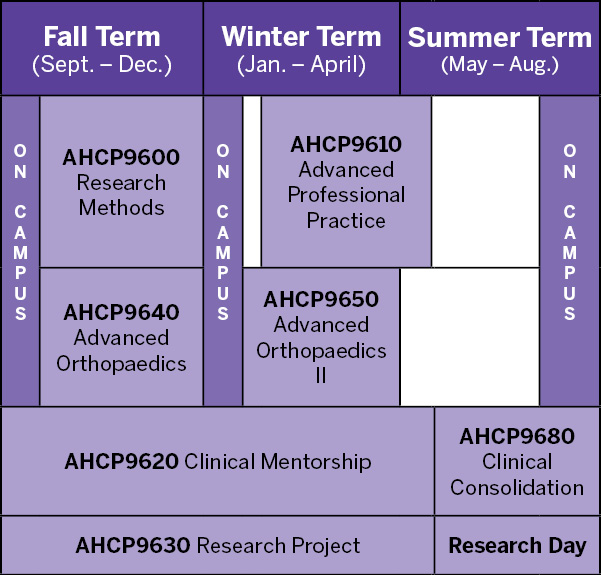 PT9600: Research Methods and Knowledge
This course is designed to provide participants with an introduction to quantitative research methods including:
Basic study design and critical appraisal of studies evaluating the effectiveness of an intervention (randomized trials and observational studies)
Validity of a diagnostic test
Identification of risk factors for disease development
Identification of prognostic factors for disease outcomes
The quality of a systematic review
PT9640: Advanced Orthopaedics
This course emphasizes the principles, rationale, effects, and practical application of advanced manual therapy involving the upper and lower quadrants, including:
Assessment and treatment, including mobilization, manipulation, and functional exercise
Advanced understanding of the influence of distal and proximal tissues, including ergonomics on normal and pathological musculoskeletal states
Clinical reasoning with regard to the interrelationship of the normal and abnormal anatomy, biomechanics and dysfunctional states of the upper and lower quadrants
PT9620: Clinical Mentorship
See course description above.
PT9630: Research Experience
See course description above.

On-Campus Residency Period: 3.5 weeks in September
PT9610: Advanced Professional Practice (March - May)
This course introduces medical diagnostic testing and pharmacology to the advanced orthopaedic physical therapy practitioner. It will also focus on:
Professionalism
Critical thinking
Clinical reasoning
Reflective practice
Experiential learning
Lifelong learning
Development of expertise
Leadership within the orthopaedic physical therapy practice
PT9650: Advanced Manipulative Therapy
This course will be a continuation of PT9640 and will teach:
The appropriate treatment of spinal, pelvic and costal joint dysfunction by manipulation techniques (emphasis on clinical reasoning and the indications and contraindications for their use)
Advanced concepts of musculoskeletal pain management
PT9620: Clinical Mentorship
See course description above.
PT9630: Research Experience
See course description above.
On-Campus Residency Period: 3 weeks in February
PT9610: Advanced Professional Practice (Cont'd until June)
PT9620: Clinical Mentorship
Completion of clinical mentorship hours and satisfactory performance on clinical exam (to be scheduled during summer residency period - July).
See course description above.

PT9630: Research Experience
Presentation of results from a supervised research experience at the School of Physical Therapy Research Day (to be scheduled in July each year).
See course description above.
PT9680: Clinical Consolidation (Manipulative Therapy)
This mandatory course consolidates theoretical knowledge and practical skills covered in PT9640 and PT9650 advanced orthopaedic courses. This course links the advanced orthopaedic courses, the clinical mentoring hours and the critical appraisal of the evidence that students accumulate during the prior academic year with a patient presentation from the student's clinical caseload. There is also practical examination that tests practical, oral and clinical reasoning skills associated with spinal manipulation.
On-Campus Residency Period: 2 weeks in July
Advanced Standing
Eligible for CAMPT membership
Physical therapists who already possess the Advanced Diploma in Manual and Manipulative Therapy will receive advanced standing for PT9620, PT9640 and PT9650. Course requirements will focus on research (PT9600), advanced professional practice (PT9610) and will be required to participate in a research project (PT9630). Those with Advanced Standing will participate in the School of Physical Therapy Research Day held in July each year. There are two required residency periods lasting 2-3 days throughout the year:
Residency Periods
September: 2-3 days (orientation)
July: 2 days (research day)
Please note:
Residency period dates will be provided for each academic year once they have been determined.
Withdrawal from the program is mandatory for students who have failed any of the progression requirements (see above). Students may appeal to the School Director for relief from the requirement to withdraw.