Meet Victor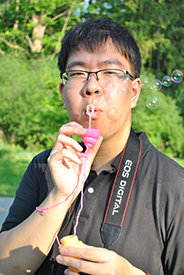 Hometown: Richmond Hill, Ontario
Program: Occupational Therapy (MScOT)
Degrees Held: Bachelor of Medical Sciences (Honors Specialization in Physiology and Pharmacology)
Post Grad School Plans: I plan to help promote occupational functioning and balance for any individual who needs it! As cheesy as that sounds, I really am open to working in any field and am excited to see where life takes me. 
Why Western Occupational Therapy: I did my undergraduate degree here at Western and enjoyed London so much that I decided to stay for another 2 years. Our university community has an abundance of spirit and pride, making studying here such a pleasure. London as a city is also continuing to grow. I'm always excited to see where it goes next!
The best thing about my program: The thing that I appreciated most about the program is all the opportunity it provides to its students. It affords fantastic, almost once-in-a-lifetime classroom and clinical experiences in Norway, India, Scotland, and Australia, just to name a few. But there are also the more "low-key" benefits, likes having the chance to be a Teaching Assistant for an external department, or being able to discover more of Ontario through placements. There's a unique experience waiting for every student here!
The people/culture in the MScOT program are...: The people in the program are hard-working and passionate. It's clear to me that my classmates are incredibly enthusiastic about caring and advocating for their clients, eager to learn everything that would help accomplish this. At the same time, the environment is still incredibly supportive; we all realize we're working towards the same goal.
My most memorable experience as an OT student: Wandering the streets of Oslo is a memory I'll never forget! I was lucky enough to participate in the Norway Intensive program and through that, went on my first ever European adventure. Taking in the culture, sights, and food of Oslo was a refreshing experience, and one that I hope to repeat soon!
Advice to students considering studying OT at Western: Take advantage of all the opportunities the program affords you. Not only through the international experiences, but by getting placements in areas outside of London as well! I was nervous about having placements in Kitchener and Orillia but ended up loving both experiences and cities. Also, don't be afraid to reach out to OT students or recent graduates; we'd take any opportunity we can get to talk about OT!