Meet Nicole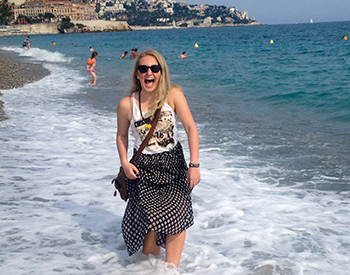 Hometown: London, Ontario
Program: Occupational Therapy (MScOT)
Degrees Held: Kinesiology (Western)
Post Grad School Plans: One of the great things about OT is how diverse the profession is, we can work with clients of all ages in various practice settings. I am excited to work in various settings post grad to gain a true appreciation of the power and flexibility of OT. Ultimately, I would like to settle down in an area of practice where I can partner with clients over a longer period of time to improve their quality of life. 
Why Western Occupational Therapy: After completing my undergraduate degree at Western, I knew that I would enjoy two more years at a school with such a strong academic reputation, breathtaking campus, and excellent student experience. Having heard great things about the OT program from past Western students and professors, I knew that Western OT was the right choice for me – and it was!
The best thing about my program: Between my wonderful classmates, knowledgeable professors, clinical placements, and mentor group it is difficult to choose just one great thing about the program!
The people/culture in the MScOT program are...: Supportive, intelligent, and fun!
My most memorable experience as an OT student: Traveling to Oslo, Norway to study Action Research with eight of my OT classmates. Being immersed in Norwegian culture and making friends from around the globe.
Advice to students considering studying OT at Western: Be prepared to work hard, have an open mind, have fun and enjoy the two-year academic experience. It will be over before you know it!