Meet Athena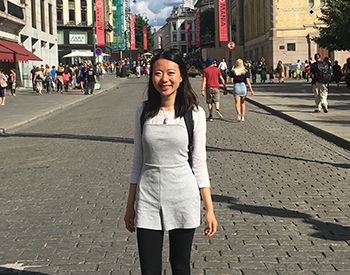 Hometown: Toronto, Ontario
Program: Occupational Therapy (MScOT)
Degrees Held: Bachelor of Science (Honors Specialization in Neuroscience)
How I plan to change the world: One client-centred, holistic, therapeutic relationship at a time.
Why Western Occupational Therapy: After my undergraduate degree at Western, I wanted that trademark Best Student Experience all over again with a professional master's degree! Plus, if you are looking for one-of-a-kind international and clinical experiences, this is the place to be.
The best thing about my program: Where do I start? It was amazing studying action research and making new connections from all over the world through Norway's Oslo and Akershus University College. It was amazing learning from and bonding with my preceptor and the rest of the community where I had my northern Ontario placement. It has been amazing getting to build rapport and therapeutic relationships with clients. If I had to summarize all of this into only one highlight about the Western MScOT program, I would say that it's the incredible, unique, and enriching learning opportunities that it has to offer.
The people/culture in the MScOT program are...: Creative! From flipped classrooms that facilitate critical thinking to collaborating and developing ideas in role-emerging placements, the possibilities of what minds here can create are endless!
My most memorable experience as an OT student: Walking long distances is not usually something I consider myself all too fond of, but the walks I have taken throughout this program have been the most memorable parts of being an OT student. From snowy hikes with my preceptor in northern Ontario to exploring the hilly streets of Oslo, walks have been significant to my time as an MScOT student.
Advice to students considering studying OT at Western: Being an MScOT student at Western affords you so many varied and diverse opportunities, come and make it your own! Always wanted to be part of a student council? Put your name down on the ballot for ours! Did you miss your chance to go on exchange in undergrad? Apply for the Norway Intensive Experience, a northern Ontario placement, and/or an international placement! Want to push yourself out of your comfort zone? Go for it!