Meet Ashley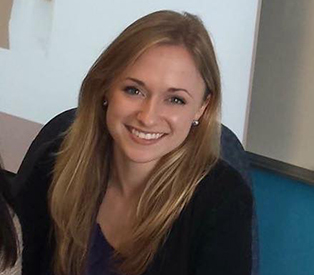 Hometown: Cottam, Ontario
Program: Occupational Therapy (MScOT)
Degrees Held: Bachelor of Science (Honours) in Behaviour, Cognition and Neuroscience (University of Windsor)
Post Grad School Plans: After graduating, I hope to work in a variety of settings to explore my interests and find my niche. Currently, I am interested in supporting clients who have experienced a stroke in a rehabilitation setting. One of my preceptors referred to occupational therapists as "creative engineers", meaning that occupational therapists are skillful at developing creative solutions in challenging situations, and implementing the role of occupational therapy in areas where it currently does not exist. In addition to working in the hospital setting, I hope to embody this idea by continuing my involvement as a member of the Occupational Therapy Low Vision Rehabilitation Network (OTLVRN) by advocating for the role of occupational therapy in low vision rehabilitation.
Why Western Occupational Therapy: I chose Western Occupational Therapy because of the school's impeccable reputation for providing international and experiential learning opportunities that foster well-rounded occupational therapists and their dedication to being student-centered. Having attended Program Preview Day twice, I witnessed the passion that staff and students share for the program time and time again and appreciate Western's enthusiasm for innovation.
The best thing about my program: The best thing about my program is the opportunity to network with supportive, like-minded individuals including professors, mentors, preceptors and especially my peers. I have enjoyed getting to know my classmates and bonding over the shared experience of becoming an occupational therapist. Our graduating class consists of individuals from a variety of educational backgrounds and worldviews, which allows us to learn from one another. Not to mention, infectious energy of our eclectic class motivates me to strive for success.
The people/culture in the MScOT program are...: Throughout my experience at Western, the staff and faculty have continually impressed me as they are always willing to go the extra mile to ensure our class has a great student experience. The supportive, positive, and inspiring atmosphere makes it easy to seek help and inspires everyone to get involved.
My most memorable experience as an OT student: The most memorable experience as an OT student was meeting clients during my first fieldwork placement and gaining hands-on experience. It was great to feel respected as a future clinician and to be given ample opportunities to explore the role of occupational therapy in a variety of settings. I especially enjoyed building rapport with clients, developing clinical reasoning skills, and working through clinical scenarios with my preceptor who was very supportive of me, and gave me the confidence to continue developing my skills as a future occupational therapist.
Advice to students considering studying OT at Western: As future MScOT students, I encourage you to be open to new experiences, ask lots of questions, learn from your experiences, and reflect A LOT! In terms of new experiences, I encourage you to recognize the value of research and practice settings you may not initially be considering. Fieldwork placements provide fantastic opportunities to try out different environments and find your true calling, but you also need to be open-minded to get the most out of those experiences. After the first week of class, if you're not entirely sure what occupational therapy is, don't be afraid to ask upper year students, staff, or faculty: We will all be happy to give you our elevator pitch! Finally, it is important to learn from your fieldwork, groupwork, and classroom experiences which can all inform your practice. Reflecting on them will help you find the value of each and remember important lessons as a future clinician.