Jessie Wilson, PhD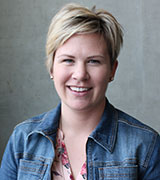 Assistant Professor
School of Occupational Therapy
Room 2545, Elborn College
519 661-2111, 88979
jhow3@uwo.ca
Education
PhD (Western)
MScOT (Western)
BSc (Lakehead)
Supervising Graduate Students
Research Interests
Occupational performance and engagement of children and youth with developmental disabilities
Supporting youth with Autism Spectrum Disorders transition into adulthood
The Cognitive Orientation to daily Occupational Performance (CO-OP) approach
Additional Information
Wilson, J., Mandich, A., Magalhaes, L., Gain, K. (2018). Concept mapping and the CO-OP approach with adolescents with autism spectrum disorder: Exploring participant experiences. Open Journal of Occupational Therapy, 6(4), Article 3. Available at https://doi.org/10.15453/2168-6408.1455
Wilson, J., Mandich, A., & Magalhaes, L. (2016). Concept mapping: A dynamic, individualized and qualitative method for eliciting meaning. Qualitative Health Research, 26(8), 1151-1161. doi:10.1177/1049732315616623
Mandich, A., Wilson, J., & Gain, K. (2015). Cognitive interventions for children. In J. Case-Smith and J. Clifford O'Brien (Eds.), Occupational therapy for children and adolescents (7th ed., pp.304-320). St. Louis: MO: Elsevier.