Lisa McCorquodale, PhD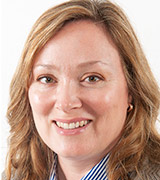 Assistant Professor
Room 2551, EC
519 661-2111 x88978
lmccorq@uwo.ca
Education
PhD, MSc (Western)
BHSc (McMaster)
BASc (Guelph)
Research In Profile
Lisa McCorquodale is an assistant professor and fieldwork coordinator in the school of occupational therapy. She has worked as an occupational therapist for over two decades and holds a PhD in Health Professional Education. She is particularly interested in interdisciplinary research issues that focus on professional practice, education, and reflective practices including mindfulness. Current projects include how students manage stress during post-secondary education. This project explores how mindfulness may be generative for students during this stage of their career. She has also recently led an interdisciplinary team of scholars to update the Preceptor Education Program (PEP) providing students and preceptors with information and resources to enhance clinical fieldwork experiences.
Chapters and Reports

McCorquodale, L. (2016). Mindfulness for working professionals: A reflexive examination. In. L. Beres (Ed), Practicing spirituality: Reflections on meaning-making in personal and professional contexts. Hampshire: Palgrave Macmillan Publishers Ltd.
Articles in Peer-Reviewed Journals
Bonnett, T., McCorquodale, L. & Schouten, K. (2021). Commentary: Actioning community attachment parenting program review recommendations. Journal of Mental Health Disorders, 1(1), 33-35. Journal of Community Psychology. Journal of Community Psychology, 49(7), 2330-2347.
McCorquodale, L, & DeLuca, S. (2020). You Want Me to Draw What? Body Mapping in Qualitative Research as Canadian Socio-Political Commentary. Forum Qualitative Social Research (FSQ), 21(2), Article 6.
MacDonell, M. & McCorquodale, L. (2019). Hidden messages: Barriers toward professional recognition. eceLINK, Fall 2019.
Goodman, V., Wardrope, B., Myers, S., Cohen, S., McCorquodale. L., & Kinsella, E.A. (2018). Mindfulness and human occupation: A scoping review. Scandinavian Journal of Occupational Therapy, DOI: 10.1080/11038128.2018.1483422
McCorquodale, L (2015). Mindfulness and professional practice: A generative dialogue. Reflective Practice: International and Multidisciplinary Perspectives. DOI: 10.1080/14623943.2015.1005587
McCorquodale, L., & Kinsella, E.A. (2015). Critical reflexivity in client-centred therapeutic relationships. Scandinavian Journal of Occupational Therapy. Early Online, 1–7. DOI: 10.3109/11038128.2015.1018319


McCorquodale, L. (2021). Preceptor Education Program 3rd edition: Preparing students and preceptors for on-site practice experience. Ecampus Ontario. $70000
Bell, C., Dong, C., Isings, E., McCorquodale, L., Telfer, T., Ropp, T., & Samson, H. (2022). Focus and feedback: An interdisciplinary approach to supporting student wellness through mindfulness and feedback literacy. Western Interdisiplinary Development Initiatives. $35000.
Dong, C., Isings, E., & McCorquodale, L. (2022). Exploring post-secondary student mindfulness, feedback literacy, and stress. Western Faculty Support for Research in Education (FSRE). $9996.
McCorquodale, L. & Smith, K. (2022). Fieldwork simulation in occupational therapy curriculum. CAOT Huguette Picard Clinical Education. $2500
Additional Information
Fieldwork Coordinator, School of Occupational Therapy, Western University
Committee on University Fieldwork Education Member, Association of Canadian Occupational Therapy University Programs