Michael Heine, PhD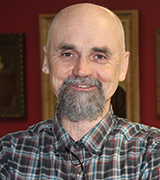 Assistant Professor
Education
PhD (Alberta)
MA (Western)
LA SEK II (Bochum, Germany)
Supervising Graduate Students
Research Interests
Indigenous land-based physical activity practices
Gwich'in cultural history
Documentation of circumpolar indigenous physical activity practices
Canadian history of mixed martial arts
Additional Information
The Significance of Indigenous Traditional Games as On-the-land Physical Activity Practices for the Recovery of Indigenous Land-based Cultural Identity. Collaboration with the Department of Cultural Heritage, Gwich'in Tribal Council, Inuvik, NT.
eSports: Physical Activity Practices of Simulations? An investigation of the International Olympic Committee's evolving perspectives on eSports as Olympic events.
Heine, M., et al. (2019). Gwichya Gwich'in Googwandak. The History and Stories of the Gwichya Gwich'in. 3rd rev. and expanded edition. Inuvik, NT: Department of Cultural Heritage, Gwich'in Tribal Council.
Paraschak, V. & Heine, M. (2019). Co-Transforming through Shared Understandings of Land-based Practices in Sport for Development and Peace. In R. Millington & S. Darnell (eds.), Sport, Development and Environmental Sustainability. London, UK: Routledge. 178-194.
Wassong, S., Heine, M. & Hess, R. (eds.) (2019). Sport Development and Olympic Studies. London: Routledge.
Heine, M. (2018). "The Olympic Commodification of Civic Spaces at the 2010 Winter Olympic Games: A Political Topology of Contestation." International Journal of the History of Sport, 35/9. 898-910.
Heine, M., Barney, R.K., Misener, L. (eds.) (2018). Global Fault Lines in Olympic and Paralympic Sports. London, ON: ICOS.
Forsyth, Janice & Heine, M. (2017). 'The Only Good Thing that Happened at School': Colonising Narratives of Sport in the Indian School Bulletin. British Journal of Canadian Studies. 30/2: 205-225.
Heine, M. (ed.) (2016). The Future of the Olympic Event in the Age of the Mega-Spectacle. London, ON: ICOS.
Heine, M. (2014). The Culture and Practice of Arctic Sports. Whitehorse, YT: Transversant.
Gwich'in Social and Cultural Institute
International Centre for Olympic Studies, University of Western Ontario
Arctic Winter Games Committee, Historian
Sociology of Sport and Physical Activity
Ethics in Kinesiology and Sport
Media Analysis of the Narratives of Sport and Health
Between 2015 and 2020, I have fielded over 160 interviews related to Olympic matters. Interview partners ranged from university radio stations and the local press, to national and international news outlet such as the CBC, New York Times, Bloomberg, and the BBC.