Child Health Symposium
Engaging. Connecting. Thriving!
Research and Best Practices in Child and Youth Health and Well-Being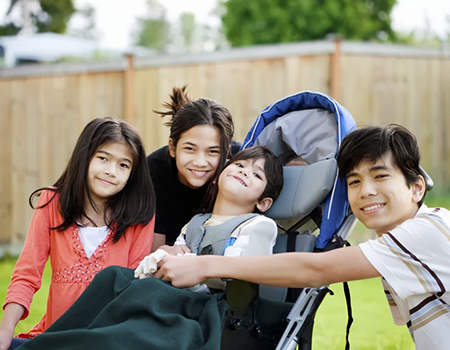 The Child Health Symposium is a collaborative presentation of Western University's Faculty of Health Sciences and TVCC (formerly Thames Valley Children's Centre). It provides an opportunity for families, service leaders, researchers, educators and students from all disciplines to:
Share their knowledge, ideas and best practices for service delivery
Present current research interests, questions and findings
Learn more about the child health research happening in our community
Network and build relationships and collaborations with others (e.g., youth, families, students, service providers, educators, researchers) in our community in the area of child health and well-being
Event Details
When:
Tuesday, May 30, 2023
Where:
Western University and Online Virtual Event (using Whova Conference Platform and Zoom)
What:
Keynote address, clinical and research presentations, panel of speakers
Fees: The Child Health Symposium is FREE. Limited in-person spaces are available. Please register by May 19, 2023.
Abstract Proposal Submission (due March 10, 2023)
Potential presenters are invited to submit an abstract of a description of their brief presentation via the electronic form posted below by March 10, 2023. Proposals should reflect one (or more) of the purposes of the symposium (i.e., present current research findings and best practices in child or youth health and well-being) and/or address the theme of the Child Health Symposium.
Brief Oral Presentations: Length of presentations should be 13-15 minutes (short presentations allow symposium attendees to be exposed to a variety of research studies and best practices).
Lightning Round Oral Presentations: The length of these brief presentations are limited to seven minutes. This presentation style is ideal for prospective studies and in-progress studies (where results are not yet available).
Poster Presentations: Posters will be posted online prior to the event for attendees to review posters. Presenters will have the opportunity to answer attendees' questions online.
Poster Teaser Session: During the symposium (May 30) poster presenters will have one minute to present one PowerPoint slide about their poster and briefly introduce the topic (a brief advertisement for the poster).
Poster presenters may also choose to present at the in-person poster session: The Joint Child Health Wine and Cheese Poster session will be held in-person during the evening of Wednesday, May 31 at Goodwill Industries (London, Ontario). Please note that the event will be switched to full online should that be required/advised at that time.
Poster presentations should use the accessible poster design format: https://www.youtube.com/watch?app=desktop&v=1RwJbhkCA58
NOTE: All presentation abstracts will be included in materials for the symposium. Presentation and poster handouts will be made available for attendees to download.
Target Audience
The target audience for the Child Health Symposium includes: youth, families, researchers, educators, clinicians (e.g., behaviour therapists, occupational therapists, physical therapists, speech language pathologists, recreational therapists, social workers, nurses, physicians, etc.), service leaders, and undergraduate and graduate students.
Instructions for Preparing Submission
Using the online form located in the tab below, please prepare your submission in the following format:
Text should be single-spaced
Complete the Contact Information for the Contact Person

This will be the only person contacted about the proposal, and will be responsible for communicating with other presenters and co-authors involved in the proposal)

List the names of all the presenting author(s) and other contributing authors and full name of each author's affiliation/organization

Include broad organization name only, specific department/program name is not needed
Use an asterisk (*) to indicate presenting authors
For example: Jane Doe*, Western University; John Smith*, TVCC; Alison Betty, London Health Sciences Centre

Choose the type of presentation format (oral, lightning round oral or poster)

Also indicate whether an alternative format would be acceptable

Use up to five keywords that best describe your presentation (be specific)

For example: intervention and clinical practice, brain injury, measure development, youth, quality of life, play and participation, program evaluation

Use a descriptive title

Titles will be used in the registration process for session selection

Please do not exceed the 250-word limit for your abstract

The abstract should clearly describe the purpose of the presentation
Reports of research studies (completed or underway) may want to include details of the population studied; study purposes, objectives or hypothesis, method, results and conclusions of the study, implications for practice, and acknowledgement of source(s) of funding
It is not necessary to use subheadings to define each section
Ensure that the abstract is accessible to all audiences (e.g., expand acronyms, limit use of jargon or specialty/technical language

Submissions from students, researchers and clinicians are encouraged and might focus on clinical observations, questions, case reports, or best practices in service delivery
Ensure submitted information is complete, clearly communicated and spelled correctly

Presentation title, abstract, authors' names, and affiliations will appear in materials for the symposium

All proposals submitted will be acknowledged upon receipt
Proposal Selection Committee
The CHS Selection Committee will review all proposals submitted by the due date (March 10, 2023) by looking at the submission title and 250-word abstract. Preference will be given to those submissions that are clearly communicated and address one of the purposes of the CHS. Proposals will be selected to ensure a varied program. Note that some submitters may be offered an alternative presentation format (dependent on the total number of submissions received). The Selection Committee's decisions will be final and there will be no appeal process. Selected presenters will be notified in early April and provided with specific details for formatting the presentations and posters.
Registration is now open. You can register to participate in-person or virtually. Please register by May 19, 2023.
The In-Person event takes place on May 30 at Western University and includes a complementary lunch. There are limited spaces available for the In-Person event. Once the event is full, a wait-list will be maintained and conference attendees will be informed if a spot opens up.
Note that only the main conference room sessions will be available virtually (using the Zoom platform).
Join us for the Joint Child Health Poster Session from 5-8 p.m. on May 31, 2023.
We are collaborating with many different disciplines and programs to highlight some of the research and work that is being done in child and youth health and well-being in our community.
The Joint Poster Session will take place in-person at Goodwill Industries. The evening includes a poster session, a Keynote Speaker, and networking opportunities. Refreshments and appetizers will be served. This is a free event with limited space. Please ensure you register for the Child Health Symposium or the Child Health Research Day to reserve your ticket for the event.
Make it a 2-Day Event:
Child Health Symposium (in-person at Western University and virtual: May 30, 2023
Child Health Research Day (in-person at Children's Hospital LHSC and virtual): May 31, 2023
Joint Poster Session (in-person): May 31, 2022 (evening)
Registration for this session is available as an option when registering for either the Child Health Symposium or Child Health Research Day
Ian Brown, Journalist and Author

The Globe and Mail
Ian Brown is a Canadian journalist and author, and currently a roving feature writer for the Globe and Mail. His work has won multiple national newspaper and magazine awards, as well as the Trillium Prize, The Charles Taylor Prize for Literary Non-Fiction, the National Business Book Award, and many others.
His books include Sixty: The Beginning of the End, or the End of the Beginning? A Diary of My Sixty-First Year (2015) and The Boy in the Moon: A Father's Search for His Disabled Son (2009), about his son Walker's rare and debilitating genetic disorder, cardiofaciocutaneous syndrome. The book was named one of the Ten Best Books of 2011 by the New York Times. Brown lives in Toronto with his wife, the writer Johanna Schneller. His pastimes include reading, skiing and painting. Learn more about Ian Brown.
Meet our Panelists
Darlene Durand
Darlene is a Registered Early Childhood Educator and part time professor at a local College in the ECE program. Her passion for FASD was sparked when her family became a foster home for newborn babies. They have been blessed by adoption and their 15-year-old daughter who has FASD, is the reason for Darlene's passion.
Finding ways to guide and support her daughter with strength-based modalities has driven Darlene's advocacy in the community and most recently in the Healthcare system alongside her daughter.
Darlene's passion and energy is supported by her husband Chris, who is the brakes to her gas pedal at times but together they find success even amidst some of the most challenging moments on their parenting journey.
Team LOVE is what the Durand Family has called themselves as they navigate situations, leading with love. Knowing that to help anyone be the best they can be, they need to know they are loved first and foremost. Team LOVE is also involved in cheering on caregivers, providing opportunities for connection and community, to give those raising children the hope and strength they need to get through each day.
Tanya Hansler
Tanya worked as a child and youth worker and then a social worker helping others until she became a caregiver full time in 2017. She has three children with her husband Michael. Their third child, Avaiyah, has special needs.
Avaiyah was born with an unexpected diagnosis of Down Syndrome which led to many medical complexities. This included an ostomy bag, open heart surgery at the start of the pandemic in 2020 and feeding issues since birth which led to a g-tube which she continues to use as her sole source of nutrition. Today Avaiyah is thriving in Senior Kindergarten after various therapies and complex care.
Tanya's husband Michael was born with sickle cell disease and in 2019 suffered from near fatal blood clots in his lung as a complication of his disease and further to that was diagnosed with severe depression. Tanya continues to help Michael navigate the medical system along with general care.
Tanya's passion remains with helping others and in the last two years has been facilitating online support groups for caregivers for the Ontario Caregiver Organization. Recently she has co-created a peer to peer support group for families with members who have feeding tubes in Ontario. Using her life experience and training Tanya has engaged in coaching groups in helping others reach their goals through positive solutions, gaining confidence and over coming obstacles.
Tanya's belief in telling her story to help others has led her to being interviewed for TVO the Agenda, speaking at conferences, yearly speaking engagements to upcoming Fanshawe graduates in the Autism and DSW program and most recently recording a podcast "Time to Talk" with CTV host Michelle Jobin in relation to culture, caregiving, mental health and helping other caregivers.
Danielle Van Bakel

Danielle was a teacher for many years before transitioning into the role of Parent Mentor at TVCC (Thames Valley Children's Centre), where she supports families of children with disabilities navigate the education system.
Danielle and her husband, Jeff, have four children. Their third child, nine-year-old Freddie, was born with a rare genetic condition similar to cerebral palsy. Over the course of those 9 years, their family has loved and supported one another through surgeries and recoveries, new diagnoses and therapies, sibling relationships, school and friends, paperwork, and learning to move through the world with multiple sets of wheels.
In 2019, Danielle self-published a children's book titled "Angus: Superhero Extraordinaire," with a focus on disability representation, and she continues to work on writing that respects and reflects the world of childhood disability. Danielle believes that childhood imagination is a remarkable thing, and that representation in storytelling is vital for increasing understanding, removing stigmas and barriers, and opening up opportunities for inclusion.
In her spare time, Danielle loves to read, hike, and putter about in her garden.
9:00 a.m. – Official Start and Welcome
9:20 a.m. – Session 1: Panel Presentations
10:20 a.m. – Break
10:35 a.m. – Session 2: Morning Presentation Clusters (breakout sessions)
11:50 a.m. – Session 3: Poster Teaser Session
12:10 p.m. – Lunch
12:45 p.m. – Session 4: Activities and Networking
1:20 p.m. – Session 5: Presentation Clusters
2:30 p.m. – Break
2:40 p.m. – Session 6: Keynote Address
3:40 p.m. – Final Thoughts for the Day, Door Prizes
3:45 p.m. – END
For more information about this event, contact:
Faculty of Health Sciences
Roberta Bgeginski
Research Officer
rbgegins@uwo.ca
519-661-2111 ext. 84736