Mary Beth Jennings, PhD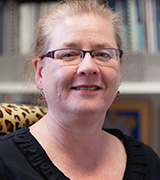 Associate Professor (on leave)
Room 2262, Elborn College
519 661-2111, 88451
jennings@nca.uwo.ca
Education
MCISc, PhD (Western University)
BA Hons (Laurentian)
Research Interests
Adult aural rehabilitation
Goal attainment scaling
Perceived self-efficacy
Barriers and facilitators to hearing assistive technology use
Stigma and disclosure of hearing loss
Workplace accessibility
Universal design principles for hearing
Additional Information
Poost-Foroosh L, Jennings MB & Cheesman MF. (2015). Comparison of client and clinician views of the importance of factors in client-clinician interaction in hearing aid adoption. Journal of the American Academy of Audiology, 26(3), (March), 247-259.
Poost-Foroosh L, Jennings MB, Cheesman MF & Meston CN. (2014). Client-clinician perspectives of the importance of factors in the client-clinician interaction that influence hearing aid uptake: Initial results. Canadian Journal of Speech-Language Pathology and Audiology, 38(3), (October), 326-338. [Nominated for 2015 Editor's Award]
National Centre for Audiology
Affiliate Member and Member of the Management Committee
Robert B. Johnston Aural Rehabilitation Laboratory
Principle Investigator
Adult Audiologic Rehabilitation
Counselling in Audiologic Practice
Hearing Accessibility and Universal Design
Western Community Service Learning Award - 2013
The Canadian Association of Speech-Language Pathologists and Audiologists 25-Year Member Honour Recognition - 2012
The Canadian Association of Speech-Language Pathologists and Audiologists Editor's Award - 2010
Special Guest Editor, WORK: A Journal of Prevention, Assessment and Rehabilitation, Special Issue on Hearing and Rehabilitation.
Committee Member, 2016 World Congress of Audiology.
Peer-review Journal Reviewer, American Journal of Audiology, Audiologic Medicine, Canadian Journal on Aging, Canadian Journal of Speech-Language Pathology and Audiology, Ear and Hearing, International Journal of Audiology, Trends in Amplification.
Contributor to "Lean on Me" volunteer training series and manual (2006-present), Horton Street Seniors Centre, Kiwanis Seniors Centre, in partnership with Third Age Outreach, London, ON.
Contributor to "Grey Matters" a memory strategy and education program for older adults (a program presented in partnership with the Ministry of Health Promotion Ontario, City of London, Third-Age Outreach, Specialized Geriatric Services, Parkwood Hospital of St. Joseph's Health Care London, Alzheimer Society of London and Middlesex, Horton Street Seniors Centre), (2010-2013).