9th ANNUAL
Earth Day Colloquium
April 2012

Invited Speakers


Keynote Address
THURSDAY, APRIL 12
4:30-6:00 p.m.
North Campus Building, Rm 114
Michael Egan
"The History of Now: Decoding Environmental Sustainability"
Michael Egan is an Associate Professor of History at McMaster University. His research and teaching concentrate on the histories of science, technology, environment, and the future. He is the author of Barry Commoner and the Science of Survival: The Remaking of American Environmentalism (MIT Press, 2007), and co-editor of Natural Protest: Essays on the History of American Environmentalism (Routledge, 2008). He is currently at work on two projects. The first explores the history of environmental sustainability; the second treats the global history of knowing and regulating mercury pollution since World War II. Michael Egan is also the editor of a new MIT Press books series titled History for a Sustainable Future, dedicated to publishing short, scholarly books on the histories of contemporary environmental issues.
_______________________________________________________________

FRIDAY, April 13
All presentations in North Campus Building, Rm 114
9:10 a.m.
Patricia Chambers
Research Scientist & Section Head, Environment Canada
"Research and Science Policy: Experiences Gained From Canada's Ecosystem and Issue Initiatives"

Canada's Environment Department conducts ecosystem and issue-driven initiatives to advance science-based policy to ensure environmental sustainability. Here I discuss science results from two initiatives and how conclusions informed policy decisions. The Northern River Basins Study was an ecosystem initiative focused on effects of pulp mill expansion. Findings on: (a) dissolved oxygen depletions under ice and sensitivities of vulnerable life stages of fish resulted in new objectives for oxygen; (b) nutrient enrichment led to a cap on wastewater discharge; (c) drying-out of a riverine delta led to changes in hydroelectric dam regulation. The National Agri-Environmental Standards Initiative was an issue-driven initiative to identify ecosystem thresholds protective of aquatic life in agriculturally-dominated watersheds. Thresholds identified for nitrogen, phosphorus and suspended sediments served to define environmental outcomes for watershed management programs, prioritize options for beneficial management practices, and set risk levels for a national report card. Our experience has shown that delivering science to policy makers demands science programs be designed at the onset to address policy questions and requires a personal commitment to give fearless science advice in the face of opposition.

12:00-12:50 p.m.
David Smith
Vice President of Retail Strategy and Sustainability, Sobeys Inc.
"The Tipping Point: The Emerging Global Sustainability Measurement System and What It Means"
Founded over 100 years ago, Sobeys Inc. is a Canadian supermarket company with about 1400 stores across the country and $16 billion in annual revenue. David leads Sobeys sustainability direction, covering direct operations (retails stores, fleets, warehouses) and product sourcing (including sustainable seafood, agriculture, packaging, social compliance, animal welfare). He also participates in numerous Canadian, North American, and global sustainability committees, including with The Consumer Goods Forum and the Global Social Compliance Program.
In his previous position with Sobeys, David was General Manager of its new small urban store concept. Prior to Sobeys, David was National VP of Marketing for Whole Foods Market, Austin, Texas, during which time he was on the Organic Trade Association marketing committee, was on the inaugural Wi-Fi industry marketing committee while with a California-based wireless networking start-up, was with McDonald's Restaurants of Canada, and was with a developing country master franchisee for Pizza Hut and KFC. David has an undergraduate degree in environmental science and a MBA.
3:50 p.m.
Christine Holmes
Learning Coordinator, Environmental Education and Management, Thames Valley District School Board
"Growing Sustainable Students"

Acting Today, Shaping Tomorrow: A Policy Framework for Environmental Education in Ontario Schools (2009) requires us to be including environmental education in all grades, all subjects and all strands - but is this being done? There has been amazing growth in participation in the Ontario ecoSchools program indicating many schools are going green…but how many teachers and how many of the school population are involved in the process? Part of my job is to promote environmental education and in doing so I try to address waste minimization. To date we have over 90 schools participating in the ecoSchools program and even more that 'going green' but are not under the ecoSchools umbrella. In terms of waste minimization, I can say that schools are doing a fantastic job when it comes to recycling and reducing the amount of garbage waste, but we still have a long way to go in terms of waste minimization – more specifically waste reduction. My talk will address the many Thames Valley District School Board staff moving in the right direction and looking at ways to address waste minimization beyond reusing and recycling. From paperless week to taking students outside to learn, students learn in, about and for the environment in ways that can serve only to help them better understand and protect our environment. Sustainability appears to be a common thread that is woven throughout TVDSB's environmental initiatives both at the school and system level.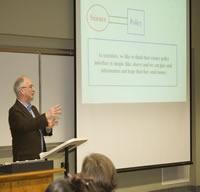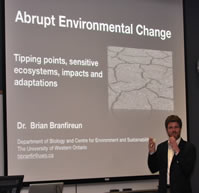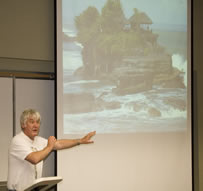 This page was last updated on February 15, 2012
Centre for Environment and Sustainability Web Contact: hsanders@uwo.ca