Module Requirements for Honors Specialization in Chemistry and Specialization in Chemistry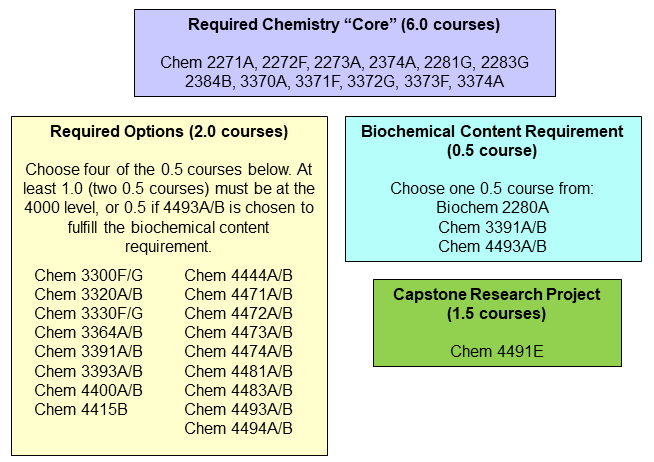 Our Honors Specialization in Chemistry and Specialization in Chemistry, and Honors Specialization in Biochemistry-Chemistry modules are programs that have been accredited by the Canadian Society for Chemistry, the national professional society for chemists.
Accreditation means that students graduating with a B.Sc. from these programs meet the strict educational requirements of the Federation of Canada's Professional Chemists and can practice as chemical professionals in Canada.
What is the Chemistry Core?
The Chemistry Core is a collection of 12 half-courses required in all of our modules. It consists of the four major areas of chemistry:
Analytical: 2272, 3372
Inorganic: 2271, 2281, 3371
Organic: 2273: 2283, 3373
Physical: 2374, 2384, 3374
The core also consists of a general spectroscopy course (3370) on the elucidation of chemical structure, and it is very useful for those interested in the area of chemical synthesis. For students pursuing careers in computational or physical chemistry, Chem 3370 can be substituted with Chem 3300 under special permission. Contact chemcounselling@uwo.ca. 
In addition to the core, the Specialization requires that you take an additional 4.0 courses to complete the module.
Note: Not all courses listed in the Calendar and on this guide are offered every year.  Courses NOT offered in 2017-18 are: Chem 3330F, 4404A and 4474B.  For the remaining courses, they are all available, subject to sufficient enrollment (due to a policy imposed by the Faculty of Science).
Biochemical Content Requirement
You must select at least 0.5 course from the following:
Biochem 2280A
Chem 3391A/B
Chem 4493A/B
And the Chemistry Electives!
Choose 4 from Chemistry Options

Chem 2210A/B, Chem 3300F/G, Chem 3320A/B, Chem 3330F/G, Chem 3364A/B, Chem 3391A/B, Chem 3393A/B; Chem 4400A/B,Chem 4404A/B, Chem 4441A/B, Chem 4444A/B, Chem 4471A/B, Chem 4472A/B, Chem 4473A/B, Chem 4474A/B, Chem 4481A/B, Chem 4483A/B, Chem 4493A/B, Chem 4494A/B
That's a big list! How do I choose?
Capstone Research Project
Required of the Honors Specialization in Chemistry and the Specialization in Chemistry is the integrated, participatory, engaging and challenging research and thesis project under the umbrella of Chem 4491E.  (1.5 courses)
Academic Awards
Undergraduate students entering their graduating year are advised to take into account the following policies when deciding on your course selection (and course load) for the coming year. In particular, please be warned that, when you take too few courses, you may not qualify for the honours below, despite obtaining very high averages.

Please note policies on Dean's Honor List and Graduation with Distinction, and restrictions on Gold Medals. 
Non-chemistry Electives
We also suggest some non-chemistry elelectives that may interest you and will provide transferable skills.
Download electives information in PDF format