Ken K.-C. Yeung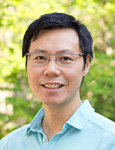 Contact Information
Title: Associate Professor
Office: 0102 MSA
Lab: Rm 373 MSB
Phone (Office): ext 86346
E-mail: kyeung@uwo.ca
Physical & Analytical Teaching Division
Analytical and Bioanalytical Chemistry; Separations and Mass Spectrometry
Education
B.Sc., Ph.D., Calgary; NSERC PDF, Stanford and Alberta
Research
Research in Prof. Yeung's laboratory generally lies in the area of analytical characterization of molecules in biological systems. The recent interest of this group is the use of Matrix-Assisted Laser Desorption/Ionization (MALDI) mass spectrometry for tissue imaging. This technique represents a labeled-free approach to visualize the spatial distribution of the molecules of interest on biological tissue sections.
Their current work focuses on tissue sample treatments that can improve sensitivity and selectivity of a variety molecules on mouse brain tissues, including proteins, peptides, lipids and metabolites. Prof. Yeung is currently collaborating with Prof. Shawn Whitehead, in the Department of Anatomy and Cell Biology, to study how the brain chemical constituent changes under various types and levels of neuro-degenation.
A second focus of his work is applied analytical research in the area of agriculture. Through a collaboration with Adjunct Prof. Mark Sumarah, from Agriculture and Agri-Food Canada, a recent project is the analytical profiling of fungal secondary metabolites that are potential mycotoxins present in Canadian crops.
Teaching
1302 - Discovering Chemical Energetics
2272 - Introductory Analytical Chemistry
3372 - Instrumental Analytical Chemistry
9465 - Bioanalytical Chemistry
9522 - Analytical Separations
Selected Publications