Huang appointed new Chair of Chemistry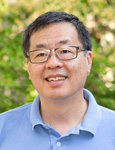 The search for a new Chair of the Department of Chemistry has successfully concluded with the successful appointment of Prof. Yining Huang.  Of course, we are grateful for the 10 years of effective leadership provided by the outgoing Chair Prof. Kim Baines.
In a memo dated May 20, 2014 Charmaine Dean, Dean of Chemistry wrote: I am very pleased to announce Yining Huang's appointment as Chair of the Department of Chemistry starting July 1, 2014, for a term of five years.
Yining Huang received his BSc (1982) and MSc (1985) degrees from Peking University, and his PhD in 1992 from McGill. He is Professor of Chemistry and held a Tier 2 Canada Research Chair from 2002-2012. Among his distinctions, Professor Huang received the 2004 Florence Bucke Science Prize, the 2012 Faculty of Science Graduate Student Mentoring Award, and a 2012 NSERC Discovery Accelerator Grant.
As Chair, Professor Huang will focus on providing leadership and vision to enhance the department's research profile internally, nationally and internationally and lead the department's path to higher levels of excellence in research and teaching. His goal is to promote collegiality and teamwork, working with faculty and staff to foster collaborations in research and in teaching both within the Faculty and elsewhere.
Please join me in congratulating Yining Huang on his appointment as Chair of the Department of Chemistry and as a new member of our Science leadership team."
See the poster announcement here.