Information for Participants

Whatever your fitness objectives, our re-launched programs will offer you challenging physical activity that will help you to reset your understanding of your body and how it responds to exercise.
The health and safety of our staff and participants is our top priority and we are committed to maintaining a safe exercise environment. This commitment includes enhanced cleaning protocols and ensuring appropriate ventilation standards. As part of Western's strengthened COVID-19 vaccination policy, all members of our community – including students, employees and visitors – who plan to be on campus this fall are required to demonstrate proof of vaccination. This policy will apply to all CCAA participants. We will provide information about demonstrating proof of vaccination, and other safety protocols, when registration opens.
Prior to participating in CCAA exercise classes participants are required to read a Letter of Information (LOI) and provide consent to participate. The LOI outlines information about the exercise classes including benefits of participation, safety risks, health assessment and how to withdraw. Participation in an assessment of your health is mandatory if you are new to CCAA exercise classes or are returning from a break of one year or more.
Our health assessment includes measures of your cardiovascular endurance, muscle strength, agility, flexibility and balance, as well as your heart rate and blood pressure. As part of your assessment, you also will be asked questions about modifiable risk factors for the development of dementia (e.g., alcohol consumption, depression, diabetes, hearing loss, physical inactivity, etc.). Findings from your assessment may influence your decision about enrolling in CCAA exercise classes. Your health assessment results will help you and CCAA staff track your individual progress.
Fees vary by class. For information about fees visit the specific program pages.
Participation in all CCAA exercise programs includes a functional fitness assessment for all participants and ongoing monitoring and evaluation that support research projects linked to physical activity.
Participants who have pre-paid for exercise programs and decide to resume sessions at the CCAA will be credited automatically for their memberships unless a refund is requested.
Membership holds are not available. Enrolment in each monthly session of the Everyday Fitness program will be limited with intake registration available only at the beginning of each month. Participants will have the option to register one month at a time, or to have their registration automatically renew each month.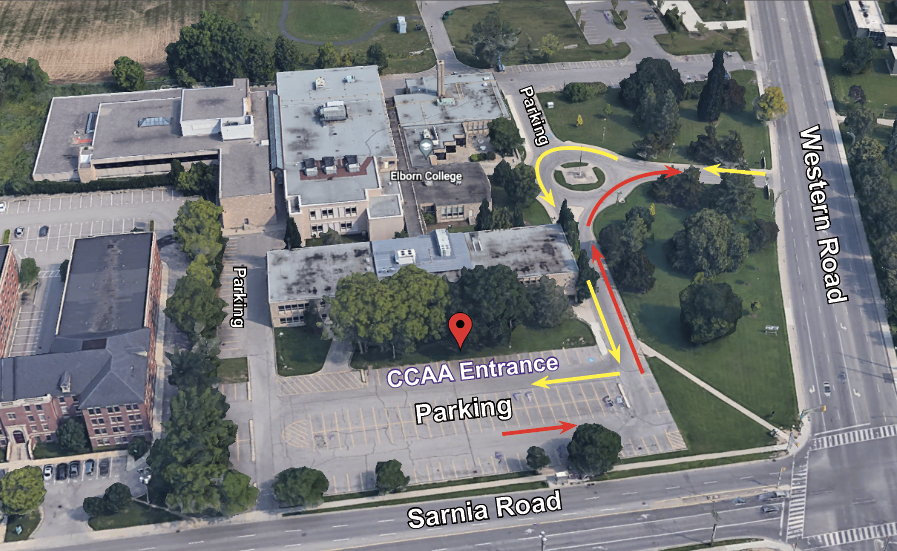 The Canadian Centre for Activity and Aging is located at Elborn College on the North-West corner of Sarnia and Western Roads.
The Elborn College Perimeter parking lot is complimentary to visitors Monday to Friday, from 4:00 p.m. to 12:00 a.m. (Paid parking permits are required from 7:00 a.m. - 4:00 p.m., Monday – Friday)
Accessible parking spots are available to the right and left of the new CCAA entrance ramp and stairs.
Other accessible parking spots are available to the right and left of the main entrance roundabout.
Do not park in the parking area prior to 4:00 p.m. you may be ticketed.
Once inside the CCAA entrance, turn right to enter the CCAA reception area.