Instructor Certification Renewal
Instructor Certification Renewal
EFFECTIVE 2024
SFIC certification is maintained by demonstrating ongoing excellence in delivering SFIC model classes to older adults. Certificate holders are required to maintain a minimum of 16 hours of ongoing class delivery and eight Professional Development Credits (PDCs). Proof of requirement completion must be submitted prior to applying for recertification every two years.
Beginning in 2024, SFIC recertification will be completed on a two-year cycle ending March 31. Under the new process, proof of requirement completion must be submitted to the CCAA between Feb. 1 and 28 of the renewal year. Once renewal requirements have been approved by the CCAA, the instructor must pay the recertification fee prior to March 31 of the recertification year.

Renewal Dates
SFIC certification must be renewed within the two year cycle ending March 31. All proof of requirement completion must be submitted to the CCAA between Feb. 1 and 28 of the renewal year. Once requirement fulfillment is confirmed by the CCAA, the instructor has until March 31 of their recertification year to pay the renewal fee.
Renewal Requirements
Certified instructors must lead a minimum of 16 CCAA senior fitness classes (min 50 min in length) throughout the two years prior to recertification. Actively delivering SFIC model classes is important for the maintenance of the skills learned throughout the SFIC training.
Continuing Education
Continuing education plays an important role in demonstrating ongoing excellence in delivering senior fitness classes. Continuing Education Credits (CECs) help ensure that certificate holders learn current information and gather knowledge that will enhance their exercise class content and design. By staying up to date with evidence-based content, instructors are better equipped to deliver programs that benefit participants.
Requirement: Submit proof of a minimum of four continuing education credits every two years. See the Recertification Requirements & PDC Eligibility document for more information.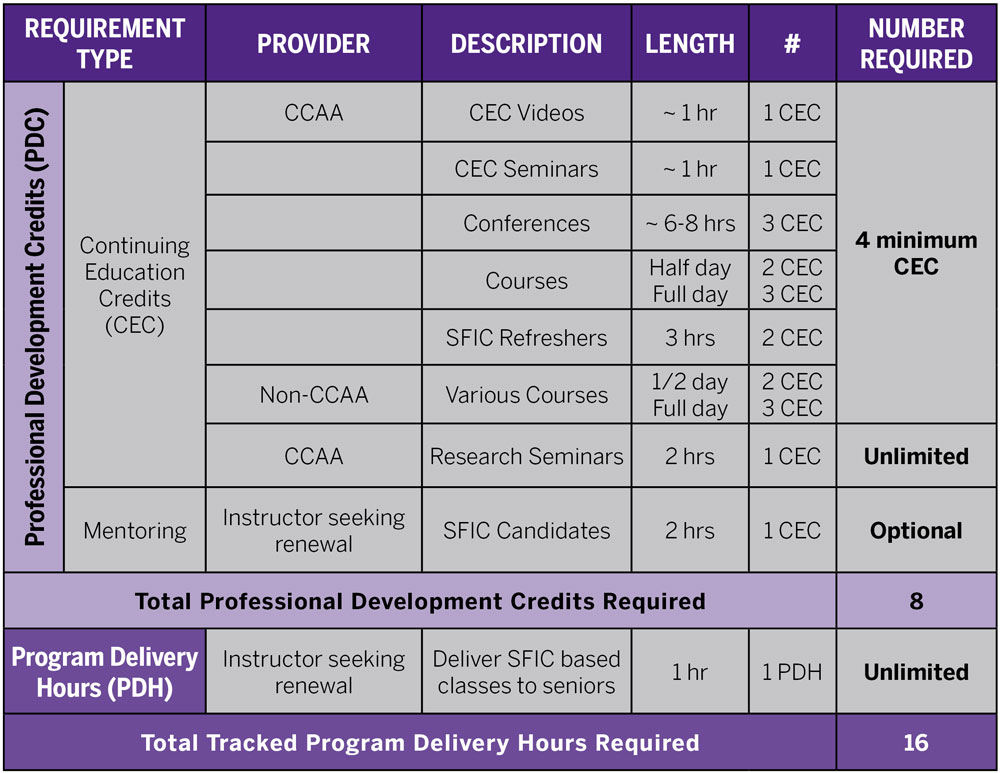 Eligible Non-CCAA Continuing Education Credit Topics
Exercise physiology (strength and conditioning)
Exercise programming specific to older adults
Healthy Aging/Well being
Exercise programing for chronic diseases associated with aging

Post stroke, CAD, osteoporosis, Diabetes, OA, dementia, PD, Alz, etc

Communication/motivation/adherence with older population
Mental Health strategies for older adults
Nutrition for active/exercising older adults
Prior to enrolling in any non-CCAA learning opportunities, please consult the CCAA to ensure the session meets CEC eligibility criteria. You will be required to provide information about the length of the session and an outline or learning objectives.
Mentorship
In order to become certified, SFIC candidates must complete 18 hours of mentorship with a certified senior fitness instructor (SFIC). Mentorship is a key component of the training of new candidates in the SFIC program. Certified instructors who engage with candidates as mentors will earn credit(s) towards their own professional development requirements for recertification. Certified instructors will accumulate one professional development credit for every two hours of mentorship with SFIC candidates. (Maximum of two credits for a single session).
NOTE: Certified instructors are not REQUIRED to act as mentors for newly trained instructors. However, hours spent mentoring new instructors can be used to supplement the required eight professional development credits required for renewal
Suspension and reinstatement of Certification
Any instructor who fails to submit all recertification requirements and the associated fee by March 31 of their recertification year will have their certification suspended until requirements are met.
There are options to reinstate a lapsed certification up until three years after the certificate expired. Late fees and requirements increase as the instructor gets further away from the original expiry date.
Reinstatement Process
Reinstatement of Certification Fees

Past Due
Requirements
Late Fee
Total Fee
One day to one year
Submission of outstanding requirements + $60 fee*
$50*
$110*
One to two years
Submission of outstanding requirements + $60 fee*
$75*
$135*
Two to three years
Missing second recertification period
Re-take online foundations course (~$225*)
$75*
$300*
Three years past last renewal date**
Loss of certification
Required to restart the process for SFIC certification
*Subject to applicable provincial sales taxes
**Equates to five years beyond last recertification