Functional Exercise Training
Functional Exercise Training
Functional exercise training programs are offered through a combination of classroom education, group discussion and hands-on practical activities. They offer sound, evidence-based learning opportunities for healthcare professionals, fitness instructors, volunteers and family members engaged in providing physical activity for older adults across the mobility spectrum.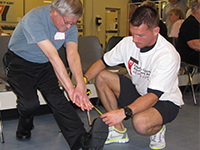 Safe and functional mobility assessments are the foundation of a well-designed, effective exercise program for older adults at all levels of ability. Students explore and become proficient using a variety of tools to assess the functional mobility level of older adults prior to and throughout an exercise program.
---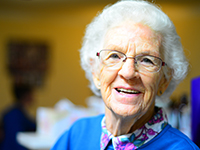 Exercise has been shown to have numerous benefits for individuals with dementia. Along with enhancing mood, confidence, self-esteem and sleep, exercise can improve strength, balance, flexibility and heart health. Students become proficient with tools, techniques and program models for teaching functional exercises in an individual or small group setting.
---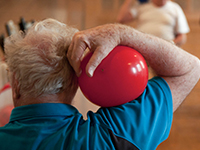 The activity strategies and exercises presented in this workshop are designed to help improve the functional abilities of dependent adults, such as the frail elderly, individuals with Alzheimer's, or individuals with disabilities. Students will learn and put into practice specific guidelines to enhance the effectiveness of the exercise portion of adult day programs.
---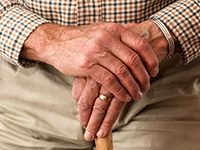 Older adults at risk of falling who exercise regularly can renew strength, balance, confidence and walking speed, as well as improve mental ability and mood. Students learn safety considerations and falls-specific screening and assessments for community and home falls prevention programs, as well as ways to implement specific exercises to enhance the functional fitness of those at risk of falling.
---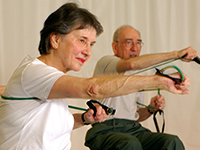 When an older adult's functional strength, balance, flexibility and cardiovascular capacity is improved, they experience an increase in quality of life and mental health. Students learn how to set up goal-oriented, progressive programs for strength, balance and flexibility focused on challenging the individual's current level of ability.
---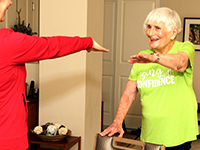 According to AARP, nearly 90 percent of older adults want to remain in their homes as they age. The benefits of aging in place are well documented and include slowed memory loss, strengthened social networks and preserved independence. Students learn how to teach and track the 10 simple, yet progressive exercises designed to improve or maintain the functional abilities of frail, home-bound older adults.
---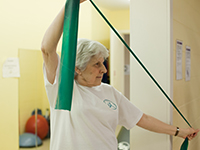 Research has demonstrated that well-planned mobility programs comprised of aerobic activity, strength, balance, and flexibility exercises are an excellent way to maintain physical and mental health after stroke recovery and rehabilitation. Students are introduced to the design, development and delivery of evidence-based, exercise programs for the improved functional fitness of stroke survivors.
---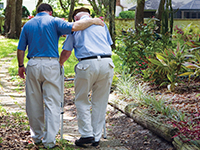 Restorative care programs aim to improve the quality of life of frail older adults by increasing independence, self-esteem and self-image. Improving functional mobility and physical functioning, and providing strategies to encourage older adults to engage more fully in self-care, are important restorative care tools taught in this workshop. Students become familiar with individual and small group program delivery models.
---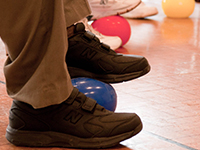 Very frail, sedentary older adults who have lost significant physical capacity can improve functional mobility and experience the accompanying physical and mental health benefits by engaging in a simple progressive exercise program. Students learn 3 program tiers, each comprised of 10 simple, progressive exercises designed to improve mobility levels of individuals with varying levels of frailty.