Functional Exercise Training
COVID-19 & CCAA Leadership Training
Visit the COVID-19 Update for Course Participants page for the latest information about how the pandemic is affecting CCAA courses and exercise leader certification.
Functional exercise training programs are offered through a combination of classroom education, group discussion and hands-on practical activities. They offer sound, evidence-based learning opportunities for healthcare professionals, fitness instructors, volunteers and family members engaged in providing physical activity for older adults across the mobility spectrum.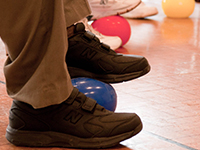 Very frail, sedentary older adults who have lost significant physical capacity can improve functional mobility and experience the accompanying physical and mental health benefits by engaging in a simple progressive exercise program. Students learn 3 program tiers, each comprised of 10 simple, progressive exercises designed to improve mobility levels of individuals with varying levels of frailty.
---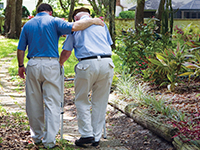 Restorative care programs aim to improve the quality of life of frail older adults by increasing independence, self-esteem and self-image. Improving functional mobility and physical functioning, and providing strategies to encourage older adults to engage more fully in self-care, are important restorative care tools taught in this workshop.
The RCET course will resume in early 2022.