Sabbatical Updates
Our faculty members are involved in fascinating and diverse research while on sabbatical. Learn about some of the projects they are involved in as well as the exciting global locations their research takes them.
By Faculty Member
Corey W. Dyck, Department of Philosophy
Corey W. Dyck traveled to Germany, where he held a Humboldt Alumni Fellowship at the Martin Luther University as well as a fellowship at the Interdisciplinary Centre for Research in the European Enlightenment (IZEA), both in Halle an der Saale. During his stay, he was able to complete much of a planned monograph, entitled The First Fifty Years of German Metaphysics, which considers philosophical controversies connected to the early days of the university in Halle (roughly 1700-1750). A picture of him in the main square (with a homemade mask, not to mention tuque and sweater) on a wintry day in Halle is below. In addition, his edited volume concerning the overlooked contributions of women to German philosophy in the 18th century was recently published. The cover, pictured in the second image below, features a recently discovered portrait of Maria von Herbert, who is best known for her now-famous correspondence with Immanuel Kant.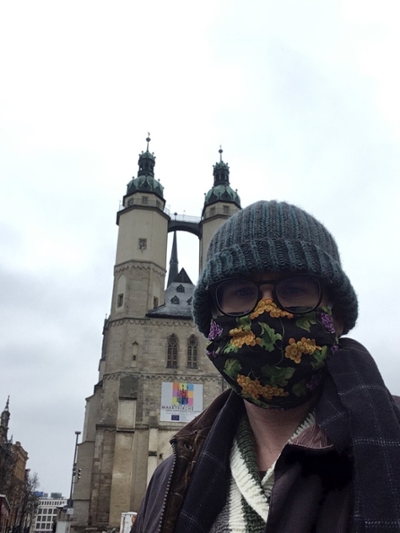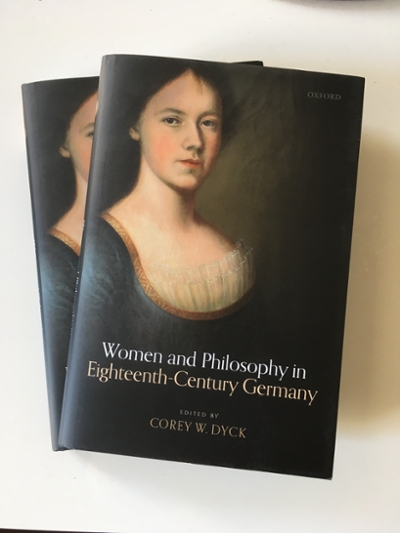 Kyle Gervais, Department of Classical Studies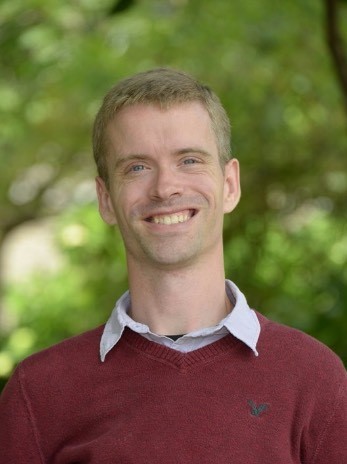 In a year when we all learned the importance of just staying home sometimes, my research on Latin literature allowed me to travel the world the best way there is: through the written word. I "visited" medieval France to prepare a new edition, translation, and commentary on John of Garland's Integumenta Ovidii ("Allegories on Ovid"), a 13th-century poem written in Paris that reinterprets the pagan myths of Ovid's Metamorphoses as Christian allegories (the book will be published by Western Michigan University Medieval Institute Publications). For this project, I worked with two dozen medieval manuscripts held by a dozen different libraries throughout Europe, but all available to me through the miracle of digitization (you can see an image of a bit of text from one of the manuscripts in the Vatican Library – the script takes a bit of getting used to…).

I also took a stop in Italy for a bit of work on the great poets Virgil and (1400 years later in the Renaissance) Maffeo Vegio. I wrote an article on the pervasive anguish in Virgil's Aeneid (forthcoming in the Italian journal Materiali e Discussioni), explored some textual problems in Vegio's poems (forthcoming in the Belgian journal Humanistica Lovaniensia), and spoke at an online conference for the Canadian Association of Neo-Latin Studies about Vegio's literary rivalry with another famous Renaissance poet, Pietro Candido Decembrio. I also translated one of his elegies into English for the journal Literary Imagination: in this poem, Vegio is a bored stiff in a cottage where he's holed up to escape a plague in northern Italy (sound familiar?) when the Muses show up to get him out of his funk.

I then spent some time in early modern Canada, working on a fascinating but tricky poem about the failure of the Jesuit mission at Sainte-Marie among the Hurons (in modern-day Midlands, Ontario) and the near annihilation of the Wendat people on whose land the Jesuits had settled. Finally, I "visited" six universities out west as the speaker for the 2021 Classical Association of Canada Western Lecture Tour. In a series of online presentations, I shared my interest in the poetry and reception of Virgil, Ovid, and Statius with audiences at Victoria, Simon Fraser, Lethbridge, Calgary, Alberta, and Manitoba.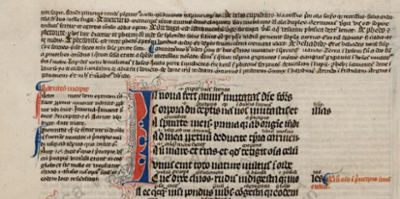 Alena Robin, Department of Languages and Cultures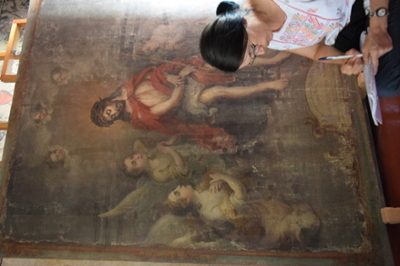 My half sabbatical leave did not involve any travel due to the Covid 19 pandemic. All my research trips were postponed, and my conferences were either canceled or moved online. This situation provided me with a lot of time for writing.

I am currently working on finishing my book on eighteenth-century painter Antonio Enríquez, who worked in the city of Guadalajara, in what is today Jalisco, Mexico. Enríquez mostly painted religious scenes and portraits but also did some mythological paintings for the celebration of the coming to the throne of Ferdinand IV as king of Spain in 1747. This project received financial support through a SSHRC Insight Grant (2013-2018). It allowed me to travel to Mexico and the United States on many occasions, sometimes with graduate students as research assistants, to visit churches, museums, and private collections in search of his work. Archival research was also fundamental to document his life. One of the highlights of this project was to rediscover a painting that was forgotten in the storage of the Regional Museum of Guadalajara (Museo Regional de Guadalajara), rolled up and sectioned in two parts, and later seeing it restored by students at the Guadalajara School of Restoration (Escuela de Conservación y Restauración de Occidente). The whole story of this painting is available here.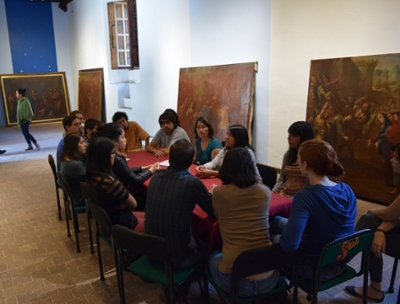 During my half sabbatical, I also co-edited, with Lauren Beck (Mount Allison University), a special issue on "Latin American Art, Visual and Material Culture in the Long Eighteenth Century" for the open-access journal Arts.
I also co-edited, with Analays Alvarez Hernandez (Université de Montréal), a special issue on "Latin American Art(ists) from/in Canada: Expanding Narratives, Territories, and Perspectives", which is forthcoming in the online journal Latin American and Latinx Visual Culture For the special issue, I also authored an article on collections of Colonial art from Spanish America in Québec. This is part of a current research project, also financed by an SSHRC Insight Development Grant and additional funding from Western University, to map the presence of art from Latin America in Canada.
I also authored an entry for the Oxford Encyclopedia of Religion and the Arts in the West: Renaissance to the Present, on the Passion of Christ in the New World (forthcoming). Finally, I also spent some time revising a forthcoming anthology of texts, co-edited with Maria del Carmen Suescun Pozas (Brock University), entitled Latin America Made in Canada, to be published by Lugar Común Editorial.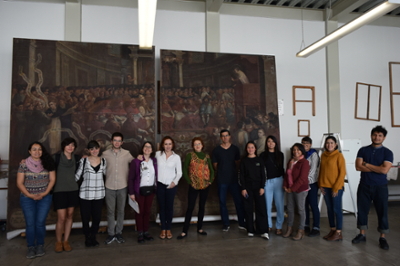 Images:

1. Workshop around conservation processes of Antonio Enríquez' series of the Way of the Cross, in the Regional Museum of Guadalajara (Museo Regional de Guadalajara), by Alena Robin with the students and professors of the Guadalajara School of Restoration (Escuela de Conservación y Restauración de Occidente). © María Laura Flores Barba, 2015.
2. Alena Robin analyzing a painting by Antonio Enríquez in the Museum of the ex Convent in Actopan, Mexico (Museo del Exconvento de San Nicolás de Tolentino). © Raúl Manuel López Bajonero, 2016.
3. Workshop and conference presentation by Alena Robin on Antonio Enríquez painting of the Preaching of St. Angel with students and professors of the Guadalajara School of Restoration (Escuela de Conservación y Restauración de Occidente) and members of the Seminar on Viceregal painting from the Regional Museum of Guadalajara (Museo Regional de Guadalajara). © Raúl Manuel López Bajonero, 2019.
Miranda Green-Barteet, Women's Studies and Feminist Research/English & Writing Studies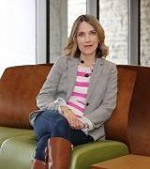 Miranda Green-Barteet completed research at the New York Public Library's Brooke Russell Astor Reading Room for Rare Books and Manuscripts for a book project on the representations of public and private spaces in works by 19th-century U.S. Women Writers. She read and transcribed documents and letters pertaining to Edith Wharton and Elizabeth Stuart Phelps.

Chris Smeenk, Rotman Institute of Philosophy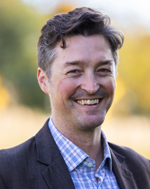 Chris Smeenk, Director of Rotman Insititute of Philosophy, traveled to Las Campanas Observatory to assist with observations meant to determine the age of the universe. The observatory is high in the mountains, on the southern end of the Atacama desert in Chile. Learn more about the program and how cosmologists are learning more abut the accelerating expansion of the universe through this Quanta Magazine article.

Chris was joined by collaborators Barry Madore, Sarah Gallagher, (Western Physics and Astronomy professor and Science Advisor to the Canadian Space Agency pictured below) and recent PhD Marie Gueguen. Also pictured below right, is the Baade telescope which is 6.5 m across, and in the centre is a fox roaming the desert landscape during their visit.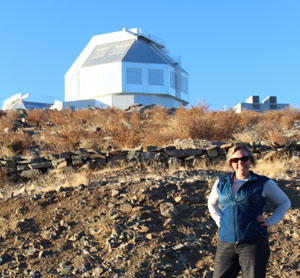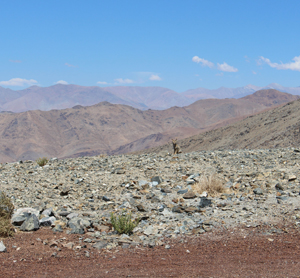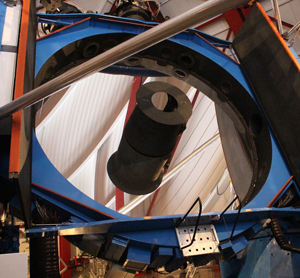 Servane Woodward, French Studies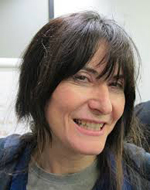 My sabbatical was heavily centred around the water. My first project was to publish the proceedings of a Transatlantic Transfers conference I organised in Toulon, France with two French colleagues Dr. Palma (Aix-en-Provence) and Dr. Peirano (Toulon). The Dean of Humanities of Université de Toulon had so generously financed our meeting that we all followed him on a sunny Mezzanine exposed to cold mediterranean winds where he insisted our lunch be served. He was right: at the time we all clutched our quiches, sandwiches with wines and decorated petits fours along with our coats close to the body; but now all I can truly recall of this pause is his enthusiastic expression, and the magnificent view of the city's inlet with its port, known to be the home of the French marines since the seventeenth century. It was painted by Joseph Vernet (1765), in a bid to impress the British Empire (his commission to paint all the French ports ceased in 1767, when it became painfully obvious the French were no match to the British fleet). I came to Toulon well accompanied by a Nice colleague, Nicole Biagioli, who instructed me on pedagogy in the global age, and many times on the importance of botany as the only science deemed lady-like by the times of Rousseau, who wrote about botanising for their benefit (and his). We went to café Magnan and the benches of the Promenade des Anglais for that purpose, though she objected to my bringing cooked rice all the way from Cannes for the pigeons and the seagulls at these occasions.

I spent of lot of time on repairs from the repeated break ins at my home by Blackfriars bridge, when I was not hosted in St. Paul, MN, when I met Scot Carpenter (with whom I founded my first journal, in graduate school) at a talk he gave at Macalister college, where I ran intone of my new editors for the journal Mouvances Francophones (Dr. Joëlle Vitielo), and one of our Western graduates (Dr. Mustapha Diop) who is one of their new hires (cf. picture). He accompanied me to the bus stop that took me home, and we waited a long time together, freezing next to a fountain that was spraying us because of the St. Paul's autumn winds.

In October 2019, I went to the CSECS conference in Québec with the help of Western, and several presses gave me books under the condition that I review them in my journal ECFW/MFDS—I reviewed some and a couple of others will come out in the next issue. I met Shane Agin (Duquesne University) there, former editor of Diderot Studies and one of my editors for my journal Monde Français du Dix-huitième Siècle, and we discussed the articles to be selected for the 2019 issue. I gathered new members for the Society of French Eighteenth-Century Studies, including one of my French reviewers for my 2016 Peter Lang book, Pets and their Couples. What I remember most, apart from the long visits to the stately and picturesque old quarters of Québec city, is the Inuit sea creatures from the art museum situated up a windy hill from the conference hotel.

The rest is all up in the air: The submission of a multiple authored volume for the special issue of JBSM: it is about male nudity [I began with The Animal That Therefore I Am and scenarios of nude shower exits and ended with the famous pool scene of Buster Keaton from The Cameraman, 1928];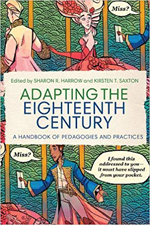 The submission of an article on Montesquieu for the proceedings of the Canadian Society of Eighteenth Century's conference in Québec city, with the journal (Lumen);

Gathering articles for my 2020 issues of Monde français du dix-huitième siècle and Mouvances Francophones (my electronic journals);

The publishing of book reviews—one in H-France on a very interesting book on lightness as a French paradigm: https://h-france.net/vol19reviews/vol19no215woodward.pdf, in https://h-france.net/h-france-review-volume-19-2019/

Checking the proofs of one of my pedagogical articles on teaching the motif of labyrinth, as I will apply it this winter. The book scheduled for April 2020 is available for pre-sale.