Tilottama Rajan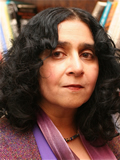 Tilottama Rajan: Canada Research Chair in Literary Criticism and Theory
Director, Centre for the Study of Theory and Criticism
Distinguished University Professor
Fellow of the Royal Society of Canada
University College 278
p: 519 661-2111 ext. 85789
e: trajan@uwo.ca
Research Area: Romantic philosophy (from Kant to Hegel) and its relationship to Contemporary Theory and Continental Philosophy
Romanticism and 20th Century Philosophy
Where did the Romantic poets, novelists, painters and philosophers get their ideas? What were the issues that mattered in their societies? What connections can we find between the great Romantic writers and thinkers and those of our own time?
Tillotama Rajan is a leading international scholar in the field of Romantic philosophy (from Kant to Hegel) and literature and their relationship to and implications for contemporary Continental Philosophy and Theory. The above are only a few of the many issues to which she addresses her research.
Many of the Romantics are among the world's most famous writers. They include authors like Wordsworth, Keats, and Shelley, whose rich expression of emotion, heightened sense of nature, flights of imaginative fancy, and rebellions against social convention set new standards of excellence, and a style and depth of feeling that changed the course of literature. Rajan's work examines the ideas and common ground between the great European philosophers and these Romantics-as well as the discordant notes. Her acutely perceptive edge brings critical theory to a new level and extends this understanding of Romantic critical philosophy to North American literary studies. Her research provides a new way of writing intellectual history, and of marrying it to important literary, theoretical and psychoanalytical movements.
Rajan's interdisciplinary approach will also extend to ways of studying cultural history, viewing it through the paradigm of post-Kantian idealism. Rajan will also be studying interdisciplinary "systems" of knowledge from Hegel to such contemporary thinkers as Foucault and Luhmann; she will also be preparing a book on Romantic narrative.
Awarding the Western University professor this research chair will heighten the institution's reputation as a centre that cultivates and sustains critical thinking, a comprehensive interdisciplinary vision, humane values and practical skills. Rajan's work has implications for some+ seventy scholars at her own university alone! Moreover, her work as a literary critic is a model of what liberal arts education seeks to achieve-the flowering of an intellect devoted to seeking profound understanding through analysis. Her example and her ability to teach will inspire the highest quality graduate and post-doctoral students to join her in these endeavours.