Counselling Office Art Showcase
We proudly display work by our A&H students in the Academic Counselling office throughout the year on a rotating basis. The following pieces are currently on display:
---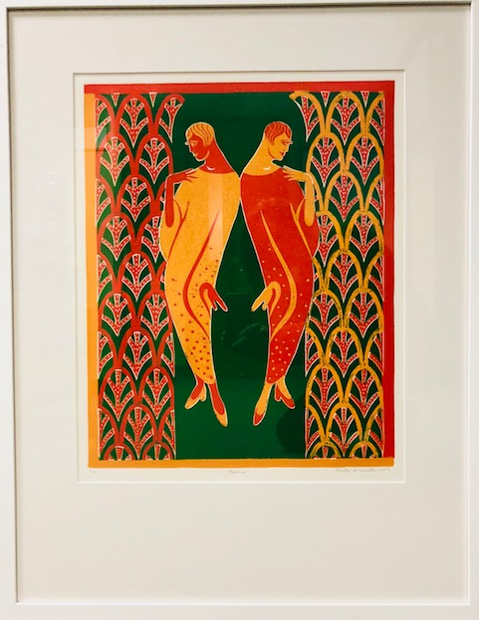 Title: Poise (2017)
Artist: Reilly Knowles
Artist's Statement: Reilly Knowles is a second-year Western University student pursuing an Honours Bachelor of Fine Arts with a Studio Specialisation. Reilly is interested in exploring the complexities of human relationships with nature, as well as experiences of gender, sexuality and embodiment through a variety of media, including drawing, acrylic and oil painting, collage, and textiles. She is also inspired by medieval illumination, folklore and ritual. Reilly has exhibited at the Holcim Gallery (Milton), SATELLiTE Project Space (London), The ARTS Project (London), FASM at the Mall Gallery (Milton), Forest City Gallery (London), and through Western University. 
Poise (2017, 22" X 30") is a relief print which draws inspiration from fashion illustrations and interior decoration from the 1920's. The delicate elegance of twin female figures is juxtaposed against a bold colour palette of orange, red and green.
Reilly can be contacted by email at reillycknowles@gmail.com, or by telephone at 905-299-8588.
---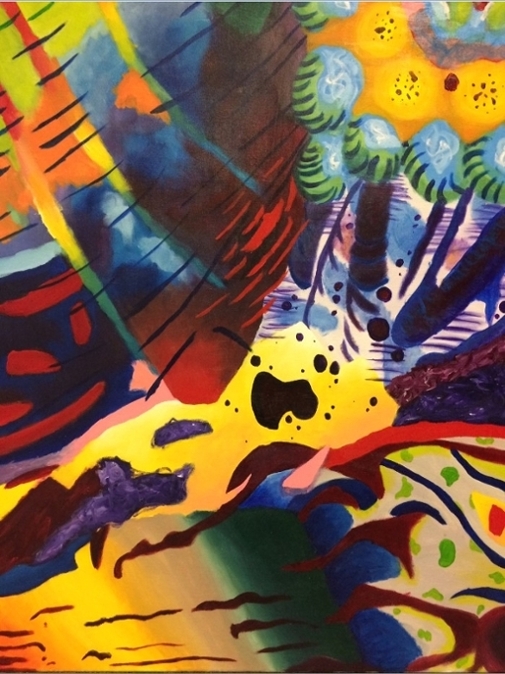 Title: Microscopic (2016)
Artist: J. Brooke Hunter
Artist's Statement: Microscopic is a large acrylic painting of a collage of microscopic photos of various kinds of alcohol. Whiskey and vodka, alongside with other alcohols, produce a picturesque kaleidoscope of colours and patterns at minuscule levels. By collaging them, the painting becomes an explosion of colours, patterns, and layers that assault the viewers' eyes. Wide swaths of deep dark colours mesh with bright light colours and create a sense of energy within the painting.
Brooke Hunter works primarily with sculpture and installation works, creating immersive and interactive works of art that seeks to engage the audience. She often focuses on geometric shapes and works with materials that draw the desire to touch or play with them. By creating a sense of play in her works, Hunter hopes to inspire those interacting with them to realize there are different ways to experience art. 
---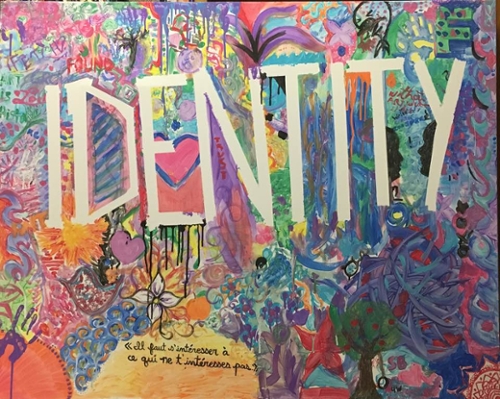 Title: Identity
Artist: A & H Sophs
You can find more information about the creation of the piece here.
---