December 2016
Associate Dean Newsletter - December 2016
Tracy Isaacs, Associate Dean (Academic)
Faculty of Arts & Humanities 
Dear Arts and Humanities students,
Hi everyone. Here we are, coming into the home stretch for this term. I have had a chance to talk to so many of you through the Fall and I'm always so proud of your energy and your accomplishments. I know my colleagues and I in the Faculty of Arts and Humanities feel truly fortunate that we get to interact with so many amazing students every day. We are also aware that everyone is feeling the pressure right now, with a non-stop rush of due dates leading into exams. Thank goodness for the study days on December 8-9. If at all possible, I recommend that you do not let your term work spill over into those days by asking for extensions or incompletes on your course work.
 This issue of my newsletter will cover the following items:
Last day of classes and study day
Important Dates
December exams
Final deadlines for course assignments
SSD Accommodation
Artwork in Counselling
Events
Student Donation Fund applications—message from the AH Students' Council
1. Last day of classes and study day
The last day of classes this term is December 7th. December 8th and 9th are designated study days.
2. Important Dates
January 5th - Classes resume

January 13th - Last day to add a second-term half course or a second-term full course

January 22nd - Last day to receive applications for graduation: in Absentia February Convocation

January 31 - Last day to apply for relief against a final grade in first-term course
3. December Exams - what you need to know (besides your course material)
The December exam period will soon be upon us and many of you will be writing either mid-term exams and/or finals during this time. Here are some important pieces of information to keep in mind: 
If you happen to fall ill on the day of an exam or during an exam, please see a physician ASAP and get the proper medical documentation filled out (download the UWO Student Medical Certificate on the Arts and Humanities website -- http://www.uwo.ca/arts/counselling/img/pdf/medicalform.pdf). For any other situations that result in missing an exam (or missing an assignment deadline) please drop by the Academic Counselling Office (IGAB-1N20) first. ALWAYS involve the academic counsellors when seeking accommodation. Please do not deal with your professors directly when it comes to accommodation issues -- let the professionals handle it, namely the Academic Counsellors for the Faculty. If you fail to submit the documentation in a timely manner, you may be denied accommodation. Please visit http://www.uwo.ca/arts/counselling/procedures/examinations.html for more information pertaining to exams and accommodations. 
Remember that sleeping in, misreading the exam timetable, or not being able to find your exam room are not legitimate reasons for missing exams. It's a good idea to make sure you have a back-up alarm, that you've double checked the time of your exam, and if you've never been the location where your exam is being held, go check it out ahead of time.  You can find more information about Western's exam policies and the most up-to-date exam schedule on the registrar's website: http://www.registrar.uwo.ca/examinations/exam_schedule.html 
Please note there are study spaces available for students in both the Atrium of IGAB and the Study Space

 in AHB 2G30.
4. Final Deadlines for course assignments
Western's academic policies state that no assignments for a course can be accepted at the end of the course after the last day of classes. In other words, professors cannot assign or extend a due date into the December examination period, nor can you expect an extension. The only exception to this is if there are documented compassionate or medical grounds, in which case you should speak to the academic counselling office in IGAB 1N20 about applying for an extension to the course work.  This is called an "Incomplete".
5. SSD Accommodation
Academic accommodation consists of arrangements that allow a student with a disability a fair opportunity to engage in academic activities and fulfill essential course and program requirements.  Accommodation does not remove essential requirements of a course or program. It does not fundamentally alter content of exams, standards for assigning grades, or requirements that students independently demonstrate their knowledge of course material. Western students who are registered in a faculty on the main campus request accommodation by contacting Services for Students with Disabilities (SSD) in the Student Development Centre, on the main campus.
6. Artwork in counselling
In the hallway as you make your way into Academic Counselling you will see a beautiful collaborative artwork made by the A & H Sophs. You can find a video that goes with the canvas here - 
https://www.youtube.com/watch?v=C_XFvs73lF8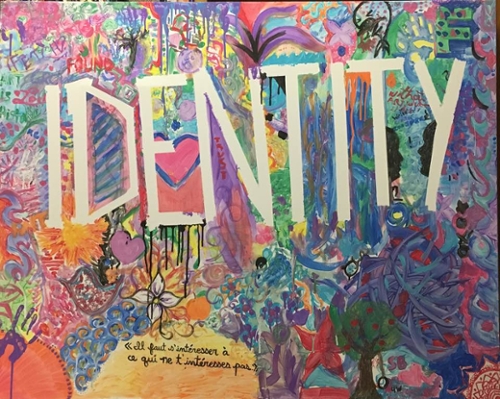 Artists: A & H Sophs
Title: Identity
When you are in the counselling office you will also find two pieces of art work. These will be displayed from Mid-November to mid-December. You can view those on our website: http://www.uwo.ca/arts/counselling/about_us/office_art.html and below.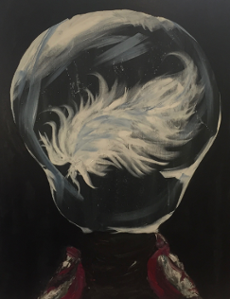 Artist: Claire Sheeres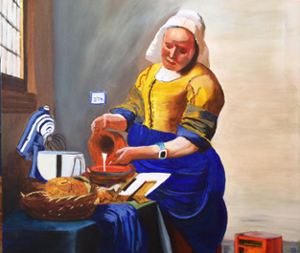 Artist: Beverly Hamilton
7. EVENTS
Writing Multiple-choice Tests, Wednesday, December 7, 2016, 3:30 pm - 4:30 pm, University Community Centre (UCC) Room: 147A, FREE
Learn about different types of multiple-choice questions and ways to approach them. Sample questions from university courses are used to demonstrate effective strategies for this exam format.

Turn Your Degree into a Career, Wednesday, January 11, 2017, 11:00 am - 2:00 pm, University Community Centre (UCC) Room: Atrium, FREE
What are you doing after graduation? Have you considered a Western Post-Degree Program? One year career focused programs with hands-on work placements that add valuable experience to your degree.                                                                                                             
Campus Career Resources
 Career Conference 2017: "Life after WesternU"
Saturday, January 21, 2017, 9am-5pm, University Community Centre, $25
No time for career prep? Give us one day and make a start. This conference has been designed to address a variety of your career concerns. No matter what stage you are at, we have something for you. Sessions have been tailored for undergraduates, graduate students and alumni!  http://success.uwo.ca/careers/events/career_conference/index.html
Career Counselling, Student Success Center, UCC 210
The Student Success Centre has several Career Counsellors who can help you explore your career options. Ensuring complete confidentiality, Western's Career Counsellors have graduate degrees in counselling and experience in career and employment counselling.
Career Counsellors are skilled in helping students identify their career options, make career decisions, and implement effective job search strategies. They may suggest career assessments if you are uncertain about what you want to do, or may use other approaches to help you begin planning for a fulfilling career. http://success.uwo.ca/careers/career_counselling/index.html
What is Western's Co-Curricular Record (WCCR)? - Your transcript only tells half the story.

A co-curricular activity is an experience you participate in from an outside of the classroom focus. This means, you don't get academic credit for the experience, but it allows you to develop very specific personal and professional skills and abilities. Student Leader positions at Western may count for the record; most will be not paid, and some that include a stipend. Paid internships don't count for the Record.
It is useful if you are thinking of applying to a graduate or professional school program
It can help you showcase the breadth of transferable skills and abilities you have gained through your co-curricular activities
It can work as a springboard - supporting your transition from university to workforce
It helps you articulate the value of your out-of-classroom involvement
8. From the Arts and Humanities Students' Council
The Arts and Humanities Students' Council (AHSC) Student Donation Fund grant application for second semester will be live on our website as of January 4th! The application is due January 16th. 
For more information about what the Student Donation Fund grant is, as well as an example of the application check our website here: http://www.ahscwesternu.com/student-donation-fund 
To access the application on January 4th, check our website here: http://www.ahscwesternu.com/applications 
If you have any questions please email mperruz2@uwo.ca. 
I and the rest of team in the Arts and Humanities Academic Counselling Office (IGAB 1N20), Amanda, Ben, and Carrie, wish you all the best as you wrap up your first term course work and write your December exams. Remember to do all the smart things that keep you grounded, whatever those may be. For me, it's all about getting enough sleep, eating three decent meals a day, "single-tasking" instead of multi-tasking, taking breaks from my work to spend time alone and with friends, and doing some form of exercise each day. How about making a checklist of what keeps you grounded and committing to checking off at least three of those things each day? And be sure to check out the Weldon Wellness Station: http://se.uwo.ca/wec.html
May you and your loved ones have a safe, happy, and restful festive season. See you in 2017!
Yours sincerely,
Tracy Isaacs, Associate Dean (Academic), Faculty of Arts and Humanities